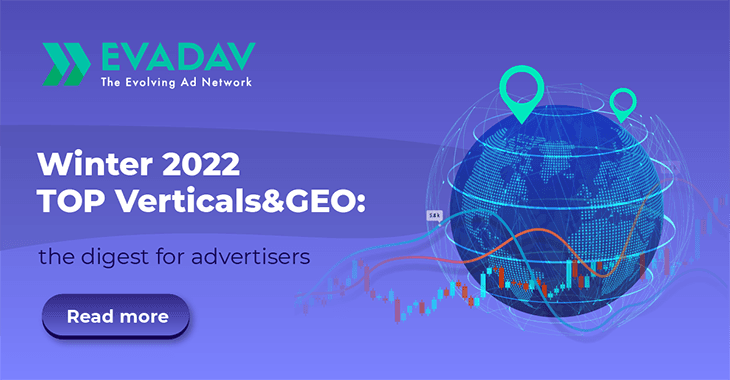 The digest for advertisers who want cosmic conversions and incredible profit
Top verticals, geo, and the most profitable offers of this winter season from Evadav
Nothing's more important than growth and development. We know it, you know it, all successful companies and partners know it.
So it's time to remind you of the most significant system updates we've issued on evadav.com in 2021, you, advertisers, should definitely be aware of and use them while setting up ad campaigns to get even higher conversions and results.
The most crucial updates:
Plans for system upgrades in 2022 are huge, therefore growth and development with us are guaranteed!
The most effective verticals of winter 2022
What can be better than updates and enhancement of working tools? Only top geo and verticals – up-to-date and working best for you and your wallet.
And sure, the most profitable offers of the season are waiting for you in the Evadav ad network! Be ready to start the most fruitful campaigns of the winter 2022 season rich in holidays and big events.
Wake up and let's go get cosmic profit, cause the traffic now is exactly what one needs.
What verticals are top now and what ad formats do they fit?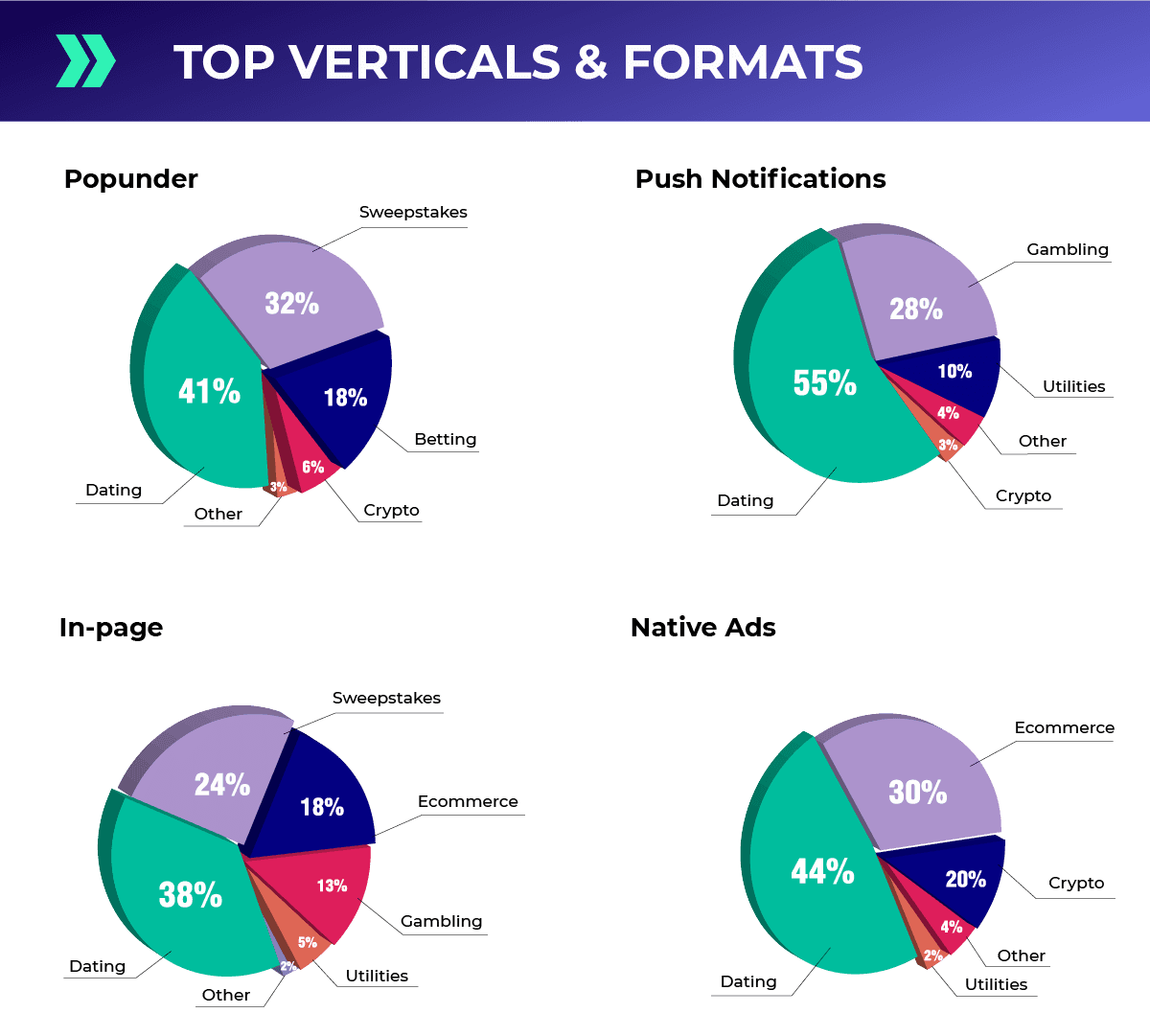 The volumes of popunder and in-page traffic in 2021 grew by 30% in the Evadav system. Moreover, we've recently released the option of Premium traffic, which gives even better results. Traffic CR has grown along with it.
As we can see, dating is leading and growing with each year in all formats, and no wonder. Losing other entertainment such as traveling, dining outside, and even e-commerce due to delivery issues made it easier for users to switch to social media. They have more spare time and they are ready to spend more money on online dating. Moreover, Valentine's day is approaching – the day when a lot of people may feel the most vulnerable and lonely and they seek for a company to brighten up this period.
Sweepstakes traditionally work well with popunder and in-page traffic, however, there are few changes in preferable prizes among users. For instance, the iPhone lost its popularity while cash rewards and other products hit the top. We can also see that the best results are shown by context-relevant offers of lotteries during holidays.
Betting and gambling will even more actively show great results this season, because this February 2022 Beijing Winter Olympics will take place. Huge amount of fans will be watching hockey, figure skating, biathlon and, sure thing, they'll be making bets. Therefore these verticals are good at almost any format.
Crypto. Considering the current uncertain pandemic and lockdown situation cryptocurrency vertical joins the above mentioned list. We already observe this tendency and recommend testing crypto-offers.
According to current tendencies we can say that Utilities and Software will be holding their positions in push-traffic and native ads.
⚠️ Create unique evadav creatives your audience won't miss out on.
For instance, antivirus is especially in demand in Tier 1 countries. Users from these countries care about security and safety during the winter festive season the most. Norton AntiVirus utility will be to the point as it protects devices from viruses and hacks.
Also, we can observe the growth of audience interest in downloading apps, games, etc.
Devices start working slower or don't work properly and the software as CleanMyMac and similar ones, which clean and fasten devices', will be actual as never before.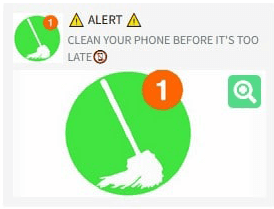 Ecommerce shows itself especially great with in-page and native formats. 2021 became a new round of development for electronic commerce. Most of the sellers and customers transferred to online shopping due to coronavirus pandemic prolongation. As traffic volumes are growing new offers appear.
Based on the above mentioned data it's worth using time-proven verticals for a good earning. However, we recommend not to miss out the opportunity of testing new verticals which are rapidly growing: Crypto, Cybersport and NFT. We're sure the results won't take long.
Geo to be considered this winter
It's not obvious, which geo are fruitful and which ones are not. Thus we decided to shed light on this crucial part of settings.
Top Geo: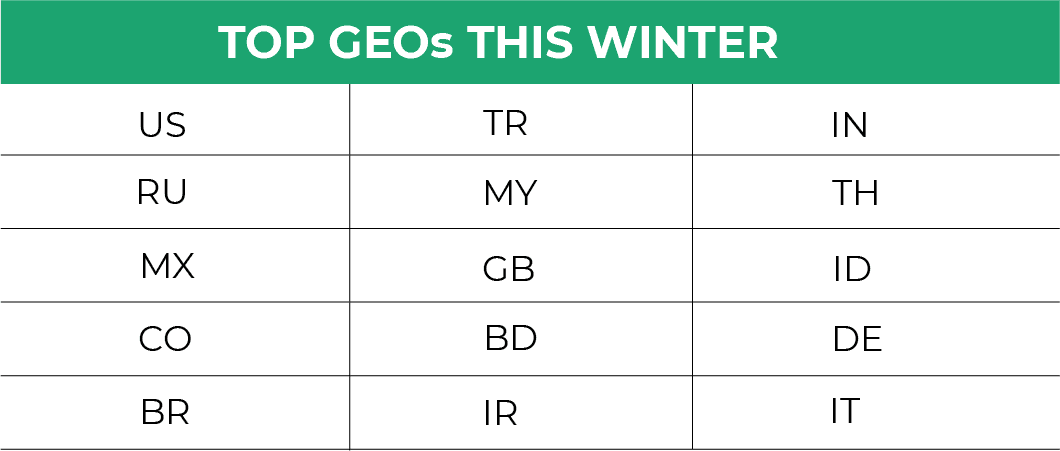 When it comes to push and popunder formats, you can definitely profit if you target Russia or Brazil – these countries show great growth since the pandemic started and placed top positions. Though advertisers amount continues to grow and it enhances the competition and rates accordingly.
Mexico and Columbia work well with in-page ads.
And the most popular geo working with all formats for dating vertical are USA and Tier 1 countries.
Winter lowers the efficiency of several geo: India and Indonesia in native and popunder, and German and Italy – in push. Test these zones properly before you launch your ad campaigns. But, unique offers in India can work with the lower payouts, it needs to be tested.
Don't worry if your favorite zones don't work as usual, they will recover the soonest. And at the moment you better test new offers, geo. It's time to discover new working schemes.
Keep in mind, your favorite settings may not bring you desired results. Develop an alternative plan – new zones, you can test and launch new evadav campaigns on. And be ready to eat that frog if you want to get results.
Don't forget great results shown by automated rules in 2021 – it's a unique tool helping to grow the conversion and avoid budget waste.

And along with black/white lists and postback your campaigns can gain decent results.


Evadav recommendations:
1. The most popular cross-format verticals in 2022 are still Dating, Ecommerce, Gambling and Betting. Therefore use classic to get good profit.
2. New verticals such as Crypto, Cybersport and NFT will be expanding, therefore you better consider them and start testing them now.
3. We forecast popularity growth of in-page and popunder traffic (which we're actively improving). Thus in 2022 you, our dear evadav advertisers, will have even more opportunity to work with quality and converting traffic at a lower price.
Stay tuned, test time-proven and new verticals, don't be afraid to step out of your comfort zone – it's the place where new opportunities and rapid growth live.
Should you have any questions – we're always ready to answer them and assist you 24/7.
Launch campaigns right now with Evadav!