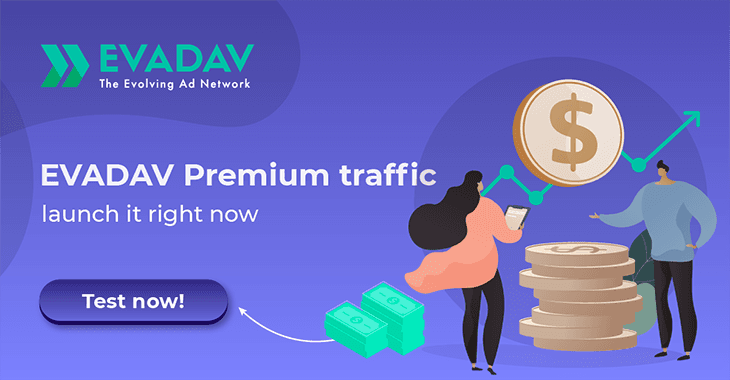 EVADAV premium traffic for advertisers
Improve your campaigns' performance with Evadav premium traffic
Advertisers, rejoice!
Launch a brand new option in your personal account (active in new accounts only) right now: "Premium" traffic. You better sit down if you don't want to be blown by this awesome news.
What is it?
Premium traffic is a personal account option in advertisers section and available for creating new ad campaigns only, due to which you can pick "Premium" traffic type.
This option is available for all advertisers with new accounts in Evadav network.
To use it you need to:
2) top up an advertiser's balance
3) go to "Campaigns"
4) pick Premium traffic while creating a new ad campaign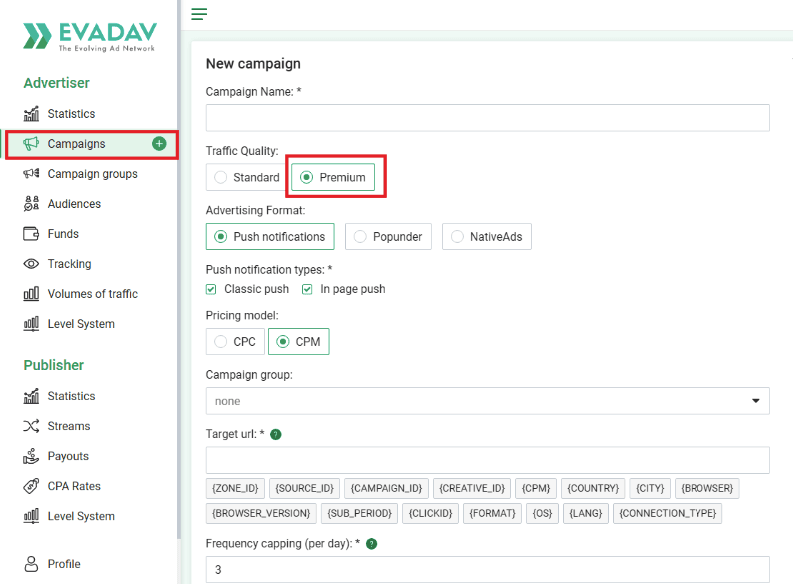 That's it! That's how you receive the Premium traffic option in terms of a newly created ad campaign.
By the way, you can get Premium traffic option both in push and in-page formats. Run several campaigns and analyze the best results to scale your profit.
What benefits are awaiting you:
1) improved performance of conversion metrics;
2) higher CTR upon test results;
3) Premium zones for launching;
4) the most quality websites and traffic sources from Evadav network top publishers;
5) this traffic has also passed the full check on direct offers.
Creating split campaigns in your new account, you, advertisers, will be able to receive an additional ROI boost, to optimize and increase your budgets along with the efficiency growth.
Tools, one should not ignore
Don't forget, Premium traffic – it's great but it's much better to use all optimization options available in settings.
You simple can't get the best results without using Evadav extended tool set:
1) always use trackers
Understanding key indicators is a secret of running successful ad campaigns and reaching business goals. Tracking – the only way to get rid of guesses and work out the strategy with a plan and precise goals.
2) use automated rules option
This tool will help you automate the campaign optimization process.
The synergy of Premium traffic and all these tools will create a perfect combination for your profit. That is how you'll be able not only to make money, but do it the way everyone will be asking you – was that even possible?
Launch your account, test Premium traffic and keep your wallet wide open, as money will flow like a river from the very first campaign!