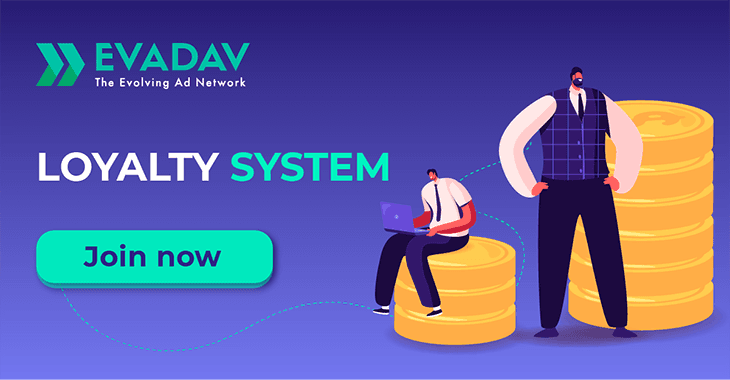 Partner loyalty system: even more bonuses and profit
EVADAV PARTNER LOYALTY SYSTEM – FIRE PROFIT IS GUARANTEED
Hey, Evadavers!
We're thrilled to announce the launch of our brand new loyalty system. It's going to blow away advertisers.
We can't be silent anymore, because fire profit and cosmic opportunities are ahead and waiting to be caught by you. And our loyalty system is just made for this.
It's time to get down to all the details so that you can benefit from our partnership. Be aware, it's about to get hot.
So…
What kind of system is this and how does it work?
We've developed a performance reward system for all partners evadav.com. It has 6 "power" levels for every partner. You can reach any of them depending on the amount of the monthly spending:
Standard – $0 up to $300
Bronze – $301 up to $1000
Silver – $1001 up to $3000
Gold – $3001 up to $8000
Platinum – $8001 up to $25000
Diamond – $25001 and more.
System mechanics are simple:
1) the more you spend, the more tools and benefits you get;
2) the more tools and benefits you have, the more you earn using them.
In order to check and improve your level, enter your advertiser account and check the "Level" tab

Every level has a unique set of perks you'll get after reaching the required sum of spendings.
What perks and bonuses are waiting for you?
Along with increased account's rating partner gets additional bonuses and benefits, and therefore grows in a financial and profitable way: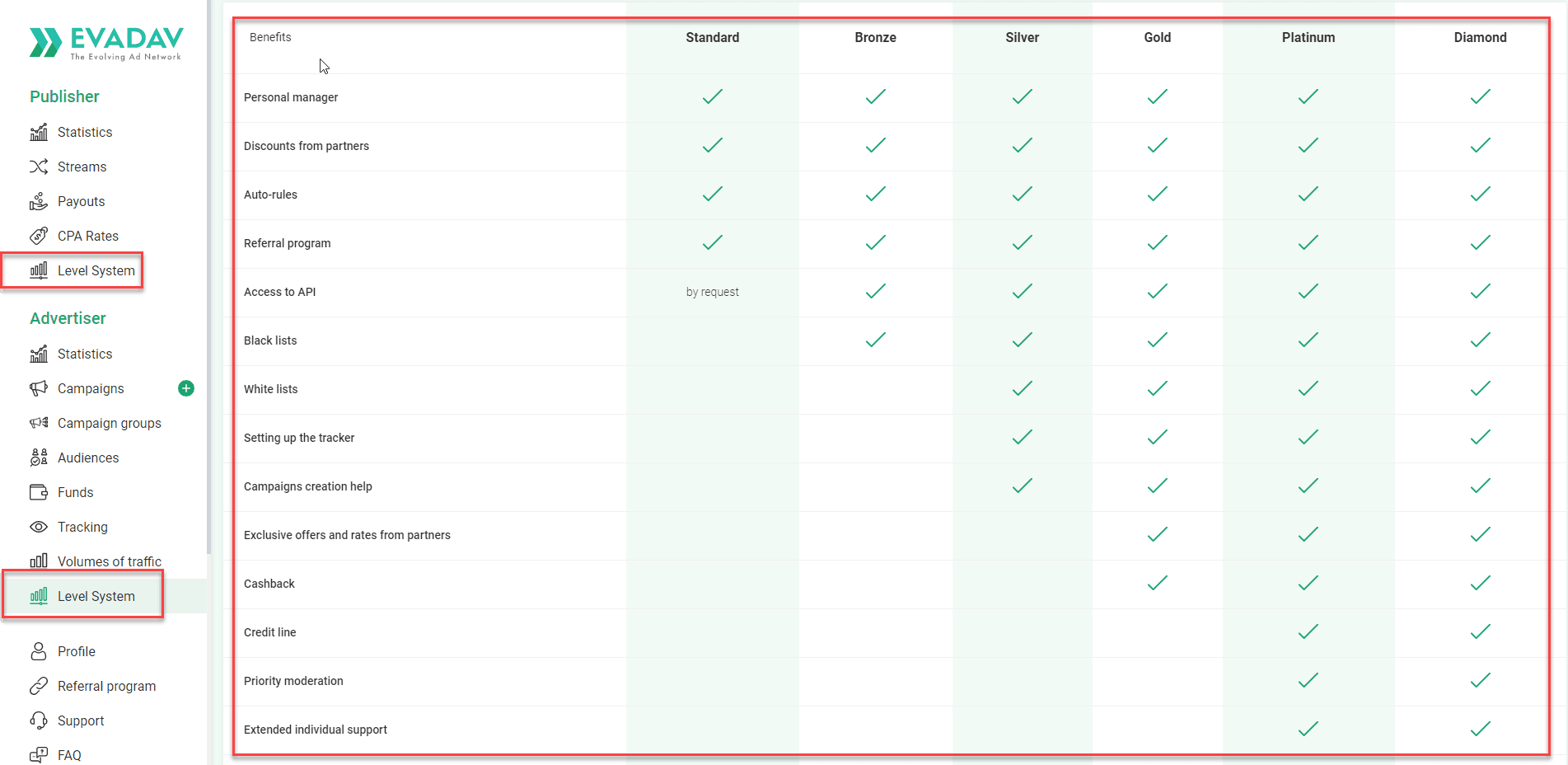 Standard – newbie level
spend reasonably, get enough, however, not enough to rock the world.
Benefits:
1. An access to personal manager: personal consultation and assistance at the very beginning of learning the platform.
2. Partner discounts: get limited access to exclusive offers.
3. Referral program.
4. Access to API on demand: contact your personal manager and optimize your work.

Bronze – growing partner level:
more spending, more income, however, there's still room to grow.
Adding to the above-mentioned list:
5. Full access to API
6. An opportunity to use the black lists option.
Silver – advanced partner level:
when it's easy to grow more, cause you've already got all the resources for that.
In addition to all the above-listed benefits:
7. An opportunity to use the white lists option.
8. Tracking setup: exclusive access to detailed reports about traffic, data analysis for increasing efficiency.
9. Personal assistance in campaign creating: create and optimize ads like a pro.
Gold – self-confident partner level:
when traffic and ad campaigns make real money.
More to add to the previous list:
10. Exclusive offers and rates from partners.
11. Cashback: money return, God's blessing, Mr. Sweet Bonus - call it as you like.
Platinum – solid partner level:
they can do anything by themselves and they earn like Gods.
"Sweet cherry" on top of all above-listed perks:
12. Credit line access: no advanced payment. You pay at the end of the month.
13. Moderation priority in comparison to lower-level partners. No need to wait anymore, you always go first.
14. Expanded personalized support: when you got all the answers fast and in detail. Your personal manager is available 24/7.
Diamond – winners level:
advertisers who create history.
It seems like it's unreal to add anything else to this list. But we can. Behold the hottest perk ever on this level only:
15. All personalized offers on our platform are yours: contact manager, we'll arrange cosmic bonuses just for you.
How to take part?
You don't need to take any additional actions to join the system: you get your level benefits automatically when you spend certain amounts of money per month on Ad Campaigns.
Evadav tips:
Several simple, but effective tips on how to get all benefits of a loyalty program:
Launch new ads campaigns. Remember – the more you spend the more you get as a result.
Contact your manager who will tell you about all bonuses of your current level and help you to reach the next one.
Enjoy your bonuses and fire profit!
Create new campaigns, raise your income increasing your levels and be awesome, just as you profit with Evadav