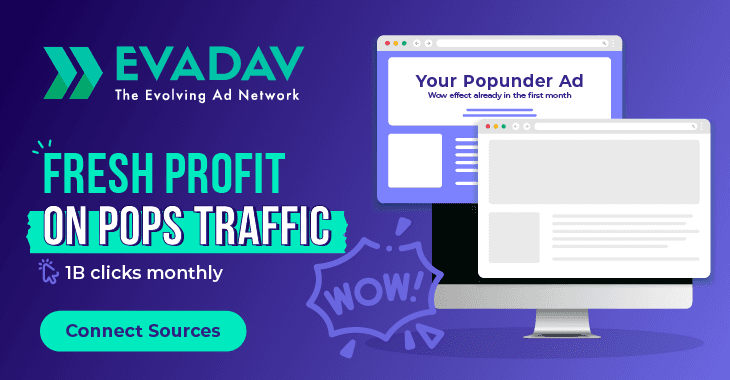 Fresh Profit on Pops Traffic
😎Hi, Evadavers!
🔥We are happy to announce that we have connected over 1,000 new popunder sites and they are already available to you!

💯Get the most out of your traffic with:
💣Top CR - up to 1:4 using pre-landing;
🎯Filtered clicks - just right for your offer;
🐋Volumes - over 1 billion clicks currently available for redemption;
⏰Smart auction and auto-rules - let you take the best part, and not spend all your time setting up and optimizing.
💡Advice from the optimization team:
- Experiment with bids - smoothly increase them from the recommended to the maximum - so you select the most converting sites for your offer;
- test the Premium and Standard types of traffic in the A / B tests;
- advertisers from Gold level and above - use microbidding for spot work with bids.
Also, until the end of the month, we're running an activity with bonuses for topping up.

📖Check out our awesome blog articles about Popunder you may have missed:
🚀Premium Popunder campaigns and Top 10 countries with recommended rates
🚀5 Steps to a Successful Campaign with Popunder

💡 If you have any questions, please contact your manager, who is ready to help you 24/7/365.
LAUNCH ADVERTISING CAMPAIGNS AT EVADAV🤑
Read also: WinRate for Ad Campaigns