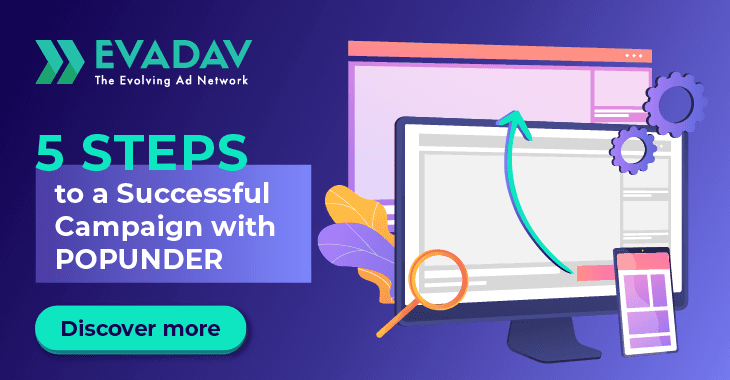 5 Steps to a Successful Campaign with Popunder
🔮Among all ad types, Popunder is one of the cheapest and it perfectly balances income and UX. In pop-under ads, a new window opens beneath the active browser window and remains invisible in the background until the window is closed. It's triggered when you click on the site.
Such an ad type attracts users' attention and doesn't bother them too much as an Inpage, for example.
How to make your ad campaign successful with Popunder? Read Evadav tips!
⭐ Lead generation
Use Pounder as a fill-in form, where your future clients need to mention their name, e-mail, and phone number. Thus, it can serve as a nice way to attract new leads to your product or service.
🔮Evadav guarantees a view of your Popunder, so the user will definitely click on the advertiser's website. Try now -> https://bit.ly/3ME8glF
⭐ High-quality Content and promos
In order to deliver value through an ad, affiliates often include a freebie or promotional code. You can engage users by offering case studies, infographics, and your product description as well.
⭐ Right targeting
Choose the right geographic targeting, as well as additional options, depending on your resources. Language, time zone, interests, age, orientation, and much more can be targeted in this manner.
🔮You can set the details on the target audience, blacklist, and whitelist in your Evadav profile -> https://bit.ly/3ME8glF
⭐ Uniqueness
Advertising, whether traditional or online, relies heavily on creativity. The best way to attract attention with Popunder will depend on the objectives you want to reach, but you must craft ads that are original and catchy.
🔮While creating your Popunder campaign with Evadav, you can test as many creatives as you need before launching. Try here -> https://bit.ly/3ME8glF
⭐Permanent monitoring
As soon as your Popunder campaign is launched, monitor its performance. Whenever you don't receive traffic, check your budget and other settings to ensure everything is set properly.
🔮Keep an eye on your Popunder campaign in your Evadav profile ->https://bit.ly/3ME8glF
Read also: How to make more money with Evadav Popunder