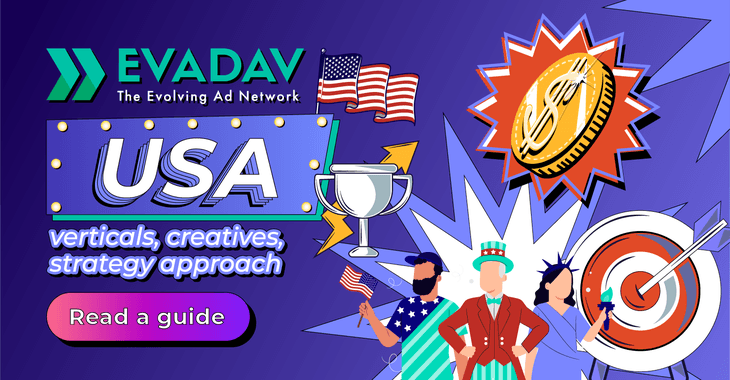 US-style Arbitration: 2023 Advertising Strategy guide for the United States
😎 Hello, Evadavers!
The USA is a vast field for experimentation, and we cannot fail to tell you about the prospects and intricacies of working with this region.
The Evadav team created a detailed guide dedicated to the Tier 1 leader – the USA. The largest and most diverse audience, generous payouts, stable currency rate, high income, and maximum interest in new offers – yes, it's all about the United States.
In our new guide, you will learn the following:
📌 features of US audience: mentality, language, preferences, life priorities;
📌 prospects of geo and top verticals with the latest statistics;
📌 advertising formats that bring the most conversion;
📌 approaches to making creatives with vivid examples;
📌 life hacks to create an effective 2023 strategy for the United States.
🇺🇸 You're about to make a real little trip to the USA and, of course, to get exclusive recommendations from Evadav experts for your cosmic ROI.
USA geo features
The United States of America is a nation in North America with a vast territory and population of more than 333 million.
USA is a multilingual country. Although the English-speaking population has an absolute advantage (80%) and English has official status in 32 states, more than 300 languages are spoken.
Before collecting traffic among residents of the states, note that they have these features:
patriotism, pride in country and history, so at least half of them try to buy domestic products;

enterprise and planning - Americans know how to manage money, find solutions, and make profitable deals; so always indicate the benefits of the offer for them;

optimism, faith in oneself and luck, so they participate with enthusiasm in online draws, online casinos, and betting;

literacy, 99% of Americans are literate people, so be honest with them, do not hide your interest;

affability and friendliness - whether residents of California or Texas, they are happy to do a small service free of charge;

need for comfort - they want to have a beautiful and cozy home, a lot of different household appliances, and good cars;

high self-esteem and healthy selfishness - yes, Americans value themselves and strive to be better than others, so focus on the exclusivity and uniqueness of the offer.

pickiness - a US resident will not wait a few months for a cheap product from AliExpress;

quality is a priority for every American; discounts and promotions for them are not so attractive, but rather, on the contrary - raise doubts about quality.
Best advertising formats
When working with the US audience, the most effective formats are:
video format;

interstitial;

inpage;

banners;

native ads;

push notifications;

popunder.
Top verticals
Let's look at the top verticals in the United States, together with the latest display statistics from January 2023.
The TOP 6 verticals in affiliate marketing in the US are:
❤️ Dating
🎦 Webcam
🕹️ Gambling
⚽ Betting
🎮 Gaming
🌱 Nutra
Approaches to making creatives and landing pages
Gaming
Americans love to play action and adult, arcade, and casual games.
The advertiser's task is to show the most vivid and fascinating game moments, characters, and bonuses.
Such creatives in inpage format with the System-template with bright, dynamic images will show larger clickability: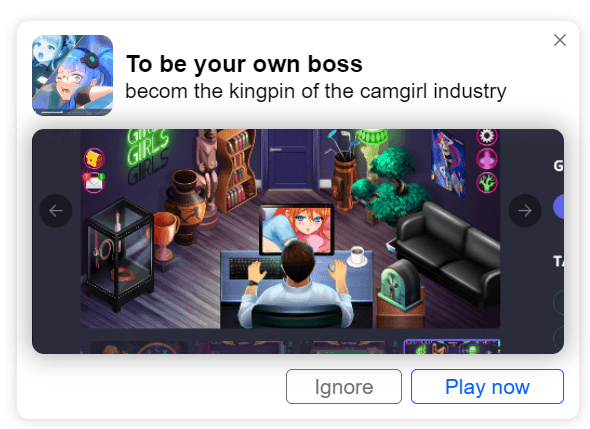 Evadav tip:
update creatives more often so as not to annoy potential leads. Also note that the same game sooner or later annoys the user, so try new platforms.
Dating
The USA is the most profitable geo for online dating. Almost 300 million Americans spend time on dating websites and apps. Most conversions come from 25-35 years old audiences, but LTV and bill are higher in the 50+ category.
Evadav tip:
use English in creatives, realistic photos, macros of the city in the title and Social Style for inpage advertising to make a pop-up notification look like a new social network message.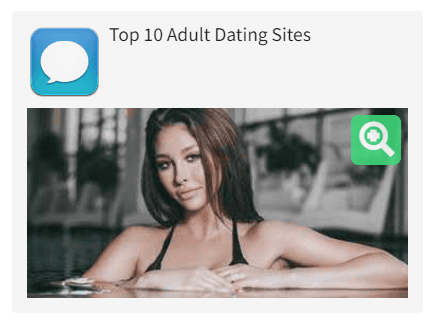 Antivirus
Today there are at least 10 gadgets in every American family. In this regard, device protection programs are relevant for the population of the United States of America.
Use the following approaches in creatives to advertise antivirus apps:
use icons and images with threat attributes, symbolizing danger;

select scary headers with warnings about the threat or detection of viruses;

offer free trial periods;

focus on popular brands.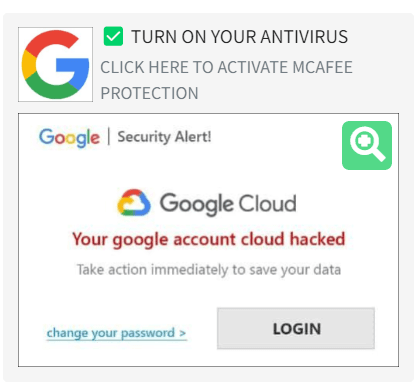 Evadav tip:
disguise ads as system notifications using custom inpage styles available in campaign settings.
Gambling
The people of all the states, without exception, share a common passion for gambling. The operation of Internet casinos in the US requires the creation of an offline institution and purchasing of a license.
Evadav tip:
Choose gambling offers with a local license.
Use the following elements:
vivid images showing the winnings and strong emotions of players for creatives;

pre-landers with "wheel of fortune", where the user, essentially, will win and go already "warm" to the landing page;

casinos and slot machines widgets and attributes.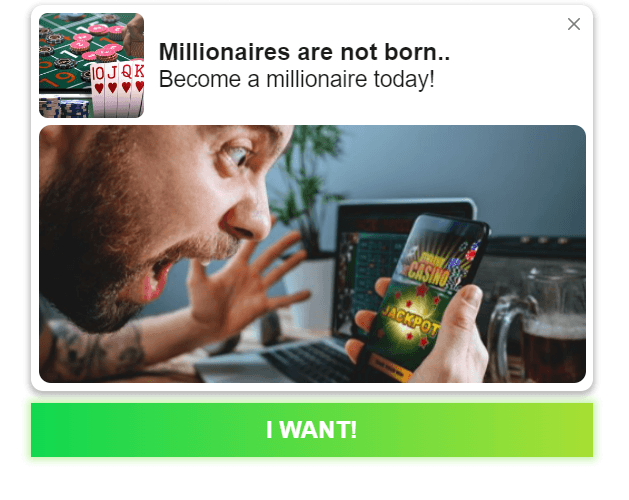 Nutra
For the US audience, most of the offers from this vertical are suitable, as more than 50% of Americans use biologically active supplements regularly and systematically, and 10% use 4 supplements a day.
To make cool creatives for Nutra offers:
do not scare users with the shocking words "cancer", "impotence";

do not address political or racial issues, Americans are negative about them;

show a concrete result from the supplement use in photos "Before" and "After";

use pre-lander in the local language.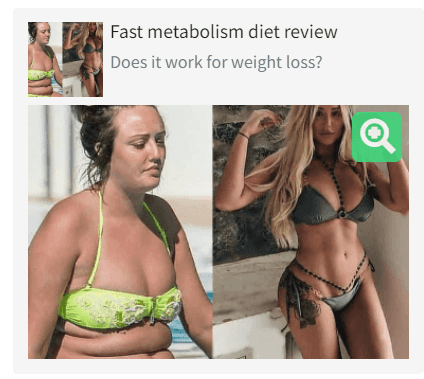 eCommerce
Almost every US citizen, even the poor and homeless, has access to the Internet. And they have long preferred online shopping, easily part with money, and often with credit.
In creatives for the offers from this vertical:
do not use direct calls to action ("Buy", "Download", "Order", "Subscribe", "Make a first deposit"). Americans do not like when they are persuaded to buy;

refuse to promote low-quality goods and cheap, unnecessary things. Americans will always defend their rights in court if they find the slightest discrepancy to their expectations;

focus on the uniqueness of the offer and the exclusivity of the product.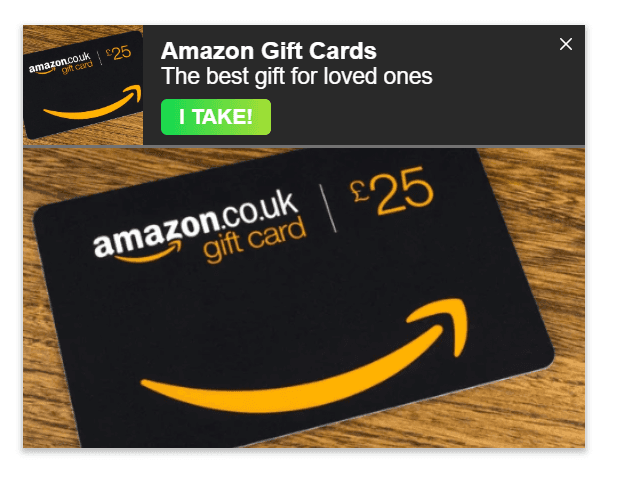 WebCam
Webcam resources reach up to 5 million visits per day.
People (viewers) interested in offers from this vertical are often lonely, want to have an interesting leisure time, and, in fact, are ready to pay for it.
To bring many conversions, creatives must be intriguing and personalized.

Evadav tip:
Accurately identify the target audience and use users' "pain" in creatives, landings, and pre-landers - "Lonely?" "Do you want a no-strings-attached relationship?" "Looking for a partner nearby?".
Betting
As people in the United States are gamblers, the Betting vertical shows no less conversion than Gambling.
While sports and eSports betting offers align with trends, the approaches remain the same and work well.
Use the same approaches as in work with gambling in creatives for betting offers:
offer bonuses to Americans;

use wow-icons and images that show the emotions of winning;

logos of famous sports brands, club logos, and player photos work well;

intriguing questions to users are also effective ("Guess who will win?").

Evadav tip:
synchronize the launch of promotional events with sports events, and watch the schedule of matches and forecasts. In this vertical, your income directly depends on the offer's relevance!
Evadav experts' recommendations
And finally we will give you some expert advice from Evadav, which will help you to master this market and not waste your first budget:
Choose an inpage format for advertising campaigns. The Classic custom style shows the highest conversion.

At the campaign start, launch several creatives at once.

Limit the frequency capping for the new white list to 1.

Use automated rules.

Choose Evadav premium traffic.
Read the complete guide 2023 Advertising Strategy for USA >>
🤑 Launch US-campaign with Evadav >>
Read also: Adult Gaming: Learn to work profitably in adult games