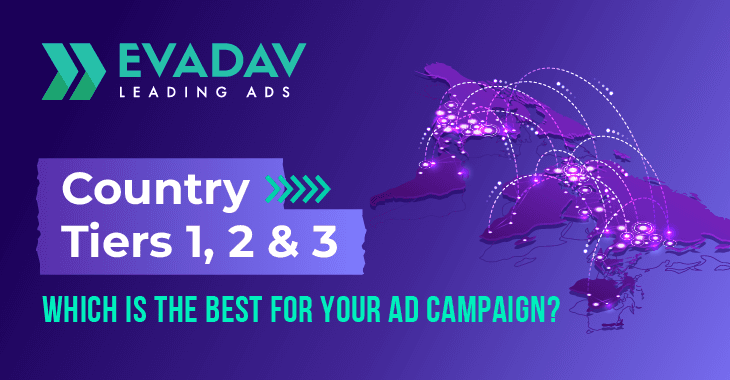 Tier 1, 2, 3 Countries List: Unlocking the Optimal Destination for Your Ad Campaign
Ad tiers are pivotal for advertisers who are eager to target audiences in tier 1, 2, 3 countries effectively. By delving deep into these tiers, advertisers can harness optimal environments for their ads, honing strategies to navigate the diverse advertising landscape.
What are Country Tiers 1,2,3?
Country tiers, namely tier1, tier2, and tier3, are classifications assigned to countries based on several factors, including the economy, technology infrastructure, and purchasing power. These tiers facilitate advertisers in making informed comparisons and customizing their strategies according to the predominant characteristics of each tier. So it's important to know what country is ad and their characteristics if you want to maximize your ROI.
Tier 1 countries are primarily composed of advanced economies with high levels of income per capita, robust technological infrastructure, and significant purchasing power. These nations, including the United States, Canada, Australia, and most of Western Europe, offer lucrative markets for advertisers due to their mature digital landscapes and high consumer spending.
Tier 2 countries, like Brazil, Turkey, and China, are typically characterized as emerging developing nations that are experiencing rapid economic growth and technological advancement.
Tier 3 countries are usually lesser-developed nations, predominantly situated in Africa, Central Asia, and some parts of Southeast Asia, with lower income levels, less developed technological infrastructure, and lower overall purchasing power.
🚀Unlock refined strategies and superior targeting! Launch your ad campaign with EVADAV now!
Breakdown of Tiers
The existence of three distinct tiers, tier 1 tier 2, and tier 3, elucidates diverse advertising landscapes. Each tier is marked by unique characteristics and possibilities, providing advertisers with a plethora of options and insights.

The diversity among the tiers allows advertisers and publishers to explore varied consumer bases, enabling them to refine their advertising strategies to align better with the expectations and preferences inherent to each tier. So here you go, the description of each tier and ads tier list of the countries according to EVADAV.
Tier 1: Advanced Economies
Tier 1 Countries: Australia, US, Canada, Austria, Belgium, Denmark, Finland, France, Germany, Ireland, Italy, Luxembourg, Netherlands, New Zealand, Norway, Spain, Sweden, Switzerland, UK
Tier 1 countries, such as the USA, Canada, Australia, Germany, and the UK, are recognized for their advanced economies, elevated purchasing power, and sophisticated technological infrastructure. These nations are typically characterized by high internet penetration and a technologically savvy populace, making them optimal locales for native ad and in-page ad campaigns, especially for advertisers looking to leverage high-quality tier 1 traffic. The audience in these regions has a higher expectation for ad content, requiring advertisers to be innovative and precise in their approach to tier 1 countries advertising.
The audience in Tier 1 countries is often exposed to a plethora of native ads and in page ads daily, necessitating the creation of exceptionally appealing and relevant content to capture their attention and drive conversions.
However, there is a significant distinction in tier 1 countries: notably rigid regulatory framework governing advertising. Numerous strategies and verticals face conversion challenges here, owing to stringent restrictions or outright bans.
Tier 2: Developing or Emerging Economies
Tier 2 Countries: Andorra, Argentina, Israel, Indonesia, Brazil, Fiji, Grece, Malaysia, Thailand, Ukraine, China, South Africa, Japan, Turkey, Philippines, Kazakhstan, Romania, Singapore, etc.
Tier 2 countries, such as Brazil, China, Romania, and Ukraine, are identified as developing or emerging economies, featuring evolving technological landscapes and growing purchasing powers. These nations, included in the tier 2 countries list, are experiencing significant digital transformation, making them lucrative grounds for advertisers. The digital advertising spectrum in these regions is vast, allowing for a diversity of ad formats like popunder and push advertisements.
In these geos, both subscription-based info products and dating platforms yield good results—wisely localizing the funnel is crucial! Dating platforms, and health and wellness products are likely to perform well in this marketplace.
Tier 3: Lesser-developed Countries
Tier 3 Countries: Guinea, Tunisia, Shi Lanka, Togo, Guatemala, Iraq, India, Uganda, Uzbekistan, Niger, Barbados, Jamaica, etc.
Tier 3 countries, like Guinea, Tunisia, Shi Lanka, Togo, and Guatemala, are typically less developed and have lower economic stability, technological infrastructure, and purchasing power. If you review these countries, you'll see that they are often overshadowed by the more developed nations in the advertising domain, yet they represent unexplored terrains teeming with opportunities. The untouched nature of these markets offers advertisers the prospect to penetrate and mold consumer perceptions and preferences, offering a first-mover advantage in establishing brand presence and loyalty.
While these countries do pose distinct challenges due to their underdeveloped status, such as limited internet accessibility and digital literacy, the lesser competition in these regions provides advertisers with broader scopes to experiment with different advertising formats, like in-page ads and popunders, to gauge what resonates best with the local audience. Ad tiering plays a pivotal role here, allowing advertisers to categorize and tailor their strategies, addressing the distinct needs and behaviors of the diverse, untapped audience bases inherent to these regions.
🌐Delve into uncharted territories! Maximize your reach with EVADAV!
Why Country Tiers Matter in Affiliate Marketing
The significance of country tiers is especially paramount in affiliate marketing. They influence ROI, ad pricing differences, competition levels, and audience behavior and response rates. It's crucial for advertisers to undertake a detailed tier 1 tier 2 comparison and assess tier geo advertising prospects meticulously to optimize outcomes.
Geo-targeting stands as a crucial element in any digital advertising plan, developed to aid advertisers in enhancing their campaign's effectiveness by presenting ads solely in pertinent locations and excluding regions where the audience may lack interest or comprehension of the ad's content.
The meticulous alignment of targeting and rigorous optimization is essential for the triumph of your affiliate endeavors. Consequently, geo-targeting should be considered a central element in your promotional strategy, ensuring message delivery only in significant locations, typically determined by the geographical locales of your prospective audience.
📊 Elevating ROI & Streamlining Ad Pricing
Diving into the nuances of country tiers offers a glimpse into diverse economic ecosystems, allowing advertisers to navigate through the multifaceted layers of ad pricing, consequently elevating the ROI. This meticulous exploration of tier 1 and tier 2 countries is crucial to unearth the hidden potentials and to tailor strategies to the distinctive characteristics of each tier, ensuring optimized outcomes.
🌐 Competition Levels & Audience Behavior
The essence of affiliate marketing is to understand and resonate with the audience. The comparative assessment between tier 1 and tier 2, and evaluating tier geo advertising prospects, pave the way to comprehend the subtleties of competition levels and audience behaviors inherent to each tier. These insights empower advertisers to sculpt their strategies more effectively, harmonizing with the unique rhythm of each market, ensuring every campaign resonates and engages.
🔍 Meticulous Assessment
It's essential for advertisers to immerse themselves in detailed tier comparisons and assess the advertising prospects in each geo meticulously. The in-depth exploration and understanding of each tier not only optimize the outcomes but also unveils the unseen realms of possibilities in affiliate marketing, ensuring every campaign is a step toward refined success.
💡Strategic Insight for Optimization
A profound understanding of the importance of country tiers enables advertisers to fine-tune their strategies, blending them with the varying environments, thereby crafting campaigns that are not only coherent but also deeply engaging, ensuring the message strikes a chord with the diverse audience segments.
Succeeding in Tier 1
To succeed in tier 1, understanding the intricacies of top verticals and the recommended ad formats is crucial. It is essential to discern is tier 1 is better than tier 2 and tier 3, aligning advertising approaches to achieve a competitive edge and optimal market penetration. Tier 1 vs tier 3 consists of more developed countries. With advanced economies like the USA, Canada, and the UK, it's paramount to innovate continuously, keeping a keen eye on market dynamics and consumer behavior to ensure that your campaigns resonate profoundly with the diverse and sophisticated audience found here.
So, success of launching your campaign in tier 1 depends on the following:
Tier 1 has a higher paying capacity than tier 3 countries, so you need to choose an offer that will be the most relevant for users from this geo;

There is always a high competition for a client from the tier 1, and therefore, it is better not to enter there with small budgets and if you are new to advertising;

The cost per click in tier 1 is usually higher than in tier 2 and 3.
Tier 1 traffic is expensive, and not all may be suitable for your chosen country. Therefore, be sure to consider local demand before launching on Tier 1.
Making the Most of Tier 2
Tier 2 holds substantial promise with its emerging markets. Recognizing local trends and adapting to the tier 2 advertising landscape allows advertisers to tap into rising markets effectively, garnering robust engagement and publisher interest. Understanding the pulse of the developing economies in tier 2 ranking and mastering the art of adapting strategies can turn tier 2's burgeoning markets into goldmines of opportunities, catapulting your campaigns to new heights of success.
Navigating Tier 3 Challenge
Despite the inherent challenges, tier 3 countries hold untapped potential. Advertisers who adapt and employ suitable ad formats like in-page ads and popunders can traverse the unique landscapes of these countries, discovering new avenues and user bases. By acknowledging and overcoming the inherent challenges, advertisers can uncover fresh, uncharted user bases, sculpting campaigns that resonate with the distinctive and varied audience found in these regions, all while optimizing for maximum response. If you are wondering is tier 1 or tier 3 better to advertise, it depends on your budget and aims.
💼 Navigate diverse advertising landscapes with ease! Innovate with EVADAV!
What Other Factors Influence the Choice of the Country?
Choosing the right country for advertising extends beyond tier considerations. Several factors, including local preferences, market trends, and the prevalence of advertising formats like native ads, play pivotal roles in shaping advertising strategies, influencing the choices between tier 1, tier 2, and tier 3 companies list. In addition, cultural nuances and language intricacies form crucial components in determining the success of an ad campaign, emphasizing the importance of a meticulous approach in selecting the optimal advertising destination. It's important to analyze each tier to know exactly what's worse tier 1 or 3.
Tools and Resources
To excel in advertising, utilizing the right tools and platforms is crucial. These resources offer invaluable insights into country metrics and enable tier-specific targeting, allowing advertisers and popunder campaigns to resonate more effectively with their intended audiences. You can learn more about the trading case study with EVADAV.
Moreover, they facilitate precise analytics and real-time data monitoring, enabling advertisers to optimize their campaigns dynamically based on performance metrics. By harnessing these tools, advertisers can glean refined insights and adapt strategies to ensure maximal alignment with audience preferences and behaviors.
Conclusion
The understanding and implementation of ad tiering are indispensable for advertisers aiming for strategic precision and effectiveness. By meticulously analyzing ad tiers list and insights, advertisers can refine their strategies, ensuring their ads resonate well within the intended markets, making EVADAV the go-to platform for informed and impactful advertising endeavors.
Read Also: $10,000 profit monthly on online dating in the US is real!