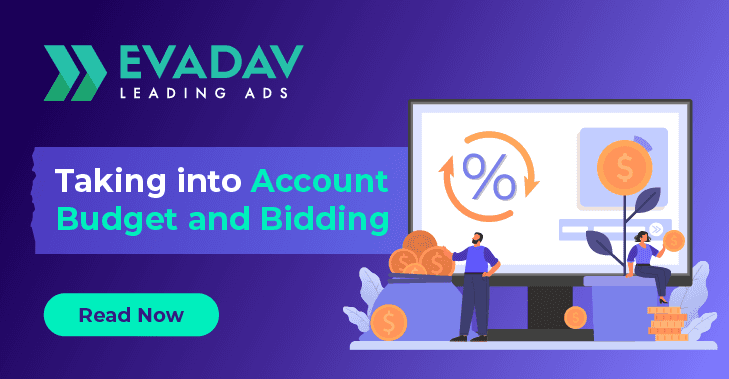 Taking into Account Budget and Bidding
Every entrepreneur knows the importance of proper budgeting. And because exceeding expenses can become detrimental for a company, people often tend to limit spending on all categories, including marketing. But is it an effective strategy nowadays? While the marketing theory encourages bosses to get maximum results with minimum investments, the practice conflicts with this notion. Today, marketers meet something that turns their whole worldview upside down, which is artificial intelligence.
Google is one of the major global advertising platforms, with almost 90 billion monthly visits. Naturally, companies put their marketing ambitions to life here. Previously, all the bidding was manual, and people had to analyze colossal volumes of data. However, bidding in such a volatile environment was always beyond human possibilities.
First, too many factors affect conversion, and considering them all is impossible. Next, manual bidding takes too much time, leaving no space for building strategy. Therefore, marketers ditched human labor and employed AI. Why did Smart Bidding AI surpass humans?
🤩Smart Bidding
In a nutshell, Smart Bidding forms automated bidding strategies where machine learning helps to maximize conversions. In other words, the program now decides when to increase or decrease bids depending on the following determinants:
Search query

Device

Location

Time of the year, etc.
Smart Bidding can exceed the daily marketing budget to maximize conversions. This characteristic is safe, and here is why. Although the program can double the daily limit, it always fits into the monthly budget. Let's say that a company has $600 for an advertising campaign per month. Dividing this sum by thirty will mean a $20 limit per day. On a busy day, the program can use $40 but will spend less later to fit in the $600. Such agility makes advertising strategies more effective.
This way, the appearance of machine learning technologies brought changes to the knowledge economy. In the past, the more specialists knew about the market, the better. Now they need to know where to find the information. Then, programs will take care of the rest.
The famous retail company Aliexpress decided to begin using Google AI for bidding several years ago. And after just one month of work, the conversions almost doubled! Also, Capterra, a service for finding software, increased its profits by 20% thanks to Smart Bidding. This move helped both companies to decrease employee workload and optimize financial resources.
Still, there are several peculiarities that people often omit when working with AI bidding. Remembering them helps to avoid losses and save the promotion budget:
1. Smart Bidding Works Only for Existing Products
Artificial intelligence requires data about a product or service to learn and train. But, when a business launches something revolutionary, there is zero information on search history, for instance. Therefore, employing AI will lead to a hole in the advertising budget.
2. Smart Bidding Works Better for Big Companies
Scale is another parameter that affects machine learning. On average, the program needs around one month to train if a famous company uses it. However, predicting the likelihood of conversions for small brands takes more time. 'Feeding' the machine with data is crucial!
3. Unusual Consumer Behavior Confuses AI
Another recommendation for working with bidding software is to be careful with specific periods. Whenever sales peak or drop for no apparent reason, the program can misinterpret the changes and be less efficient in the future. So, it is better to turn off Smart Bidding during Black Friday, Christmas, or other occasions like these.
Overall, modern times call for modern solutions. This rule works for budget marketing solutions and bidding too. Due to AI implementation, increased advertising costs can lead to results that exceed all expectations!
💰Follow the bid size recommended in the campaign settings with Evadav and launch your campaign.
🤩Better CTR with Evadav - the higher bids, the higher CTR
Low bid results in a low CTR. As a consequence, the sources you receive are worse the lower your bid is.
The more auctions your advertising campaign might participate in, the greater the bid.
After selecting the country in the settings in your Evadav profile and pressing suggested or max bid, the average CPC and recommended bid size is displayed. In order for you to launch your campaign with the most pertinent bid for your audience, we continuously update this information.
💰Plan your campaigns with Evadav
Read Also: Types of Ad Fraud: Tools for Their Detection