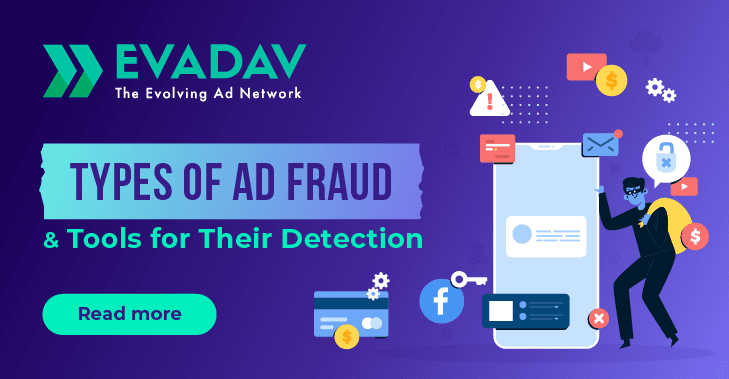 Types of Ad Fraud: Tools for Their Detection
🧨What is Ad fraud? Types of Ad Fraud
Ad fraud is a multi-billion-dollar global issue that affects online advertising. Deceptive or false tactics are used by criminals to generate clicks, impressions, and/or conversions to defraud advertisers. Detecting and preventing ad fraud requires that businesses keep up-to-date on the latest trends.
Some of the most common types of ad fraud include:
Click fraud: This occurs when a person, bot, or automated script generates fake clicks on ads to boost revenue for the publisher or to exhaust the advertiser's budget.

Impression fraud: This type of fraud involves generating fake ad impressions, usually by employing bots or using hidden elements such as 1x1 pixel iframes to load ads that are not visible to users.

Ad stacking: In ad stacking, multiple ads are layered on top of one another within a single ad placement. Only the top ad is visible to users, but impressions are counted for all ads in the stack, leading to inflated metrics for the invisible ads.

Domain spoofing: Fraudsters misrepresent the domain or URL where the ad is served to make it appear as if it's on a premium or high-traffic website. This technique can deceive advertisers into paying higher rates for ad placements on low-quality or fraudulent sites.

Ad injection: This form of ad fraud involves inserting unauthorized ads into a website or app without the publisher's consent. These ads can replace existing ads or be displayed in addition to the site's regular ad inventory.

Pixel stuffing: Pixel stuffing involves cramming ads into tiny, invisible pixels or placing them in non-viewable areas of a webpage. Users cannot see these ads, but they still register as impressions.

Viewability fraud: In this type of fraud, ads are displayed in locations or under conditions where they are not viewable by users, such as below the fold or in inactive browser tabs. Despite their lack of visibility, these ads are still counted as viewable impressions.

Attribution fraud: This occurs when fraudsters manipulate tracking and attribution systems to take credit for conversions or actions they did not influence. For example, they may inject fake clicks or impressions to create a false sense of engagement.

Ad network fraud: Some fraudulent ad networks or exchanges may participate in or facilitate ad fraud by knowingly selling fraudulent inventory or engaging in fraudulent practices like reselling inventory without adding value.

In-app ad fraud: This type of fraud specifically targets mobile apps and may involve techniques like click fraud, fake installs, or SDK spoofing (manipulating the software development kit used to serve ads within an app) to exploit the mobile advertising ecosystem.
By keeping informed about the different types of ad fraud out there and employing the right tools for detection purposes, you can protect yourself against this costly problem and preserve your advertising budget effectively.
How does ad fraud occur?
Ad fraud typically occurs when malicious actors employ bots or other automated systems which manipulate an ad campaign by generating false clicks or impressions of ads. This can result in advertisers paying for non-existent traffic or impressions, which results in them losing money without gaining any benefit from the campaign itself.
Who is at risk of ad fraud?
Any advertiser conducting business online is at risk of falling victim to advertising fraud. However, those with smaller budgets are more likely to be targeted due to their lack of resources and knowledge on how best to protect against it. Also, those who rely heavily on programmatic buying may also be at greater risk as they tend not to have complete control over where their ads appear.
How to prevent advertising fraud?
The most effective way of preventing advertising fraud is investing in an effective ad fraud detection tool which can help detect suspicious activity quickly and accurately while providing detailed insights into what sort of tactics are being used by malicious actors.
🧨How do Ad Fraud Tools Work? Ad Fraud Tactics
Ad fraud is an increasing problem in the digital advertising industry, estimated to cost advertisers around $81 billion in 2022. Ad fraud occurs when malicious actors use various tactics to manipulate ad campaigns for their own benefit. As such, businesses should invest in tools to detect and prevent ad fraud.
Ad fraud detection tools analyze the data associated with a particular ad campaign and look for suspicious activity. These tools use algorithms to look for patterns that indicate fraudulent activity, such as unusually high click-through rates or suspicious IP addresses.
In addition to detecting potential fraud, these tools can provide insights into what sort of tactics are being used by malicious actors. For example, some tools will be able to identify common techniques such as domain spoofing or pixel stuffing, which are both methods used to bypass an advertiser's security measures.
Another useful feature found in many ad fraud detection tools is the ability to track different networks used by malicious actors.
Overall, investing in an effective ad fraud detection tool is essential for any business looking to protect its brand integrity and maximize ROI on its digital advertising campaigns.
🔨Types of the Ad Fraud Detection Tools
Ad fraud detection tools come in a variety of forms, each with its own strengths and weaknesses. Some of the most popular types of ad fraud detection tools include:
Pixel-based Detection Tools
These tools place a unique pixel on an advertiser's website or landing page, allowing the tool to track user activity and spot any suspicious patterns. This tool is especially useful for detecting bots attempting to manipulate an ad campaign by automatically clicking on ads.
Real-Time Bidding (RTB) Fraud Detection Tools
RTB is a form of online advertising where advertisers bid on impressions in real time. RTB fraud detection tools use sophisticated algorithms to analyze data associated with each impression and look for patterns that indicate fraudulent activity.
Machine Learning-based Detection Tools
These tools use advanced machine learning techniques to constantly monitor ad campaigns and detect any suspicious activity before it has a chance to affect the campaign's results. The algorithms used by these tools are able to learn from past behavior and identify new trends, making them highly effective at detecting even the most sophisticated forms of ad fraud.
Behavioral Analysis Tool
This type of tool uses behavioral analysis methods such as clickstream analysis, mouse movement tracking, and web scraping technologies in order to detect fraudulent activities such as false clicks or deceptive impressions generated by bots or other automated systems.
Whichever type of ad fraud detection tool you choose, it must offer features such as IP address lookup, geolocation tracking, blacklisting capabilities, and reports that can be customized according to your specific needs.
⚙️Best Ad Fraud detection tools
TMT Scanner
TMT Scanner is one of the most popular ad fraud detection tools currently available. It uses a combination of algorithms and manual analysis to detect suspicious activity in real time. It can detect bots, false clicks, deceptive impressions, and other suspicious behaviors associated with ad fraud.
Pixalate
Pixalate is a powerful ad fraud detection tool that uses artificial intelligence (AI) and machine learning to analyze incoming data from an ad campaign. It looks for patterns that indicate fraudulent activity, such as unusually high click-through rates or suspicious IP addresses.
Protected Media
Protected Media is a trusted provider in the field of ad fraud detection solutions. Its platform uses AI algorithms coupled with human expertise to detect bots, false clicks, deceptive impressions, non-human traffic sources, and more. Protected Media offers whitelisting capabilities for advertisers who want to ensure only legitimate users see their ads.
Forensiq Scanner
Forensiq Scanner helps advertisers identify fraudulent activity on their campaigns quickly and accurately by using sophisticated algorithms to analyze large amounts of data in real time. Forensiq Scanner can detect suspicious activities associated with botnets or malicious actors attempting to manipulate an ad campaign's performance metrics, such as CTRs.
White Ops
White Ops is an industry leader in detecting deceptive practices used by malicious actors trying to manipulate an advertiser's budget or brand integrity through fraudulent means such as bot traffic or false clicks from fake users/accounts. They use cutting-edge technology such as machine learning and AI algorithms along with manual investigation processes (known as HumanOps).
DataDome
DataDome is another excellent tool for detecting Ad fraud designed specifically for large-scale enterprise companies looking to protect their brand integrity from malicious actors trying to take advantage of them through digital advertising schemes. DataDome combines sophisticated rules-based algorithms with advanced machine learning technology so its clients are able to identify breaches early on before any damage is done, saving them both time & money while ensuring their campaigns reach the right audiences without being manipulated by malicious actors.
Trafficguard
Trafficguard is a comprehensive solution that detects bot traffic, false clicks, deceptive impressions, non-human traffic sources, malware, etc. Their platform utilizes several layers of protection, including advanced bot detection technologies & anti-malware capabilities paired with robust whitelisting & blacklisting features.
Conclusion
There are many ad frauds nowadays. However, they all can be prevented by using the special tools we have listed above.
💰Use ad protection tools and launch your campaigns with Evadav
Read also: Tips for Digital Advertising in Asia: Indonesia Geo