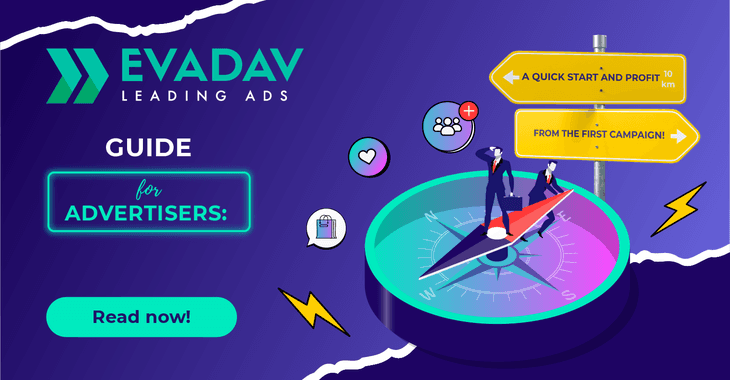 Step-by-step guide "How to become a successful advertiser": top formats, verticals, geo, and traffic sources
😎Hello, Evadavers!
Every year, promoting goods or services on the Internet requires a more comprehensive approach. How to choose the advertising format, what are their advantages and disadvantages, and how to properly configure the campaign for the best results?
The Evadav team collected the Klondike of helpful information about formats, the best verticals and geo, system's sources and updates in one guide.
The profitable world of advertising with Evadav: Leading Ads awaits you!
Effective advertising formats from Evadav
Popunder
Popunder is a landing page that opens behind the main browser's window. To run the popunder, it is enough to click on any part of the site or open it with the code. Choose this advertising format when you need cheap traffic and have no specified KPIs.
The most popular verticals for Evadav popunder ads:
❤️dating
🎟️sweepstakes
🤖APK
🌱nutra
🪙finance
🕹️gambling
📝questionnaires
💾software
📥push subscriptions
📱mobile subscriptions
Pop-traffic is easiest to convert with SOI offers, where the user needs to go through a simple registration without data validation. So it is online dating, questionnaires, and online raffles show the best results with pop-under traffic. Pop-under is a good choice for offers with soft KPIs.
Most advertisers are pleased with the volumes and convertibility of popunder-traffic in the following regions:
🇺🇸 USA
🇮🇳 India
🇮🇩 Indonesia
🇬🇧 Great Britain
🇧🇷 Brazil
🇫🇷 France
🇩🇪 Germany
🇮🇹 Italy
🇯🇵 Japan
🇨🇳 China
Popunder advantages:
Guaranteed views.

The advertisement is shown to a unique visitor only once a day.

Payment for impressions.

Reaching a wide audience.

High traffic volumes.

Adapted to any device.

Easy and fast start.
Disadvantages:
Because of large volumes, it is more difficult to control the traffic quality.

Do not drive traffic to the offers with traffic KPI, as its pid will be excluded from the offer, that is, blocked.

It is also worth choosing a different format if you are used to working only with quality leads.
Evadav tip:
We recommend choosing a good hosting for landing. It is best to buy a private VDS (Virtual Dedicated Server) or VPS (Virtual Private Server).
How to get the maximum profit with the popunder format:
Run campaigns with Whitelists. So you will spend the budget for pop-up ads only on those pages that showed the best results

Choose premium traffic where the best convertible traffic is collected.

Add reviews to the landing page.

Conduct A/B testing of landing pages and offers.

Run different advertising campaigns for desktop and mobile traffic.

Use trackers to analyze all indicators of the advertising campaign.

Use pre-landers.

Monitor suspicious traffic with trackers.
Launch popunder campaigns right away!
Inpage
Inpage is a new advertising format that looks like a small ad window with an image and text that appears a few seconds after someone gets on the page.
The notification disappears after the user clicks the banner or closes the image. With the inpage format, advertisers have finally reached Apple device owners.
Pros:
do not respond to browser blocks;

there is no subscriber base, as there is no need to subscribe to them;

it is easier to plan the budget as there are no leftover clicks;

appear suddenly when the user interacts with the device;

give access to the new and solvent iOS and MacOS audience;

provide higher conversion in top geo and verticals;

look maximally native due to the use of custom styles.
Cons:
There is no large image, making it less visible on the desktop.

As views are counted right in the moment of ad display, not delivery, therefore they won't work on the CPM model.

Users may consider in-page annoying

The offer's vertical must align with the website's thematic.

Easy to close notification means easy to lose a user.

There's a need to track sources properly and exclude non-relevant ones, as traffic volumes are huge.
Custom styles personalize creatives and make the inpage format very effective for most verticals.
The following verticals are in Evadav's top-list:
❤️dating
📹webcam
🔞adult games
⚙️utilities
🕹️gambling
🖥content sites
🤖APK
🎟️sweepstakes
⚽betting
🪙finance
The most inspiring results our advertisers received when promoting dating offers (including 18+) with inpage. Creatives in Social style are as much like notifications from social networks.


The Classic template is ideal for gambling, betting, and sweepstakes.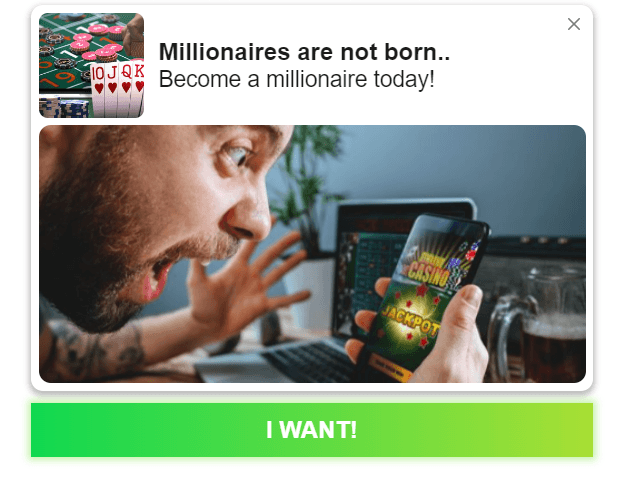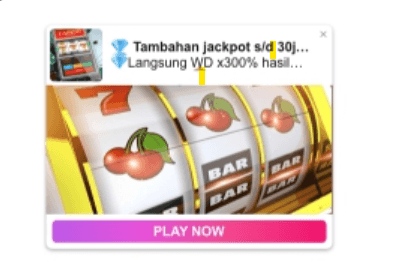 Utilities and APK work well with creatives in a System style that makes notifications similar to system messages: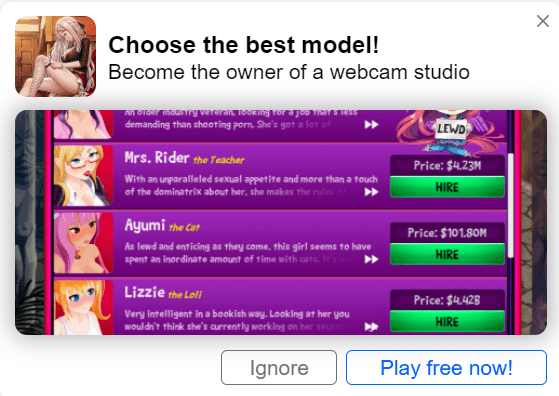 Most of the inpage traffic is in these geo:
🇮🇳 India
🇧🇷 Brazil
🇮🇩 Indonesia
🇺🇸 USA
🇹🇭 Thailand
🇮🇹 Italy
🇩🇪 Germany
🇫🇷 France
🇯🇵 Japan
🇨🇳 China
Tips and recommendations on working with inpage format
With the help of inpage advertising, you can test new bundles and successfully launch "burnt-out" campaigns with push format.

Configure the sources correctly because inpage has specifics that affect the sources.

Do not ignore the creation of new black- and whitelists.

Use advanced targeting options to avoid unnecessary clicks.

When making creatives, remember that for this format, personalization is key.

Experiment and take all the advantages. Then you can get the maximum CTR when the CPC/CPM is low.

When applying the automated rules, it is crucial to avoid contradictions.

Test, test, and test again! This way, you can collect whitelist sources that result in a profit.
With the right approach and with our recommendations you can get such statistics with dating offer: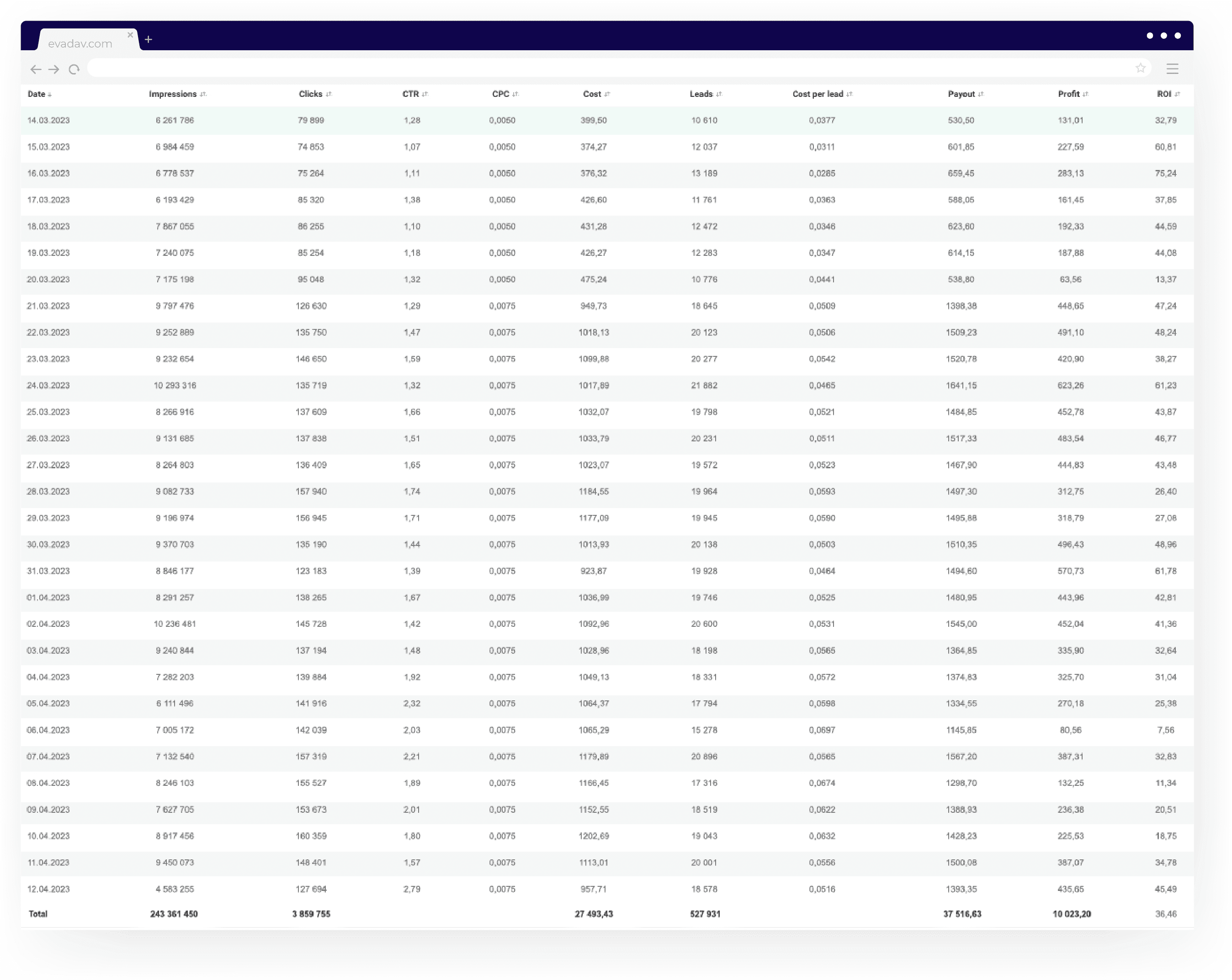 Launch inpage campaign with Evadav
Push notifications
Push notifications are small ones consisting of a title, description, and banner. It is one of the most popular formats in arbitration. Users subscribe to the mailing list by themselves, which gives you the right to send them messages legally until they unsubscribe.
Pros:
All creatives are tracked with the help of machine learning algorithms and checked manually to ensure the brand's 100% safety for a better user experience.

Flexible targeting.

More than 3 billion impressions of push ads.

Access to premium publishers and target audience fitting best to your offers and campaigns.

Advertisements are always displayed in the most visible spot for a user.

Evadav gives only the real users and live audience for your campaigns.

The user subscribes to the website's notification by him/herself. And he/she can easily unsubscribe.
Cons:
A user unsubscribes automatically and falls out of the base with cleaning cookies.

Push notifications often distract users coming when they are not expected. Moreover, if they are sent at the wrong time, they will disappear from the screen in 15 seconds after viewing. It means that the potential audience may not go to landing due to the lack of time to do this.

Irrelevant send-outs. Not all arbitrage managers do their best to personalize emails.
Top verticals:
🕹️gambling
💾software
⚙️utilities
❤️dating
📹webcam
💵trading
⚽betting
🌱nutra
🪙finance
🎟️sweepstakes
Best geo:
🇺🇸 USA
🇩🇪 Germany
🇮🇳 India
🇮🇩 Indonesia
🇬🇧 Great Britain
🇧🇷 Brazil
🇫🇷 France
🇮🇹 Italy
🇹🇭 Thailand
🇯🇵 Japan
Creatives
The better you know your audience, the better you can choose creatives, titles, and descriptions to attract the audience's attention and perform the targeted action you need.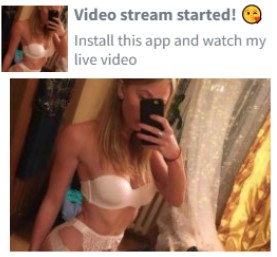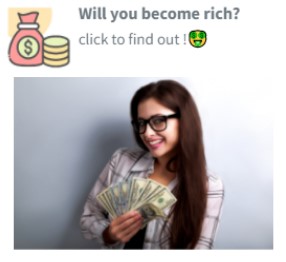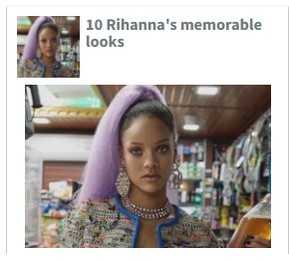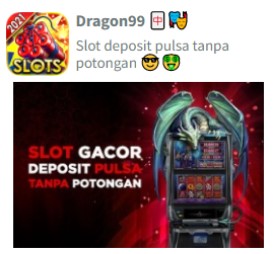 Evadav tips for creatives:
Emotional, contrasting creatives trigger users' attention;

Numbers instead of words and emojis will make your message more attractive;

Use a language in creatives that is relevant to the country you target;

Create your unique creatives, and do not be afraid to experiment;

Run some small A/B tests;

Test from 5-10 creatives for one campaign;

Change creatives often to keep CTR high and get more outreach.
Native Ads
Native advertising is a type of banner advertising which is gently and organically introduced into the content. Due to the strict correspondence of the site theme and algorithm selection of impressions based on behavioral analysis, it finds already interested users.
Native ads features:
Native advertising corresponds to the website theme and adjusts to the type of content.

The user is not misled due to leaving an "advertising" mark.

In native ads, the focus is not on the product but on valuable and interesting information that users get.

Content that integrates native advertising is always unique.

The information will remain helpful and interesting, even if you remove the native mention of the promoted object.

It does not block content or disturb users and does not appear in additional tabs without their consent.

It may contain negative reviews about a product, service, or company, performing, in this case, the role of anti-ads.
Who can work with native ads?
financial organizations — banks, insurance companies, credit institutions;

everyone who works in e-Commerce will help to collect basic information about potential leads quickly;

brands that want to increase recognition and trust;

real estate agencies (taking into account the region);

affiliates working in any vertical or geo.
Pros:
easily targeted;

gives excellent outreach and engagement without additional investment in advertising campaigns;

relevant to the interests of site visitors;

is designed for long-term advertising campaigns, leads traffic longer than any other format;

native ads are not ignored, and "banner blindness" doesn't affect them;

does not prevent users from studying the content and does not annoy them;

you can tell about the benefits and features of the offer;

does not bother — interesting content is fully watched and read;

cannot be blocked by browser extensions;

can be shared by users via free channels;

natively promoted products and brands a priori trusted, as well as the platform, as users perceive advertising as a recommendation, help, or advice.
Cons:
the format is not scalable;

costs more than other formats;

must strictly comply with the placement requirements of the site;

native advertising from bloggers is always a risk;

content must be of high quality.
Top verticals:
🖥content site
⚽betting
🕹️gambling
❤️dating
💵trading
🌱nutra
🪙crypto
🎮gaming
📱mobile subscriptions
🤖APK
Best geo:
🇺🇸 USA
🇫🇷 France
🇬🇧 Great Britain
🇩🇪 Germany
🇦🇺 Australia
🇪🇸 Spain
🇨🇦 Canada
🇨🇿 Czech Republic
🇸🇪 Sweden
🇦🇹 Austria
🇧🇪 Belgium
Creatives
Creatives for native advertising consist of a title and an image. Here is how they look on different devices:
Desktop: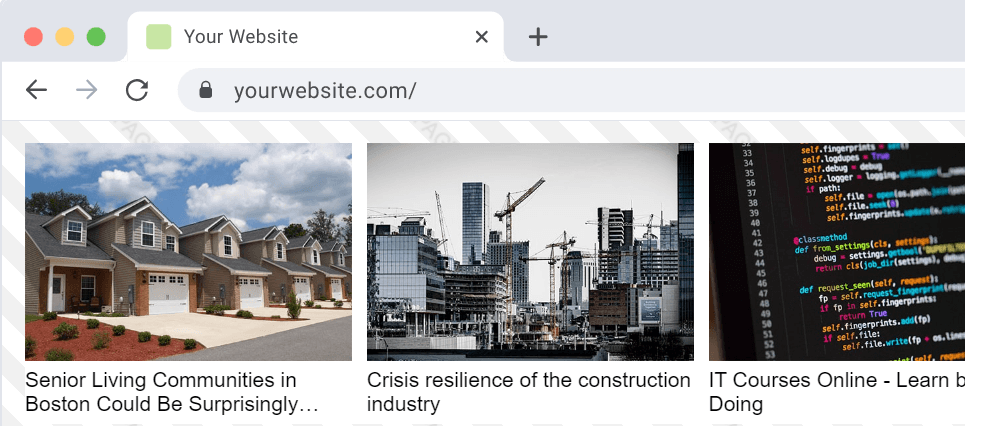 Tablet:

Mobile: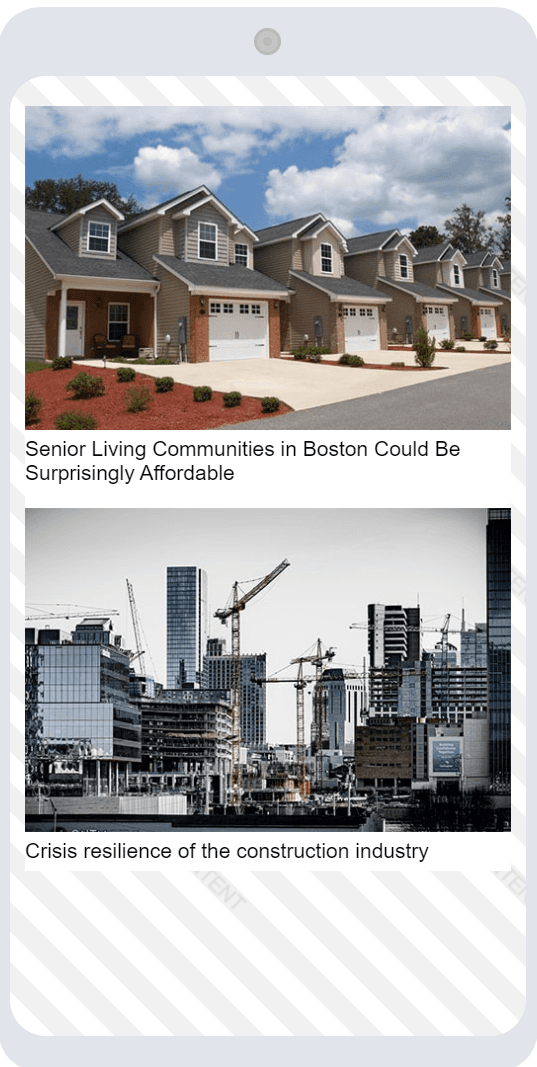 The goal of the title is to interest users and make them think while remaining clear and conveying the essence of the content. Use high-quality images for advertising. Image is not just a part of the visual; it reflects the essence of the text, helps convey the vibe, and attracts the user's attention.
Evadav tips: The more organic and properly matched the creatives will be the more clicks and engagement you'll receive from users in return.
Campaigns with native traffic meet the expectations of advertisers who use recommendations from Evadav experts:
Test several creatives;

Study the target audience carefully;

Use all available targeting settings;

Do not forget about the uniqueness of promotional materials;

Use the platform's flagship options — micro bidding, blacklist and whitelist, and automated rules;

Choose Evadav premium traffic;

Use the tips of the personal manager!
And finally, see the statistics of the successful native campaign of our advertiser:

Summary
Using our guide in practice, you will have a general picture of all the possibilities Evadav provides. Follow our tips and recommendations, and you are guaranteed a fire profit.
Read also: How to Work and Make Money with Evadav Native Format?