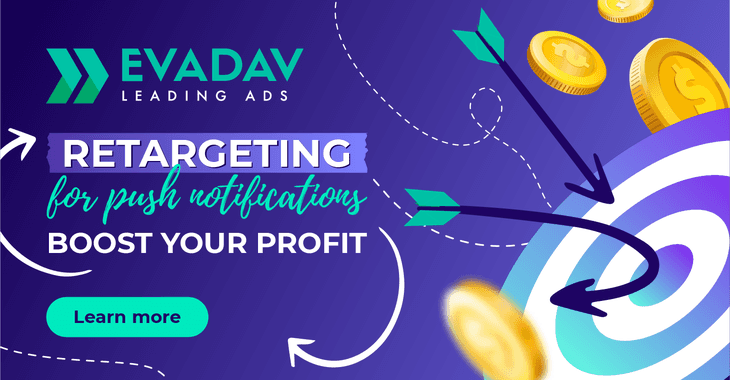 Retargeting Push Notifications: How to retain and convince users effectively
😎 Hello, EVADAV-ers!
How do you get more "warm" traffic working with push notifications? Retargeting is one of the effective options that will allow you to return users by showing them personalized advertising.
We know how much you have been looking forward to this and are ready to present you with the opportunity to use retargeting in your advertising campaigns. The feature is already available in the advertiser's personal account on request, and we are eager to tell you all the charms of retargeting.
What is retargeting?
Retargeting is an advertiser's tool that analyzes users' actions on a page with an offer to show them relevant advertising. Retargeting aims to retain or return indecisive users interested in the offer but have not brought conversions or have already taken targeted action.
How does it work?
When a user leaves the target page, the system remembers him and allows you to display the advertisement to this user on other resources participating in the retargeting program.
For example, when users migrate to other sites, they may see ads that remind them of your product or service.
Let's say Alex is interested in the offer and browses the page accordingly. But he never dares to make a purchase or other targeted action. Alex will leave the page and open another site, game app, or social network. Whatever resource he uses next (if this site is in our database for publishers), he will receive a reminder of the incomplete purchase and other offers based on the data collected about him.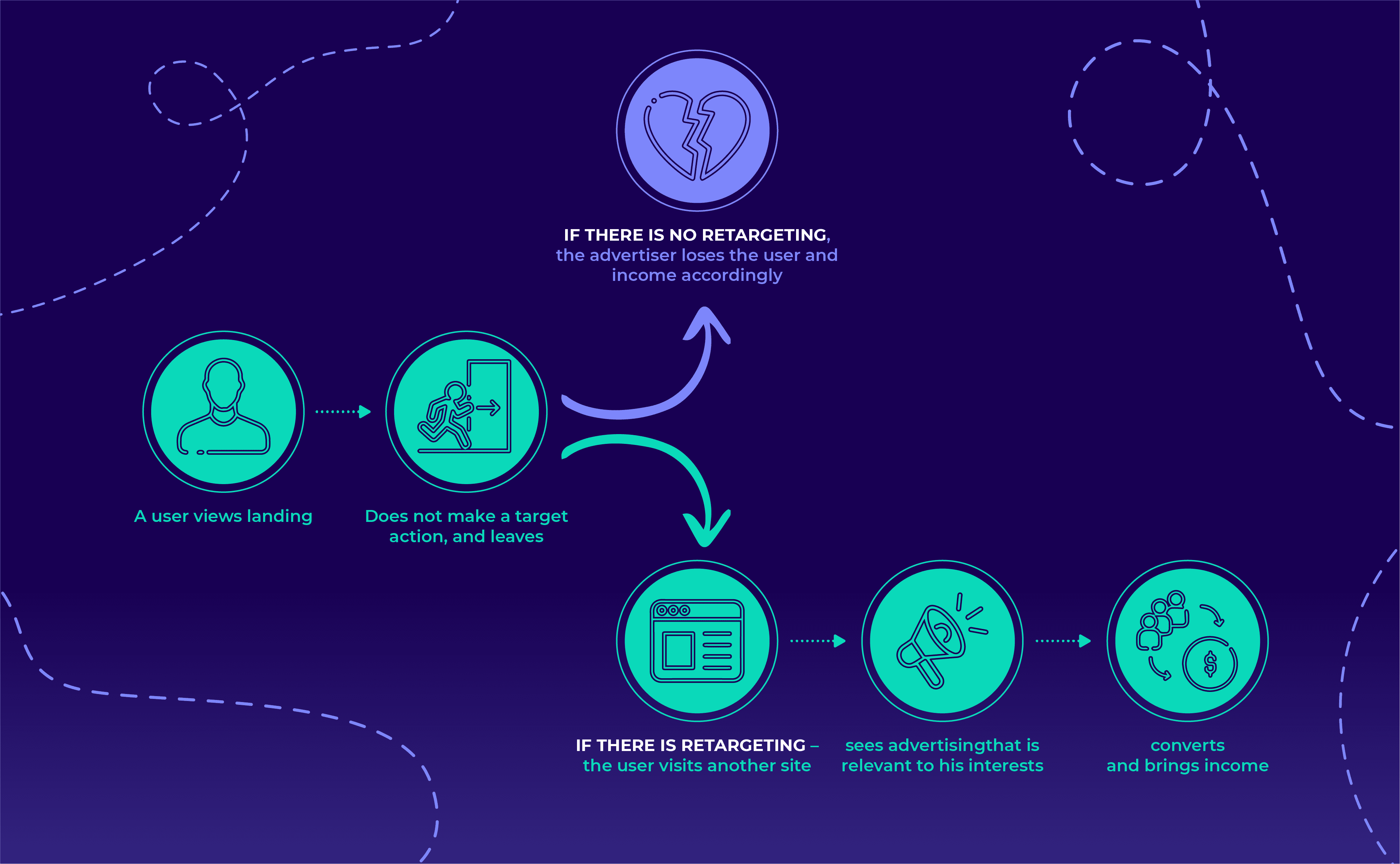 What is retargeting for?
Retargeting helps to increase the effectiveness of the advertising campaign, as it allows you to interact with an audience that is already familiar with your offer and has shown some interest in it.
It can help you retain potential customers, increase conversion and improve overall marketing efforts. It is crucial to follow the confidentiality rules and notify users about collecting and using their data as part of the retargeting campaign.
Targeting and retargeting — what's the difference?
Targeting is the setting of advertising to the target audience on specific parameters. Retargeting involves advertising to already interested users. In essence, for the advertiser, it is like targeting "by interests", which is impossible in the case of pop- and push-traffic.
About effectiveness of retargeting push notifications
Retargeting push can reach users who click on ads, then convert or interact with target pages.
Retargeting audiences will be collected automatically.
With the help of retargeting push notifications, you can remind users about unfinished purchases and great offers at the most appropriate moment. The tool lets you interact with subscribers for a long time, increasing loyalty and stimulating re-sales.
ℹ️ Interesting to know:
Our internal tests and system statistics show that retargeting push helps return active subscribers and significantly increase conversion. The number of sendouts is unlimited. And since you are now dealing with a "warm" audience, the conversion will be higher than among users who came via regular advertising.
Thus, it is possible to get the audience back with retargeting push notifications much cheaper and faster than using other tools — for example, remarketing through contextual advertising.
⚠️ It is crucial not to confuse retargeting with remarketing:
The main difference between remarketing and retargeting is how user data is used. Remarketing typically refers to ads placed on third-party platforms to re-attract users, while retargeting involves using collected data to customize targeted campaigns, including their further display.
It is a great way to interact more effectively with the audience and get maximum profit from advertising campaigns.
Advertisers will save time and budget by choosing push notifications for retargeting. You can customize creatives as much as possible by segmenting the audience on various parameters. And this is a direct path to high CTR, CR, and the corresponding ROI.
5 efficient tactics for targeting
Retargeting is very relevant for top verticals such as dating, gambling, betting, trading, gaming, and finance.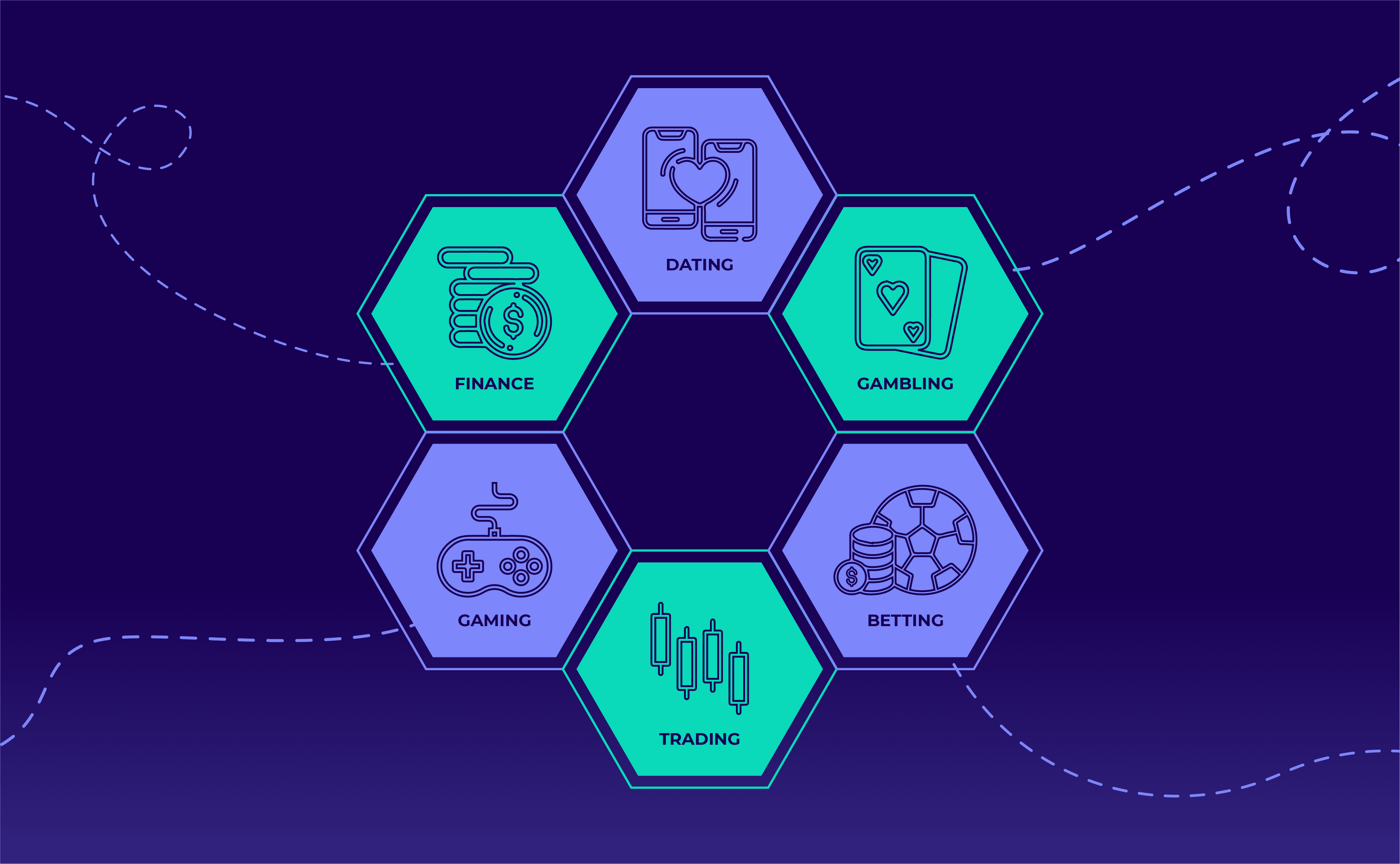 To catch up and return the audience, you can:
Remind users of incomplete registrations, remaining goods in the shopping cart, forgotten deposits, and unconfirmed data.
Inform about new messages, profile views, special offers, promotions, sales, and loyalty programs. In betting, it is important to be event-oriented and create push in 2-4 days, depending on events developed at the Championship.
Engage the audience by stimulating it with rewards such as discounts, free spins, bonuses, promo codes, trials, and exclusive content.
Create upsells by encouraging the user to spend more, offering to buy related, similar, or improved products. Registered users can be targeted for the next funnel stage, for example, account replenishment or purchase of VIP status.
Encourage re-sales. Those users who have already been converted once are the best audience, and you can not just let it go. Personalized offers can be used to re-convert actual leads..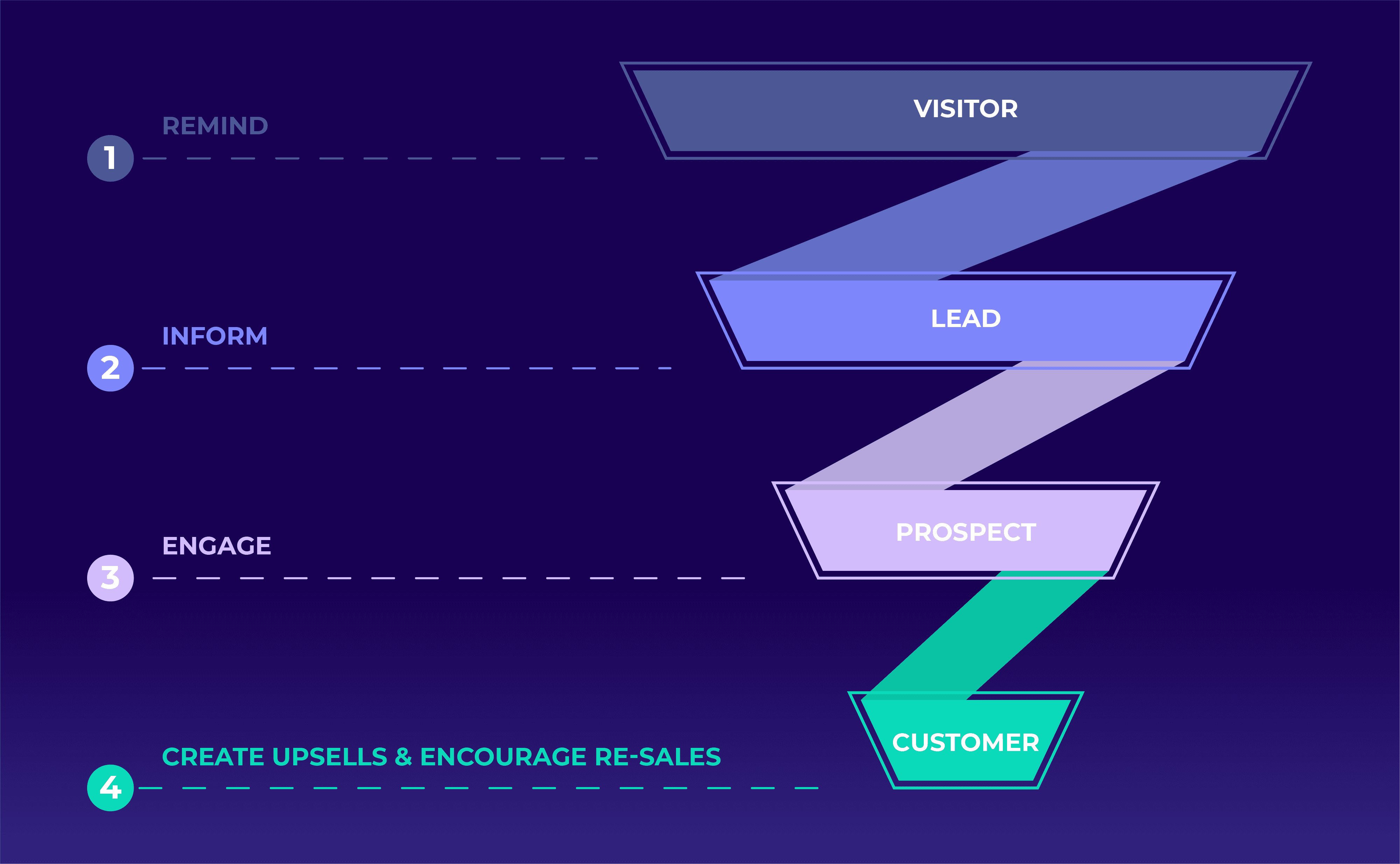 Using all methods in a complex, you can effectively restore communication with the audience and get your formula of game-changing sales.
How to set up retargeting
This option is available for push advertising campaigns. It's enough to take a few simple steps. We'll show you how to do it.
Select the Push notifications advertising format:

Find the ReTargeting block and select "Targeting" or "Collecting":

Audiences in "Targeting" directly retarget campaigns only on Push UserID contained in these audiences.
The audience in "Collecting" serves as a collection of Push UserID.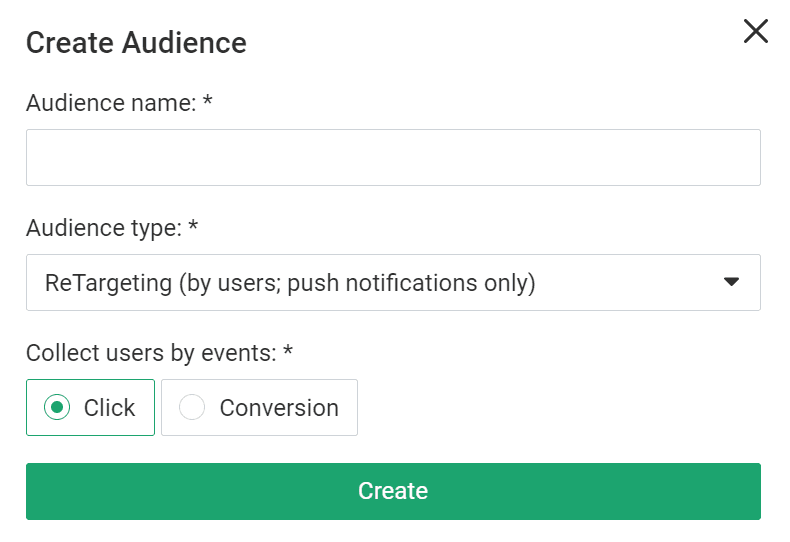 In the advertiser's account, the "Audiences" tab now has a new type of audience: "ReTargeting" (by user; push notifications only).
In "Collect users by events," you should select the type of event by which the audience will be automatically collected:
ℹ️ FYI: UserID parameter helps to track users' actions and get a complete picture of interaction with the page.
Note! Retargeting is also available to API users 2.0, 2.1, 2.2. and allows you to create audiences only by ReTargeting by users clicks type.
Results
We know that you trust numbers rather than words. And, of course, we will not leave you without showing impressive results from using a new feature.
The advertiser grouped users in the dating vertical by Click Events (Collect users by events: Click), eventually increasing CTR by 15%:


And finally, a comment from the advertiser:
"Retargeting works! And I didn't bother with it — just dubbed the same campaigns and raised the bid. CTR is great and leads have increased by 10-15% easily".
The functionality is available on request, so contact the personal manager.
Retargeting is a crucial and long-awaited option. It is an ideal way to segment the audience deeply for effective customization of promotional materials. By adapting creatives, you can show users personalized ads and get more conversions.
Run push campaigns with retargeting in EVADAV to get users back or receive re-conversions.
🤑 Launch campaign with retargeting 👉
Read also: Step-by-step guide "How to become a successful advertiser"