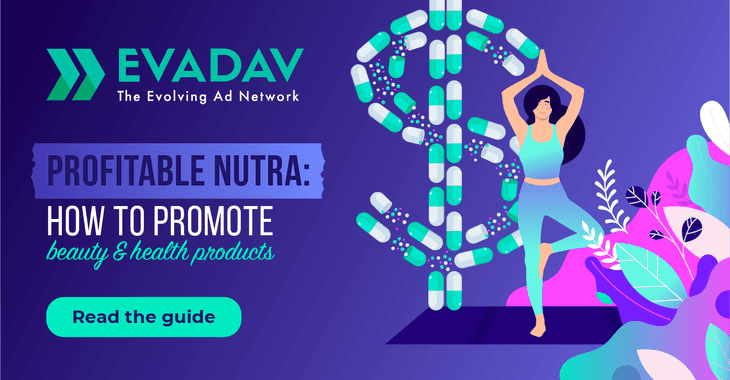 Nutra vertical: "magic pill" for healthy ROI
😎 Hello, Evadavers!
🍀 Nutra is a classic evergreen vertical in affiliate marketing.
In addition to making excellent earnings (this industry brings billions of dollars to advertisers annually), the Nutra vertical requires a deep understanding of consumer behavior, making it ideal for affiliate marketing.
The Evadav team has created a detailed step-by-step guide in which you will learn:
📌 vertical's features, prospects, and problems;
📌 the target audience of Nutra offers;
📌 promising traffic and geo channels;
📌 working approaches to making creatives;
📌 the best advertising formats for promotion;
📌 the secrets of profitable advertising campaigns;
📌 and, of course, actual advertising statistics to inspire you to even more fiery results!
🌱 Immersion in the world of Nutra and exclusive advice from Evadav experts for profitable campaigns and ROI await you.
What is Nutra vertical?
Nutra is biologically active supplements, dietary products, minerals and vitamins, and cosmetic products. This vertical has many directions.
Target audience is mostly women aged 35-55, but there are also men aged 25-40.

Competition level: consistently high.

Traffic cost: average.

Pricing model: COD, SS-offers, and Trial.

Offer type: "white" - the user gets a product that could solve his problem. But with 18+ products, you will have to bypass the moderation.

Difficulty level: It's easy to start with Evadav traffic.

Geo: The highest conversion is in the countries from Tier 1 and Tier 2. You can also try Tier 3.
Features of Nutra offers: relevance, problems, and prospects
Even experienced arbitrage managers can hardly promote dietary supplements.
Let's see what problems advertisers face when working with Nutra offers:
high traffic requirements (most often geo from Tier 1 are listed in offers' KPIs. Tier 2, and 3 geos are rare);

consumers are often unaware of some of the supplements that could potentially solve their problem until they see the advertisement. Therefore, Nutra can't be found through search engines, which means that it is simply pointless to promote it with keywords;

high competition, tough to advertise Nutra in Tier 1, but the level of payouts motivates ideally;

leading the user to conversion is difficult, and it's nothing to do here without warming up;

Nutra vertical products target the solvent audience - there are no cheap goods, so it is even more challenging to get the lead from Tier 2 and 3.
But look, what results can be achieved with the right approach:

Best geo for Nutra offers
The list of the most stable leaders to date looks like this:
🇺🇸 USA
🇮🇳 India
🇮🇩 Indonesia
Secondary geo which also show good conversion:
🇩🇪 Germany
🇬🇧 Great Britain
🇧🇷 Brazil
🇮🇹 Italy
🇬🇪 Georgia
🇹🇷 Turkey
🇯🇵 Japan
🇮🇱 Israel
Evadav tip:
Pre-analyze the relevance of the offer in any geo to get a good CR. Do not neglect Asian countries. Demand for Nutra is good. Yes, the payouts are lower, but large volumes and low traffic costs offset this.
Target audience
At first glance, it may seem that the target traffic should be sought among the young and progressive generation.
But in fact, it turns out that the products of non-traditional medicine mainly interest adults.
Generation Z trusts exclusively evidence-based medicine, pays dearly for consultations with specialists, and buys individual nutritional plans. Sometimes the young audience is also interested in "wonder pills", but adults - much more often.
Traffic sources
You can use any traffic source for Nutra offers — social media, Google Ads, teaser networks, marketplace, push.
Effective advertising formats
The following formats work perfectly for Nutra offers advertising.
classic push notifications;

popunder;

native ads;

inpage.
Evadav tip:
To promote Nutra products, choose Classic-style - such ads show the best CR and CTR in beauty and health offers. Please note that custom styling is an exclusive feature from Evadav.
💰Nutra attracts advertisers for a reason. If you do everything correctly, spend the budget wisely, and use all the options of the advertising network and recommendations from the Evadav team, ROI will only please you.
Read the guide on promoting dietary supplements, and don't be afraid to test the Nutra offers.
🤑 Launch Nutra-campaign with Evadav >>

Read also: Adult Gaming: Learn to work profitably in adult games