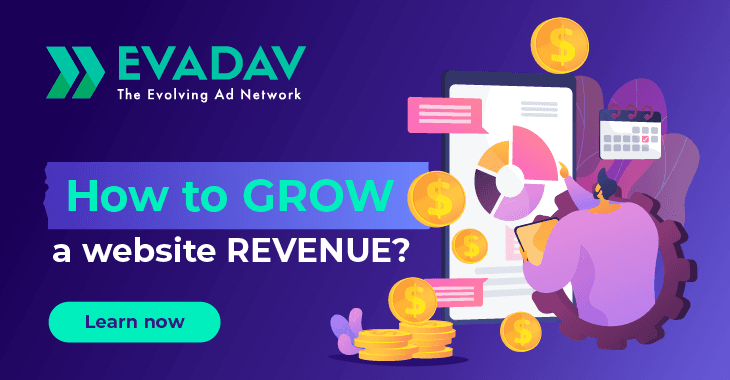 How to Grow a Website Revenue? Tips from Evadav
Are you looking to grow the revenue of your website? If so, you're in the right place. In this blog post, Evadav team will share some top tips on how to do just that.
Tips to Grow a Website Revenue
Whether it's through learning your audience, launching quality ads, optimizing your content, or following trendy topics, there are plenty of ways to grow your website's revenue. So without further ado, let's get started!
📌Learn Your Audience
If you want to grow your website revenue, one of the most important things you can do is learn about your audience. Who are they? What do they want? What do they need?
Answering these questions is essential if you want to create content, products, or services that will appeal to them. And when you know what your audience wants, you can give it to them – which will, in turn, lead to more website revenue.
So how do you go about learning about your audience? Here are a few tips:
🎙️Talk to them directly
If you have a brick-and-mortar business, talk to your customers face-to-face and ask them what they want/need. If you have an online business, reach out to them via social media or email and ask them the same thing.
📊Look at your website analytics
Your website analytics will tell you a lot about who your audience is and what they're interested in. Take some time to analyze your data and see what patterns emerge.
🔎Research your competitors
See what kind of content and products/services their audiences are responding to. You can learn a lot by seeing what's working well for others in your industry.
📃Ask for feedback
Whenever you launch something new on your website – whether it's a product, service, or piece of content – ask for feedback from your audience. What did they like? What didn't they like? What would they like to see more of?
Taking the time to learn about your audience is essential if you want to grow your website revenue. By understanding who they are and what they want, you can give them exactly what they need – which will lead to more traffic, engagement, and conversions on your site.
📌Launch Ad of a Good Quality
One of the best things you can do to grow a website revenue is to launch a high-quality ad campaign. Here are some tips to help you get started:
💻Research popular ad platforms
There are many different ad platforms out there, so it's important to do your research and find the one that will work best for your business. Here is where Evadav can help you.
💡Evadav works with all verticals, so you actually can earn money with any traffic to your website. Discover how.
🔮Create well-designed ads
Your ads should be visually appealing and relevant to your target audience. Make sure to test different types of your ads in Evadav profile to see what performs best: push, native, popunder, in-page.
💵Set a budget
Determine how much you're willing to spend on your ad campaign and stick to it. Keep in mind that you may need to adjust your budget as you go along, depending on the results you see.
💡Follow the bid size recommended in the campaign settings with Evadav.
⏳Monitor your results
Keep track of how your ad campaign is performing in Evadav profile and make changes as needed. By constantly monitoring and tweaking your campaign, you can maximize its effectiveness and grow your website revenue over time.
💡Click on statistics in your Evadav profile to monitor your campaigns.
📌Optimize the Content
Optimizing your website's content is key to raising your return. Here are some tips:
1. Make sure your content is high quality and relevant to your target audience.
2. Keep your content fresh - regular updates will keep people coming back.
3. Promote your content through social media and other channels.
4. Use effective SEO techniques to ensure your content is easily found by potential customers.
5. Track what content is most popular and which pieces need to be improved through the analytics. It's important to remember that not every trend will be relevant to your website or business. Take the time to research each trend and determine whether it's something that would be beneficial for you to pursue. If you're not sure, you can always ask an expert in the field for their opinion.
💡Adress to your personal Evadav manager if you need any help.
📌Elaborate on the Mobile-optimized Version of the Site
According to the statistics, 53% of users prefer making purchases on the go, via mobiles. If you want to have more visitors to your website, make it available on mobile devices. You can optimize it for mobile devices in many ways:
Make sure that your content is easy to read on a small screen.

Use clear navigation menus (make sure they're visible without zooming).

Load pages quickly by using lightweight code.

Adapt the content and creatives to the screen size.
💡In your Evadav profile, you can upload creatives for both desktop and mobile devices and see how they will look on the users' screens. When you add images to your campaign with Evadav, you can be sure that they adapt to the device where they will be displayed.
📌Create Promo Codes
You can earn more if you launch discounts, especially if they are easy to apply, like promo codes. Here are some tips for you on using promo codes:
🔖Consider what type of discount or incentive you want to offer potential customers.
💎Create a unique code for each promotion and ensure it is easy to remember and enter.
🧨Include an expiration date and clear instructions on how to redeem the code.
🔎Track how many people use the promo code and whether it leads to increased sales.
🤑Launch your campaigns in Evadav profile
Read also: Dating Vertical 2022: Stats, GEOs, Creatives