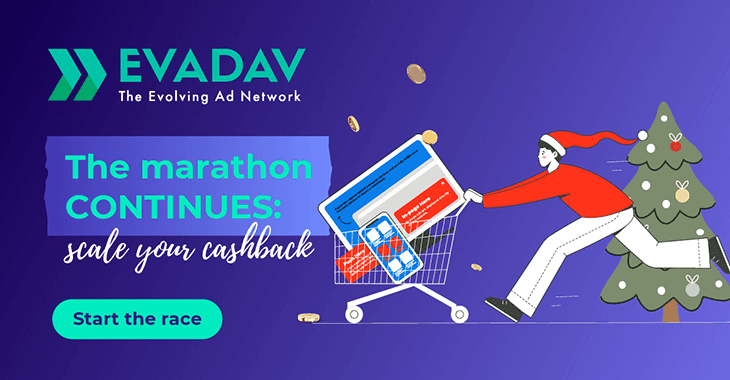 Evadav's Profit Promo continues: scale campaign - get more cashback
😎Hello, Evadavers!
December is in full swing, so the hot sales season continues, as is the Evadav Winter Profit Marathon!
Getting high conversions and generous cashback with Evadav is easy.
🚀 How to get bonuses?
✔️ create new advertising campaigns or scale existing ones;
✔️ scale your campaigns by 10% in December (compared to November);
✔️ get up to 6% cashback on your monthly spend.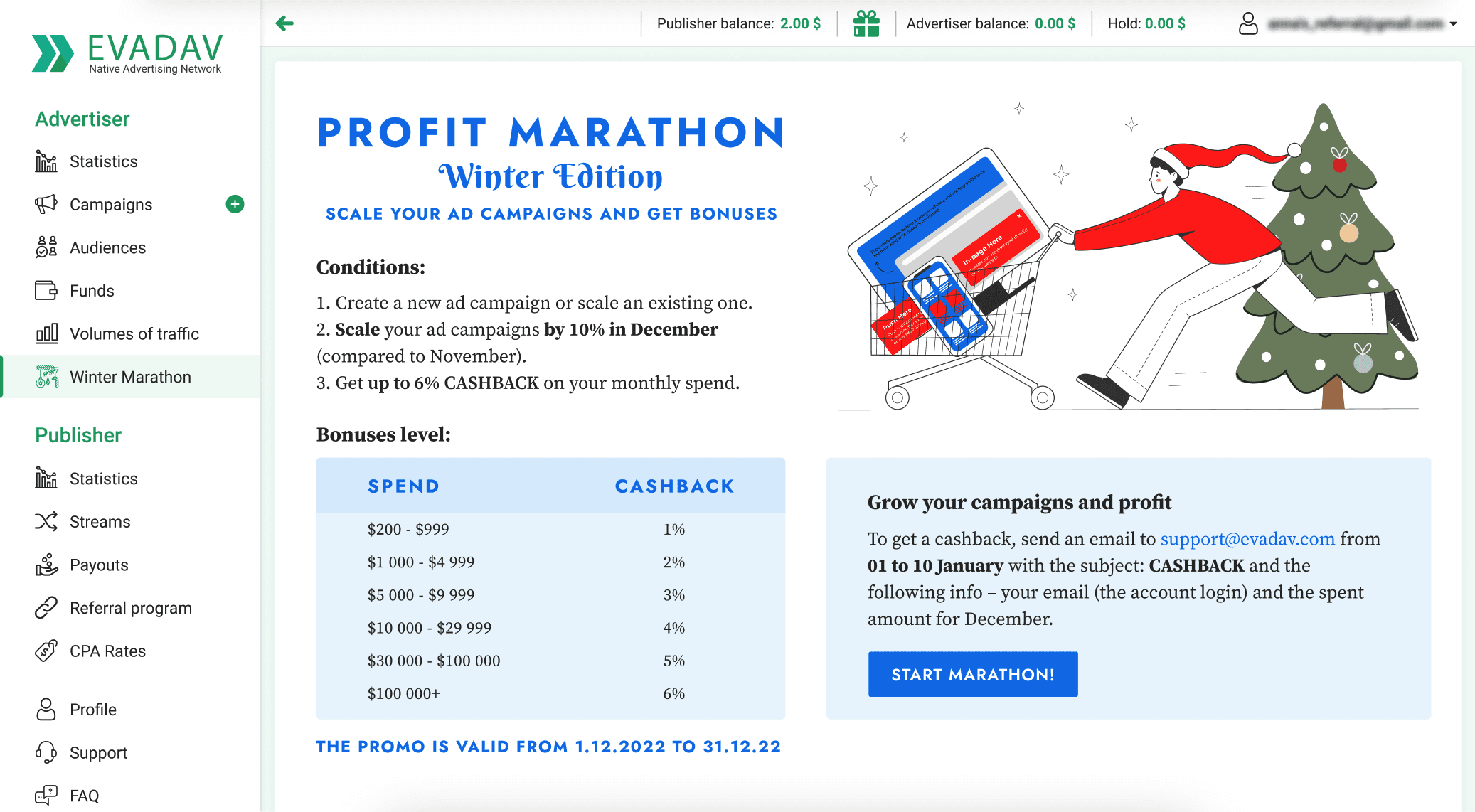 The bigger the campaign, the more significant the refund amount is. The more you spend, the more effective the advertising campaign and the bigger the cashback.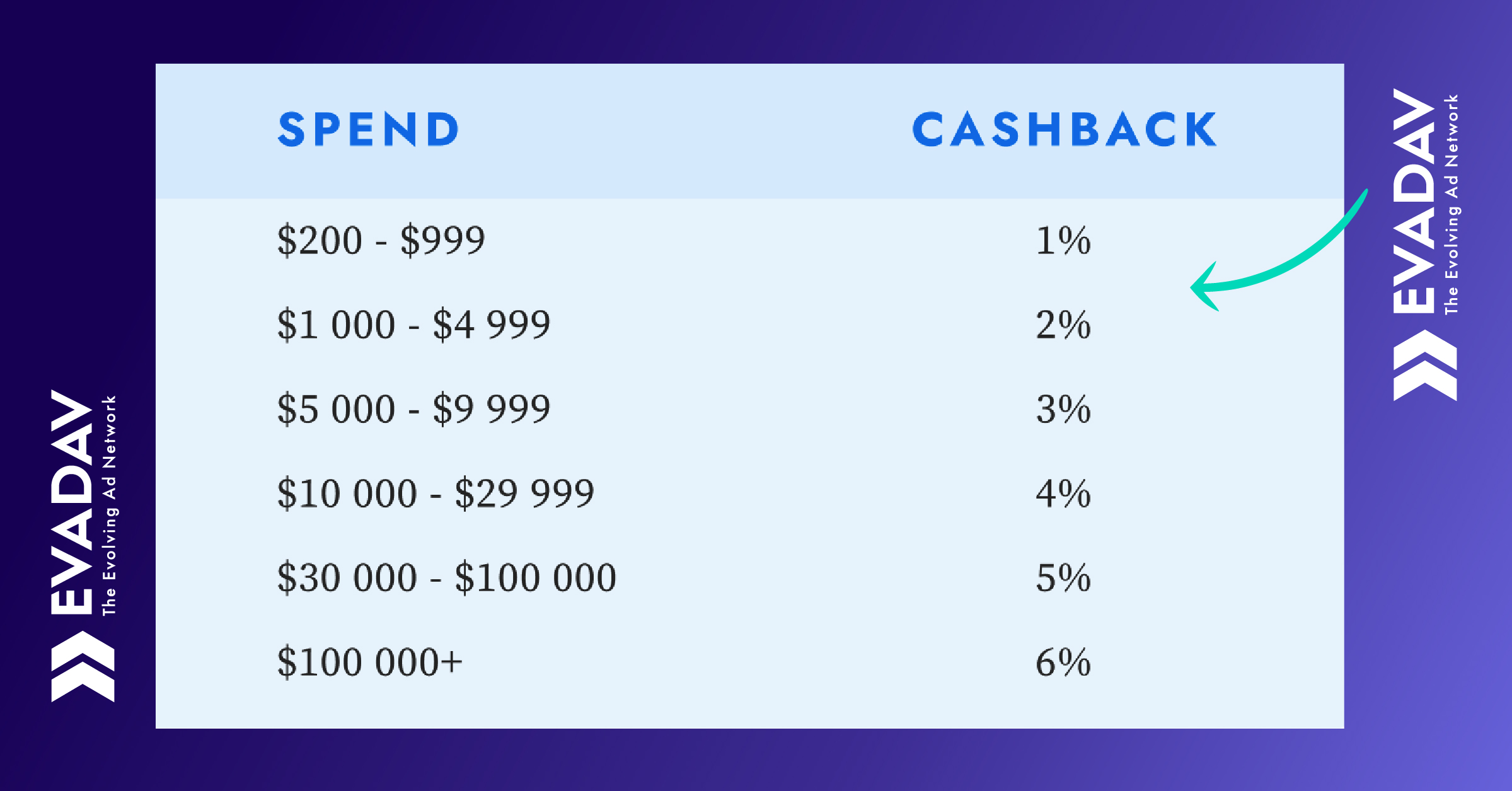 The marathon will last until December 31, so it's not too late to participate and get whatever you want under the Christmas tree.
And the Evadav team will help you with tips and life hacks.
Focus on practical tools only
Push notifications were, are, and will exist.
They continue to show excellent results, do not bypass them.
The same is for the popunder.
Unobtrusive and loyal to users, it 100% remains at the Top list on the list of effective conversion to money.
But this year's breakthrough in Evadav is inpage: custom styles allow creatives to look as native as possible on the site, and the traffic quality is so high that the results are stunning. Inpage is the top format for efficiency.
We recommend, at least, testing it; you will not regret it!
Top Vertical and Geo in December
Dating rocks and continues to grow every year in all formats, and the custom inpage has made this vertical even more profitable than ever.
Software is holding high this month, so don't avoid this vertical.
The best geo in December are as follows:
🇺🇸 US – 0.1
🇮🇳 IN – 0.01
🇮🇩 ID – 0.01
🇩🇪 DE – 0.01
🇯🇵 JP – 0.06
🇬🇧 UK – 0.05
Making your campaigns successful is real
There are basic rules that you can not fail your advertising campaigns:
Use automated rules from the start so that you will avoid additional costs

Optimize campaigns: from black and white lists to micro bidding

Work with updated inpage, especially for dating (with other verticals, too): top-quality traffic and metrics you could only dream of

Use emojis in creatives; they improve conversion significantly

Do not be afraid to test different bundles at the start - it will help to choose the most successful and get even more profit without significant losses

Focus on win rate and limits during launch as they play an essential role in the auction

Participate in the Evadav's Winter Marathon - sweet cashback is guaranteed
No more words: