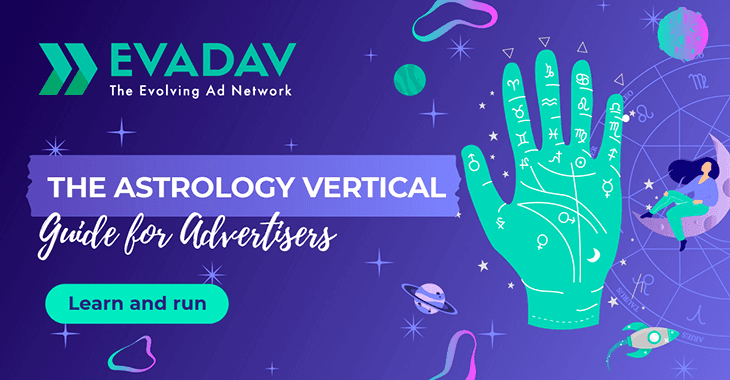 Astrology: secrets of earnings, features, and perspectives
😎Hello, Evadavers!
Although the astrology vertical is not new, it has recently become relevant in driving traffic – since the advent of personal predictors who are massively promoted via social networks.
Today we will examine in detail the Astrology vertical.
You will learn the following:
➡️ features and characteristics of the vertical;
➡️ top geo and top offers for better earnings;
➡️ how to develop pre-landers that convert;
➡️ life hacks and tips for making quality creative;
➡️ recommendations for setting up and optimizing astro-campaigns.
So, advertisers, you're about to dive into the profitable Astro-World.
Promoting Astro-products
Astrological products and services are promoted in this vertical – in a word, everything related to the opportunity to look into the future:
♋ personal horoscope;
☠️ date of death;
💍 wedding date;
♣️ natal card;
💰 financial forecast;
🧿 amulet or lucky charm;
💡 career and personal advice;
🔮 tarot divination;
📈 training course in astrology, numerology, tarot, and other divination;
🪄 witchcraft;
🧘‍♂️ spiritual and mental health practices.
Let's look into the future: the relevance of Astrology offers in 2023
People tend to be interested in predictions and divination. They seek to know themselves, choose a new path, and look into the future with the help of numerologists, tarot readers, astrologers, and other specialists. And today, Astro-niche is more relevant than ever. Millions of people are forced to change their lives radically, so for 2023, it is fair to prioritize the most promising offers devoted to astrological forecasts, predictions, online fortune-telling, and amulets.
Of course, their popularity is not comparable to gambling or dating, but they are 100% worth testing.
Charms, bracelets, amulets, and other magical things that will bring imminent wealth and well-being, happiness in private life, and career growth are still popular. People believe in them massively, so the category of "amulets" in the Astrology niche remains one of the most promising.
Evadav tip:
To choose a good Astro offer, contact your manager.
Top geo
To date, the Top Geo for the promotion of horoscopes and predictions are the following:
🇦🇲 Armenia
🌏 Asia
🌍 Africa
🇧🇾 Belarus
🇰🇿 Kazakhstan
🇰🇬 Kyrgyzstan
🇲🇩 Moldova
🇹🇯 Tajikistan
🇹🇲 Turkmenistan
🇺🇦 Ukraine
🇺🇿 Uzbekistan
Building an effective funnel
To promote the Astrology offers, the advertiser needs to correctly line up a funnel based on the traffic source and the target action that will lead to conversion.
The effective funnel should be interactive and maximally native.
The advertiser's main efforts in Astrology are to "warm up" the audience – the "warmer" the users, the faster and easier they get to the next stage of the funnel.
Choosing the best advertising formats
To date, teaser networks remain a popular source for Astro-offer promotion. They are visible, not expensive, and provide good coverage.
Better traffic for horoscope subscriptions can be obtained through:
📌 push notifications
📌 popunder
📌 inpage.
Making quality creatives
Creatives with relevant media persons show good conversion in the promotion of Astro-offers.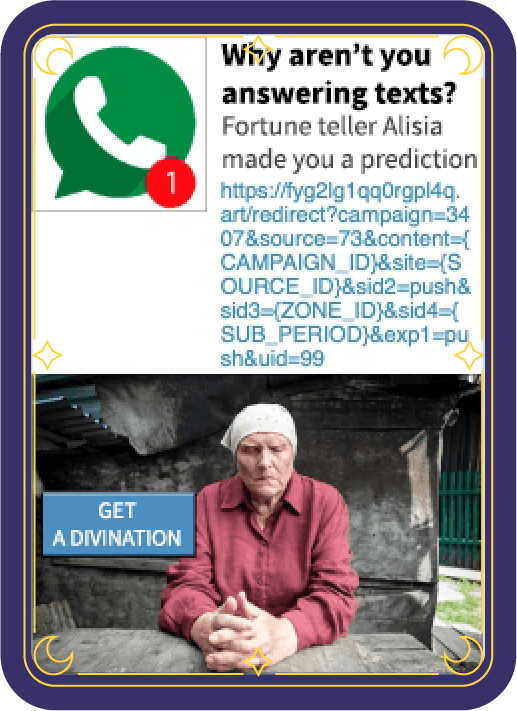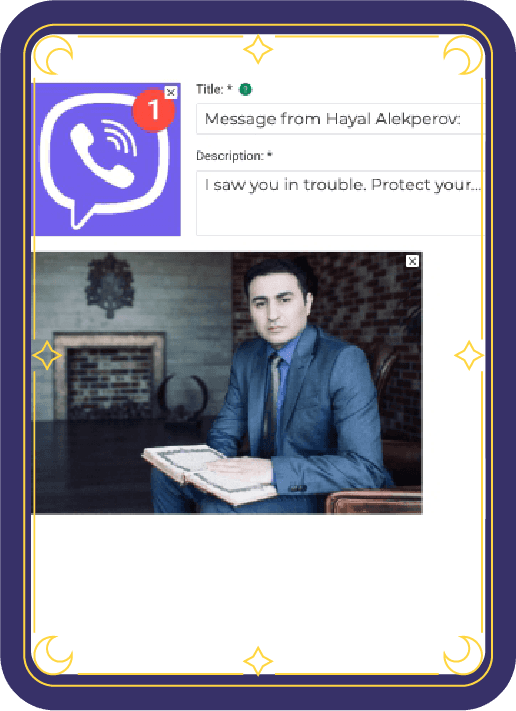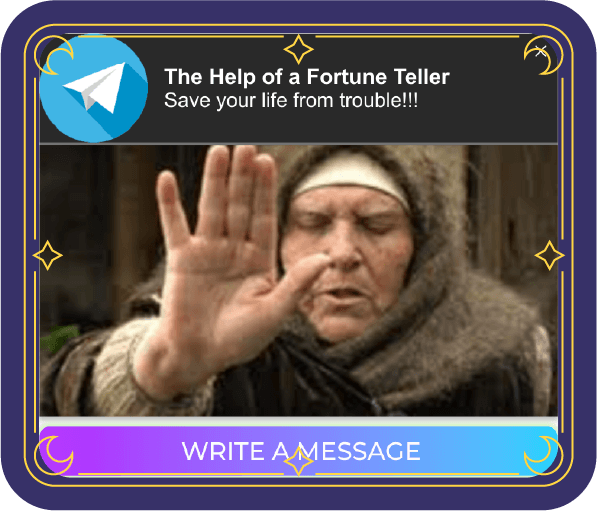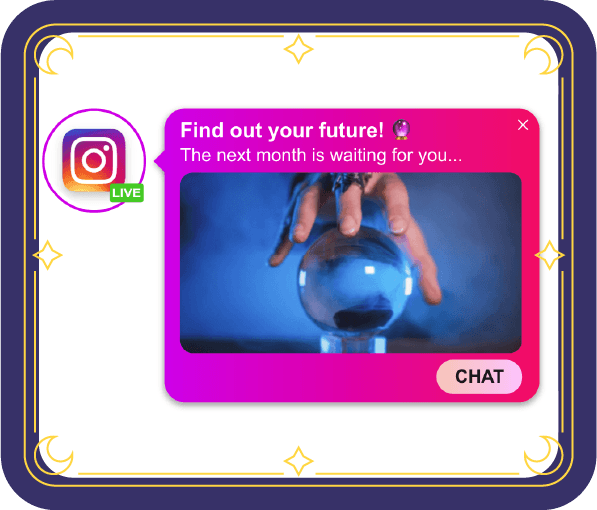 Evadav tip:
Use photos of participants of the "Psychic Challenge," magical attributes, and for a more mature audience – previously famous magicians and fortune tellers.
Developing pre-landers
You can create your landing page to get leads. Or use the landing page of the network you will be working with. We provide landings that have already shown excellent conversion.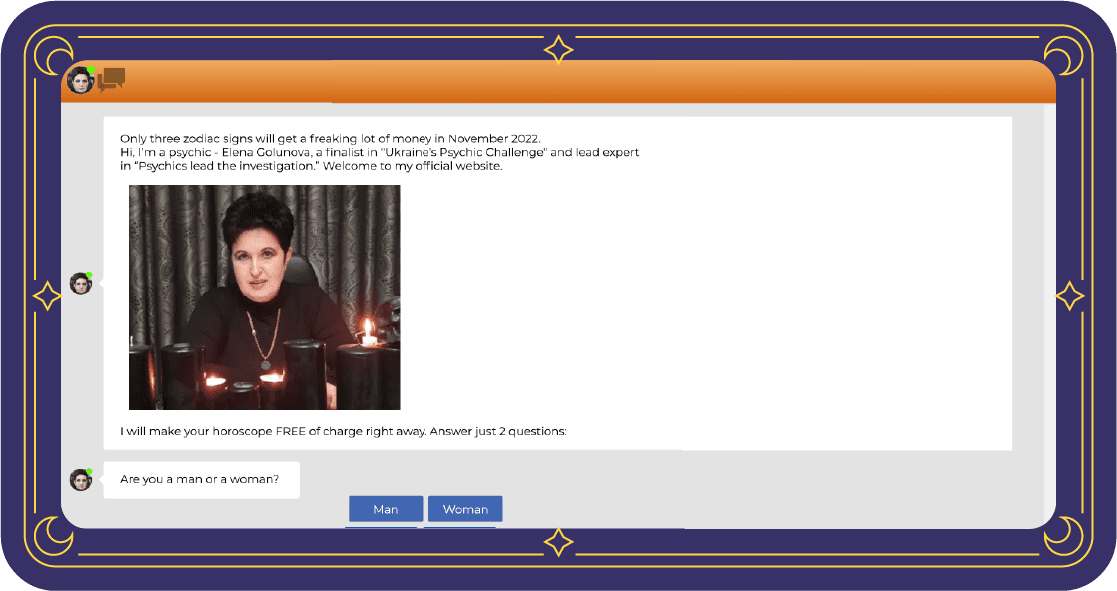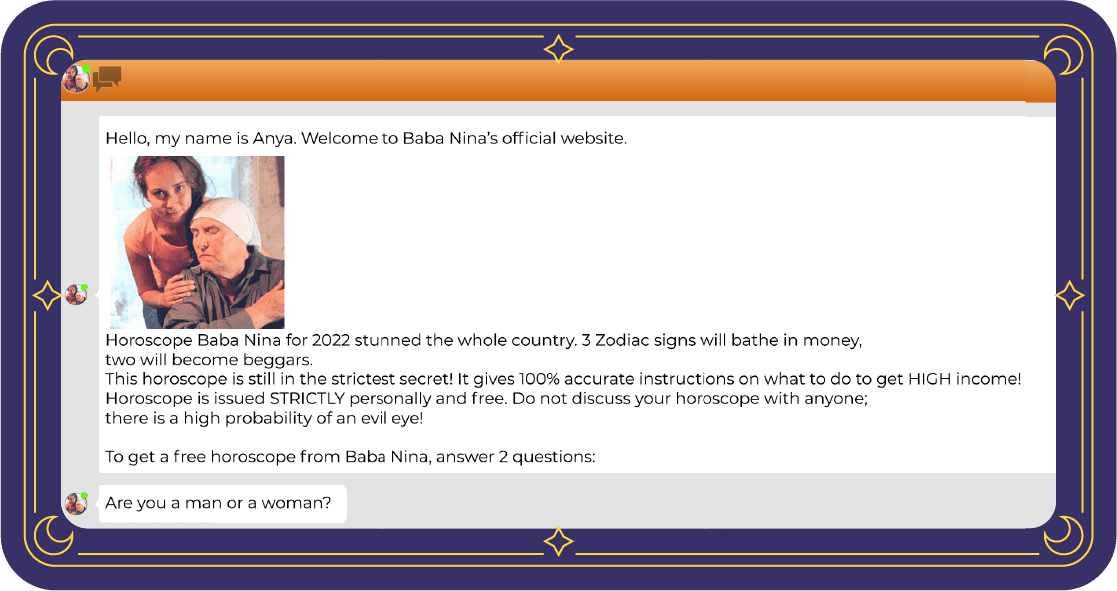 Evadav tip:
It is crucial to use interactive elements in landing. The more the audience can interact with the landing page, the "warmer" it will be at the final stage of the funnel and the greater the likelihood of conversion.
Setting and optimizing campaigns.
Evadav experts have prepared recommendations and life hacks for you to use when working with astrology offers:
Provide high download speed of landing and pre-lander.

Do not use long forms for registration.

View the thematic TV shows.

Connect creatives to upcoming events.

Test extraordinary approaches.

Create storytelling for pre-landers.

Use custom styles for creatives.

Do not neglect white and black lists, automated rules, and micro bidding.
You still don't dare and don't think you can go far with the "white" offers? Then let's show you a working bundle from our advertiser to dispel any last doubts! He got almost $2000 on horoscopes within six weeks!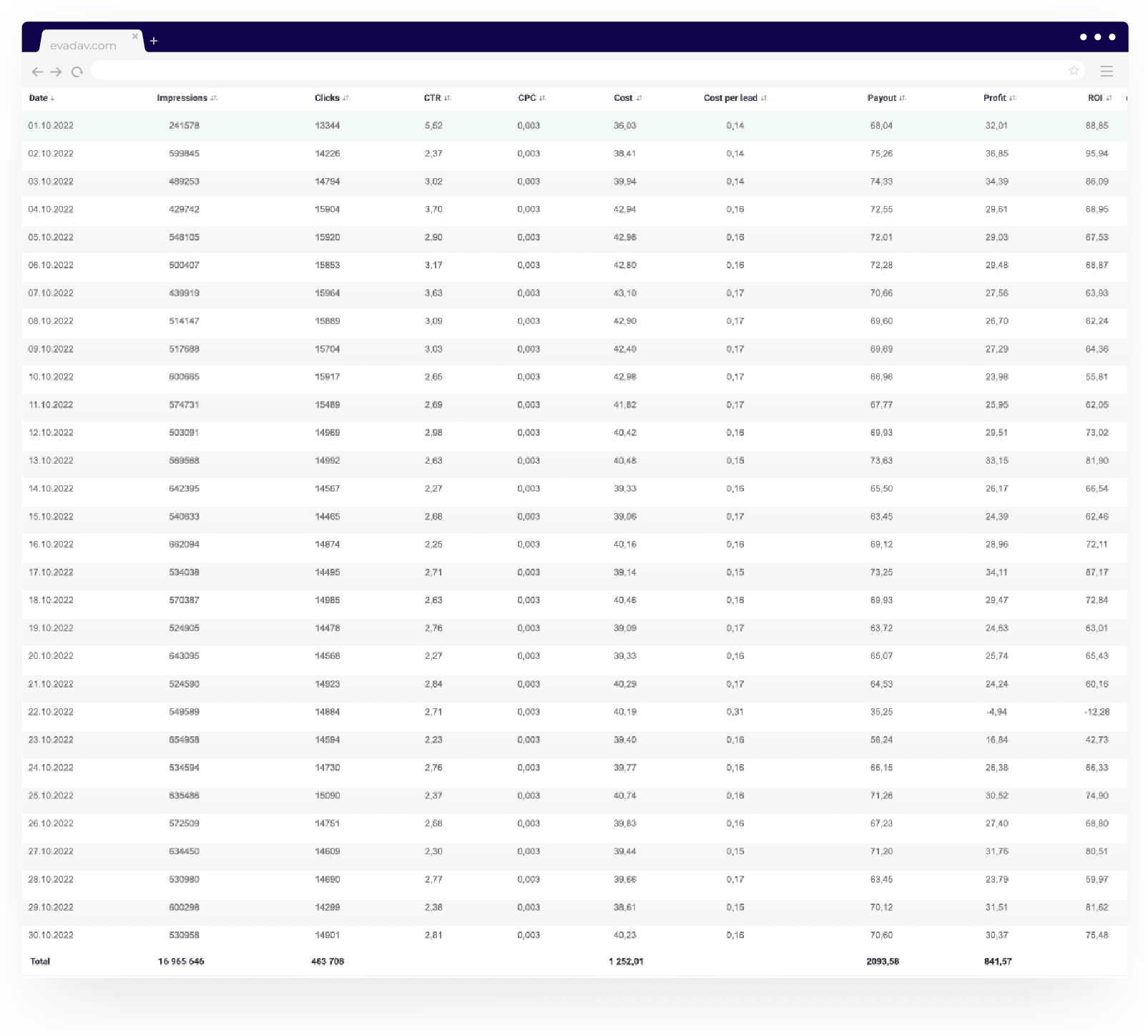 We hope you are now ready to step out of your comfort zone and gain experience in a new vertical – Astrology.
Read the complete guide >> https://bit.ly/3h8bi6W
🤑Run astro-campaigns with Evadav >>
Read also: Inpage Custom Styles: 67% ROI and More!