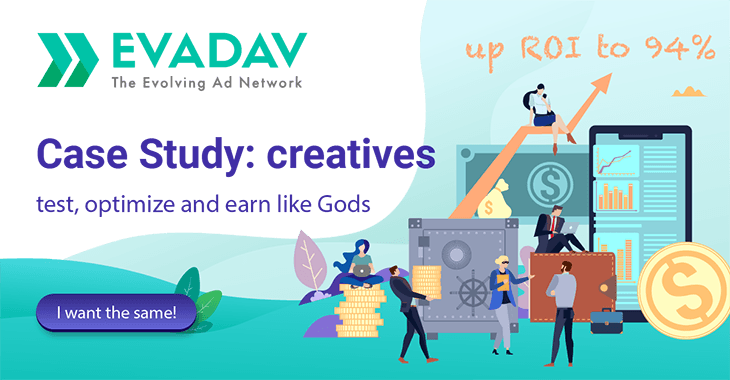 Case Study for advertisers: life hacks and most common mistakes of working with creatives
Create, Test, Optimize Creatives
to Earn Like Pro
Hey, Evadavers!
In an ideal world every advertiser dreams to create the only one creative and landing, launch a campaign and get 1000% ROI at once. Ha-ha!
Unfortunately these dreams have nothing to do with reality.
While analyzing advertisers' creative launch our evadav.com team found out the most of advertisers work with creatives wrong:
they don't test different creatives;
they don't analyze the results;
they don't optimize their ad campaigns;
they don't use life hacks from our managers;
and therefore they get results lower than their competitors.
Therefore, we've developed a detailed manual on working with creatives based on an advertiser's successful case who started making more money after he'd figured out how to work with creatives properly.
In this case, we'll share life hacks and most common mistakes of working with creatives and tell in detail why they are one of the crucial parts of an ad campaign.
If you still have not joined our advertisers community, this time has come! Welcome to our family –>> evadav.com!
Ad format: Evadav push traffic
GEO: USA
Campaign period: 20.10.21 - 18.11.21
Target: Windows desktop
Language: English
Offer: McAfee Total Protection 2021
Partner network: TORO Advertising
Total budget: 6877 $
Total earned: 13 320 $
Net profit: 6442 $
ROI: 94%
The advertiser has used a mainstream traffic and Evadav classic push. Targeted on one geo – tier 1, the USA, Windows desktop only. The McAfee Total Protection 2021 offer with a payout of $40 has been chosen.
The traffic has been launched on the latest subscriptions in order to increase CTR and lower click cost as users are the most active within the first 7 days of getting to base. Also he poured over the latest OS versions and used automated rules.
Initially, the advertiser launched an ad campaign without testing the proper work of creatives. He used the following evadav creatives: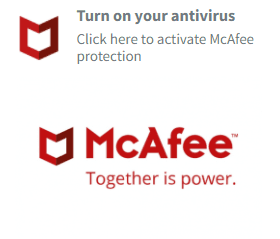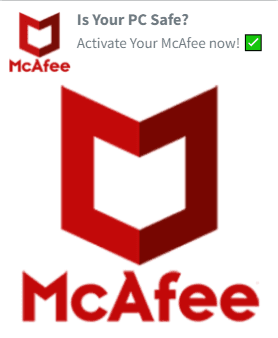 By clicking on the creative user was transferred to the landing page. As the world sale devoted to Black Friday was approaching, the advertiser decided to use this opportunity to reach the audience's attention.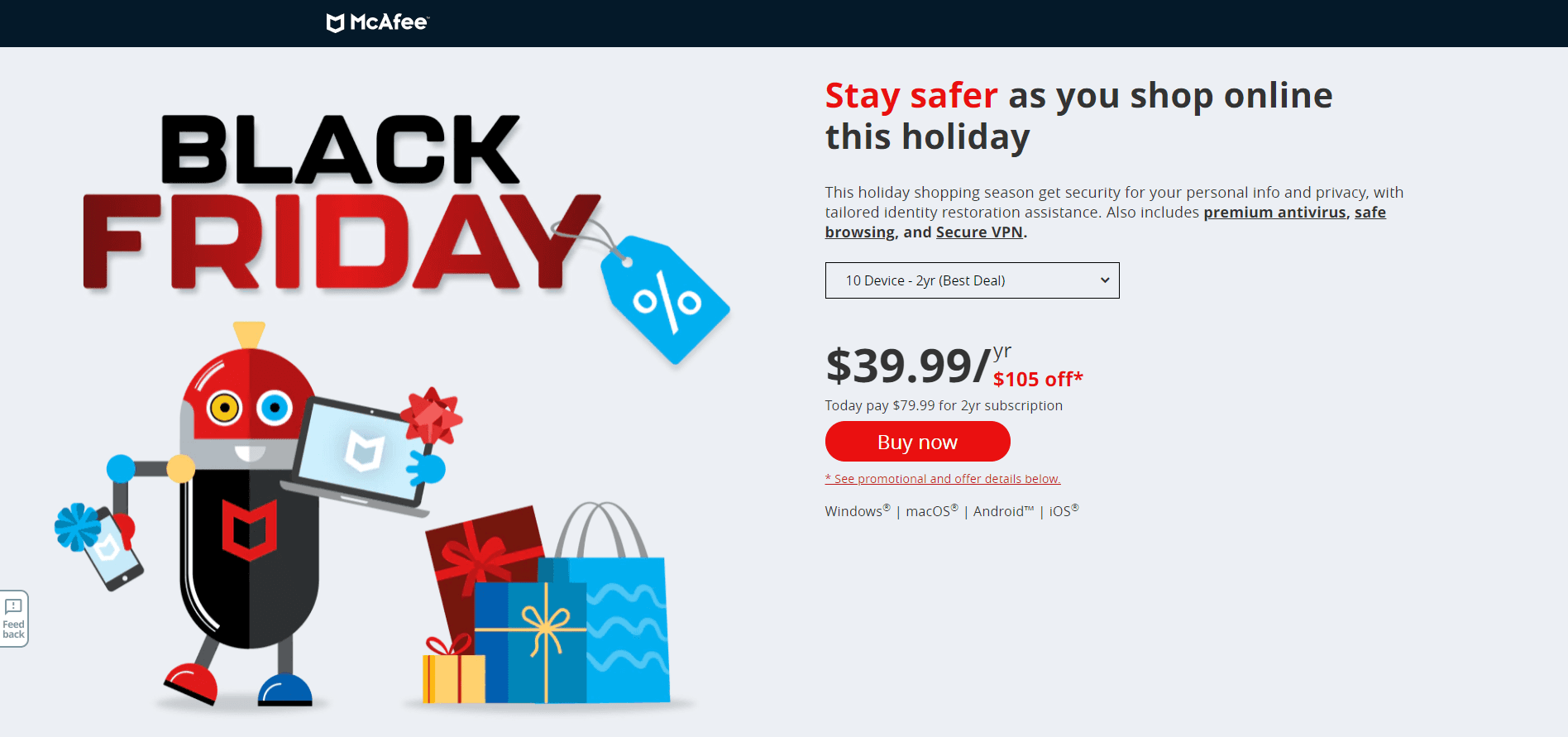 Ad campaign period: 20.10 - 18.11.2021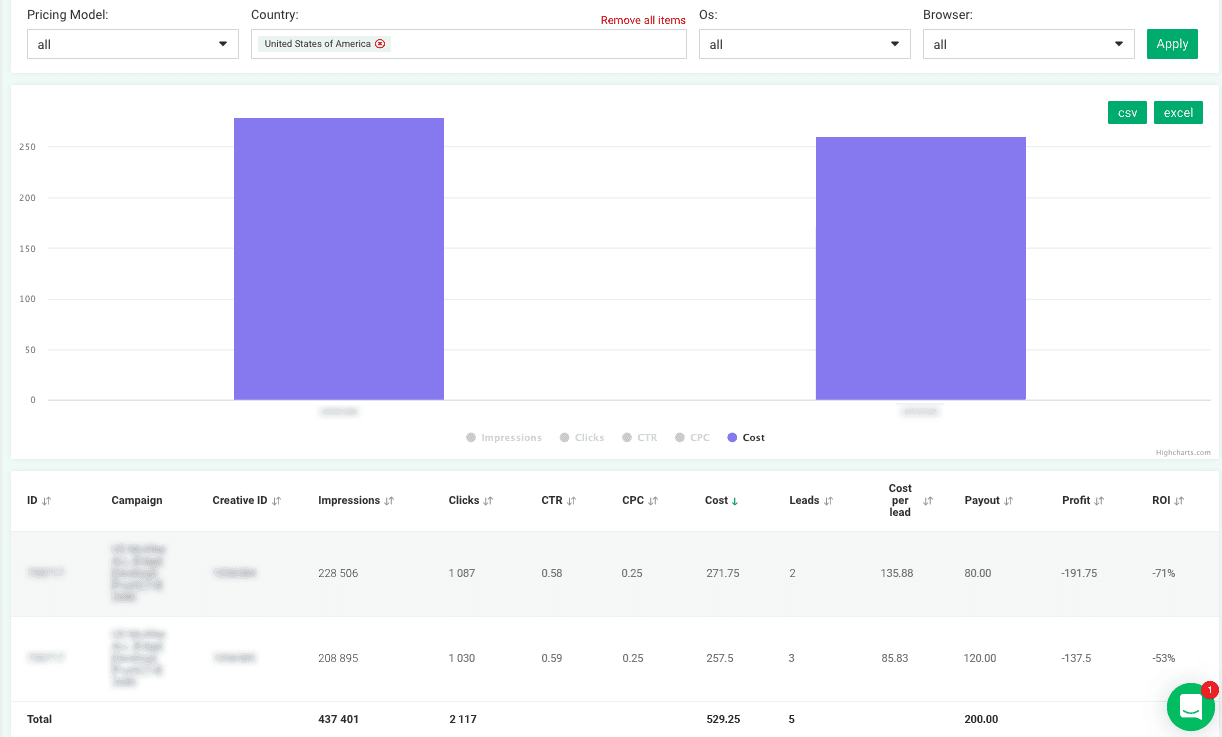 Within a period when the advertiser used only two creatives, CTR was low 0,58% cost per click was high $0,25 compared to average performance of ad campaigns. The amount of received leads is extremely low.
Campaign results leave a lot to be desired.
The results after campaign optimization
After the first test, the advertiser decided to work on his creatives: proceeded A/B testing, studied results, provided optimization and followed life hacks and tips from our Evadav managers.
The advertiser used a lot of creatives right after optimization. They do not dramatically vary in terms of creative approach, but in this case the advertiser used information about a discovered virus in a forefront of creative, bright colors, texts and emoji.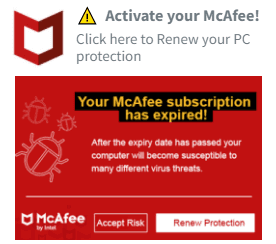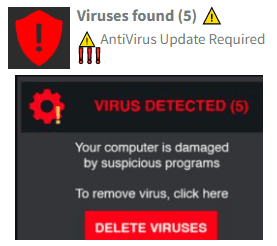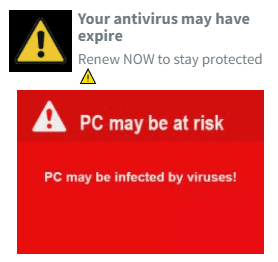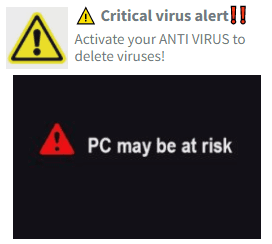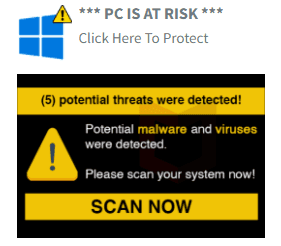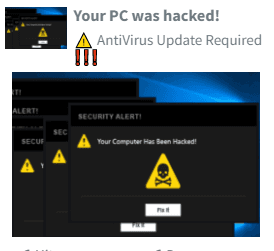 If you think that the creatives made by you are ideal, a user may not think the same. Trust figures, that's how you can understand 100%, what exactly will fit your audience.
As a result, the advertiser got a really good profit.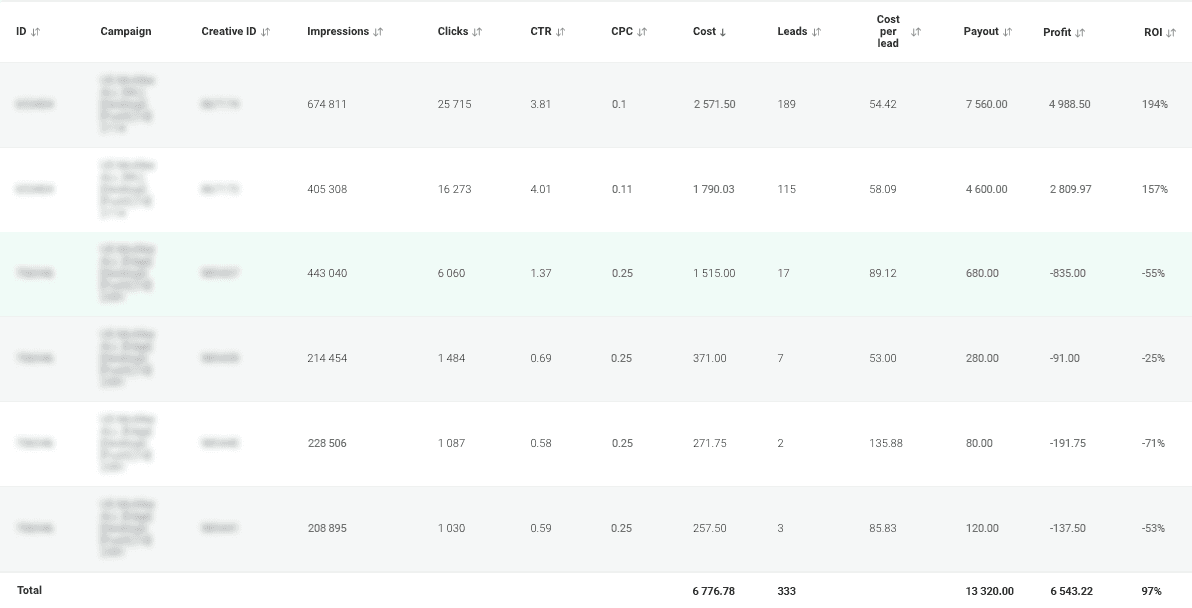 Total budget spent on this ad campaign was $6877, and 333 leads were gained. The payout from Toro Advertising partnership program was $13320.
The advertiser got a net profit of $6442. ROI 94%.
As you can see on stats, the creatives with the higher CTR bring more conversion and cost per lead is getting less.
What do creatives consist of?
As we can see from case results, creatives are the crucial part of an ad campaign. You better take their creation seriously as properly chosen creatives can save the whole campaign.
Evadav push notifications consist of an icon, title, detailed description, image and URL-address.
Advertisers may use different types of titles up to 30 symbols, vivid description - up to 45 symbols; an icon 192*192 pxl, main image and URL.

Life hacks on making creatives:
1. Learn your audience. You must understand a user's interests and behaviour. Such an analysis will help you to get the ideal avatar of your audience.
2. Use trending images. Creatives with a popular celebrity image, bonus offers and results display attract attention and increase CTR a lot.
3. Follow visual trends. One should follow trends and stay on top in every sphere, including arbitrage as well.
4. Creative approach and humor. Make up something original and unique for creatives, which can catch audience attention. We are forced to fight for the user's attention as we all are literally bathing in information nowadays.
5. Make a creative matching offer. Do not mislead users with a creative that doesn't match the offer. Following the link he/she may not see what is expected. Thus one can easily destroy a user's trust which is hard to gain for the second time.
Creatives' tests principles
A/B-testing is one of the best ways to double or even triple conversion performance shortly.

For the test, there's no need to increase your marketing spendings and generate more traffic.

Why not attract more clients with the current traffic? That's the magic of A/B testing. However the A/B testing can be easily distorted.
Remember the fundamental rule:
test one element at a time to track what exactly influences conversion results.
We'll answer the most frequently asked questions at once:
1. How many clicks/views should creative get?
Clicks and views amount depends on geo, target, budget, bids and CTR. While running an ad campaign traffic is being spread equally among all creatives and after the first pour the traffic volumes go more likely to the creative with the higher CTR. It's recommended to run a test on 10K impressions and 1K clicks.
2. How much time does one need to test creatives?
Test period depends on the offer, on average it's 4-6 days. If the traffic volumes are big, the creative may burn out on the same traffic sources.
3. What CTR is the best?
CTR depends on the offer and chosen format. An average CTR on Evadav push format is 0,5-2%, CTR on Evadav in-page — around 1-5%.
Anomaly high or low CTR causes suspicion and we recommend sending such types of traffic to "black list".
4. How often should I change creatives?
We recommend you to change creatives every 2 weeks, it depends on creative performance. If you have low traffic volumes, then creative life time may be 2-4 weeks. If you can see at once that all creatives show high CTR and one shows - low one, then you better switch it off and add new creative.
5. How many different evadav campaigns can be run for one banner test?
Usually one tests 1 offer, or several ones. One better use 1 offer and test different creatives. We recommend using 5 and more creatives per one test. Also, the bigger creative amount (up to 16) is available on demand, for this contact Evadav manager.
Which creative's elements do you need to test?
1. Icon – it's the first which attracts the attention of a user while interacting with push notifications.
For instance, 3 icons have been tested and after the test the best results were given by a second variant.





Creating icons tips:
Use closeup images;
Test different color schemes;
Use frames;
Add different elements to measure an effect.
2. Banners. Testing all the time is mandatory, even if you are sure in your new creatives, users may like the most unexpected variant.
Creating banners tips:
Female images may increase CTR;
The images with a contrasting background are easier to notice;
Add emoji and figures;
Use images which can trigger emotions;
Use trending images with a hype topic;
Change creatives often to keep CTR on high level, avoid burnout and get more reach.
3. Different text variants are also important to test. You never know which text will encourage the user to make a target action.
Creating copyrights tips:
Selling titles will encourage users to go to the landing page;
Vivid description and CTA (call to action) may strengthen the title;
Using emoji will increase the user's emotional response.
Common mistakes on running tests
1. The main mistake of arbitrage managers is testing too many elements at a time.
2. Keep in mind, the test should last around 7 days. Evadav's Advertisers often ignore this rule and turn off creatives earlier, cutting their full potential.
3. Copying someone else's experiments, instead of testing your own hypothesis. Use your creativity and original approach building something new.
4. You can't expect little changes will drastically increase conversion. In fact, optimization is a never ending process as long as creatives are peculiar to burn out.
5. Hoping that one creative will work all time. Change landings and creatives from time to time so that users would not get sick and tired from watching the same creatives.
6. Creative doesn't align with a landing page or message text and creative differs.
7. Low quality images creatives are often being launched. In this case, one should not expect high CTR.
Tips on making converting creatives
If you made creatives, ran 7-days tests, but still they convert badly, use spy-services to learn what creatives work well and bring more traffic. But you must take into consideration that there can be creatives that have already been burned out. It's better to change them and develop your own unique creatives.
Don't miss an opportunity to exchange the experience with your colleagues. Visit conferences, thematic forums, subscribe to all arbitrage chats.
Don't forget re-testing. Make tests of those creatives that gave better results and then burned out. Creatives relaunch may work better with time.
Analyze your approach in creatives making in related verticals. You may get insights where you don't even expect them. For instance, gambling, betting and binary options may have similar principles of making creatives.
There is an option of creative visualisation on the user's device in Evadav when you create a campaign. Big image cropping may vary on different devices. Pay attention, all systems display push notifications in different ways.



One should not underestimate the role of creatives while ad campaign launch because it would be a big mistake and play tricks on you.
We hope that this case will help you to pay more attention to the importance of making tests, analytics and creatives optimization.
Our blog is constantly updated with useful articles and life hacks for advertisers. Follow the updates and we wish you fire profit 🔥!