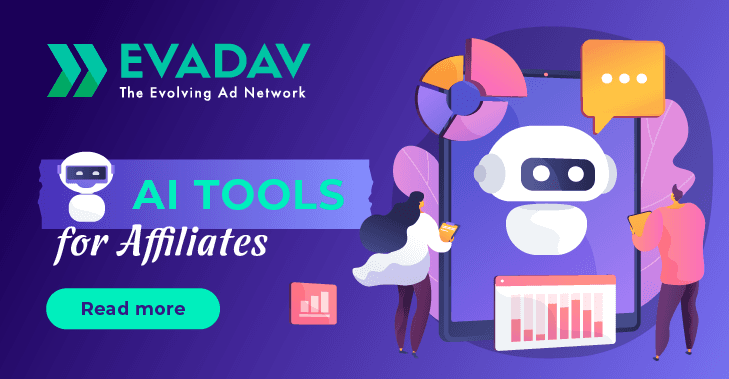 AI Tools for Affiliates
Modern people have found a universal assistant in the form of artificial intelligence. The number of things that AI cannot perform is decreasing with time. Experts predict the global AI market to reach half a trillion USD by 2024.
Such progress in machine learning attracts businesses that want to automate their processes, and affiliate marketers are no exception. Since they live from commissions for attracting customers to brands, they strive to make workflow faster and easier. Learn more about the AI technologies used by affiliates by reading the article!
Midjourney
The first tool on our list is Midjourney, an AI program that translates words into images. A user here types a short description of the needed picture and receives it instantly. Although the principle is quite simple, it can transform an affiliate's activity completely. Usually, promoting something requires captivating pics, whether for social media, websites, etc. Hiring human graphic designers comes with higher expenditures and longer waiting.
On the contrary, Midjourney analyzes thousands of existing artworks and combines them into a unique piece in mere seconds. This program demonstrates that creativity is indeed limitless!
💰Create awesome creative with Midjourney and launch your campaigns with Evadav
Surfer SEO
While some affiliates promote companies through engaging visuals, others rely on texts. They come in various forms and sizes, like articles, blog posts, short product descriptions on social media platforms, etc. Surfer SEO is a brilliant find if an affiliate aims to write a top-ranking piece! This AI-powered tool exists to optimize the content and make it appear higher on the Google search page. The program finds all keywords that fall into the following groups:
Red keywords that the writer never used in the text

Yellow keywords that the creator used partially

Green keywords that the writer used enough times
This way, Surfer SEO allows users to improve the text and set higher scores in Google search results.
💰Optimize your content with SurferSEO and launch campaigns with us
Jasper AI
Granted that someone's affiliate marketing activity heavily depends on text writing, Jasper AI is another tool to check out. This program earned the reputation of the best copywriting AI assistant, all thanks to the unique, high-quality content that it generates. Jasper AI fits those who communicate with audiences through:
Blog posts

Social media posts

Personalized emails

Product descriptions, etc.
In other words, this tool handles every task that a company usually assigns to a human writer. Also, Jasper AI allows editing of the generated texts using convenient features. Besides, integration with Surfer SEO makes the content even more competitive.
💰Make your perfect content with SurferSEO and launch your campaigns with us
Designs.ai
Famous companies have big designer teams for running their marketing portfolios. But, the affiliates who don't have such a possibility still can get top-notch designs using artificial intelligence! A tool called Designs.ai can create anything from logos to videos from scratch.
The convenience is that the program is hard to overrate. A user only has to enter their brand info and personal preferences. Then, Designs.ai comes up with graphics that are impossible to distinguish from professional designs by humans. In reality, an affiliate can have zero experience in graphic design and still have a top-tier portfolio.
💰Design your creatives and use them in your Evadav campaigns
Postaga
A significant chunk of an affiliate marketer's work is building connections with the target audience. Surprisingly, software developers created a program that handles this task easily. Meet Postaga, an AI-powered tool that carries outreach campaigns from start to finish! What is the exact principle behind its work?
First, the tool scans the brand website to base the cold reach strategy on it. Postaga also discovers the audiences' contact details, such as email addresses. After creating the contact base, the program develops personalized messages for these people or companies. Thanks to the consistent outreach, Postaga is incredibly effective!
💰Elaborate on your messages with Postaga and launch your campaigns with Evadav
Read Also: Display and Inpage Advertising