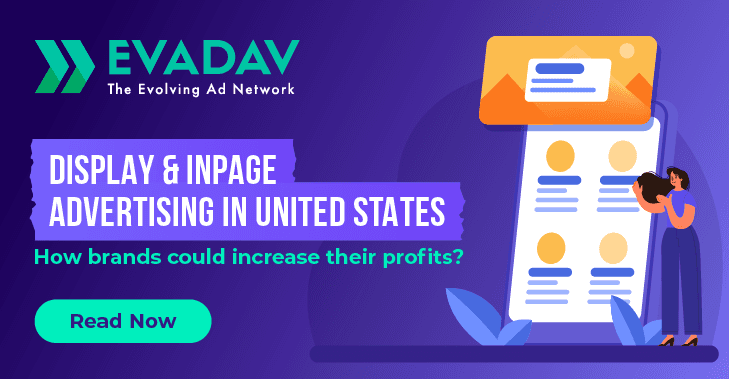 Display and In-page Advertising in the United States — How Brands Could Increase Their Profits?
Businesses fight every day to stay afloat in highly competitive environments. Although industries are countless, profit is a universal reflection of a company's success. Brands turn to many strategies to improve their financial results, including marketing. Lately, companies in the US have been paying close attention to display and inpage advertising.
According to Statista, advertisers in the United States will spend 142 billion dollars on programmatic digital display advertising in 2023. Since this number exceeds the spending in previous years, it is safe to say that this kind of ad is effective. Let's discuss how such advertising can increase profitability.
🌆Combination of Visuals and Sounds
Most of the time, people associate advertising with bright images or videos. Display ads indeed heavily rely on visual elements, like pictures or animations. But, the fact that all companies use such advertisements makes it almost impossible to stand out. Under these circumstances, audio format for ads gains popularity. It also has the following perks:
Catchy tunes

Pleasant narrators' voices
Marketers noticed that people preferred to listen to music or podcasts while performing daily tasks and used this knowledge. For instance, Coca-Cola was one of the first brands that chose popularization through streaming services like Spotify. Now the listeners can watch their short ad inside the app to get thirty minutes of uninterrupted music.
👉If you create a targeted landing page with a ready-made video, you may start push, popunder, in-page, and native advertising formats in your Evadav profile and increase your reach and audience through them.
🕹️In-Game Display Ads
Everybody is used to seeing colorful banners on websites or social media apps. Recently, these places were so crowded with advertisements that their effectiveness is now under question. So, more creative marketers take a risk and expand their presence into games. How is it helpful for increasing profits?
Because people of various demographics enjoy mobile or PC games, they are a perfect target audience for display ads. Starbucks is one of the companies that saw and took such an opportunity. The famous coffee brand partnered with Pokémon Go, a game where users can catch virtual monsters and see the closest Starbucks locations. This strategy shows how advertising becomes fun and effective.
🔥Gamification of Ads
While some companies collaborate with game developers, others turn their advertisements into mini-games. Generally, display ads with intricate designs and animations are rather costly. Naturally, the creation of interactive banners requires significant financial resources too. Still, brands choose this path because it boosts customer traffic. The most common types of ad games are:
Quizzes

Puzzles

Arcade games

Hidden objects
Usually, they look like small GIFs in the corner of your screen. A food company called Wheat Thins invested in a playable ad. Their users had to catch virtual crackers with a bowl. The psychology behind this tactic is simple. When someone overcomes a challenge, they associate their positive experience with the brand.
👉Evadav's testing results show that the ads using GIFs can potentially increase CTR by up to 150%. Try them in your Evadav profile.
💡In-Page Push Messages
Banner blindness, which leads to people ignoring most advertisements, became a real challenge for marketers. So, the urge to regain profits led to a new way of drawing attention. The appearance of inpage push ads became one of the trends that solved the issue. These advertisements instantly hook mobile or computer users by looking like regular notifications.
The trick works so well that even giants like Netflix use it. In brief, the streaming service analyzes people's preferences to suggest new content based on their tastes. Moreover, a personalized inpage push ad evokes a sense of urgency, like a message from a friend. Although the banner is tiny, it contains a short description and date of release. Eventually, more people resume their subscriptions to watch the hot new shows!

👉In your Evadav profile, you can find the updated inpage format giving an opportunity to customize creatives for different verticals and pre-landers.
Read Also: Ad Marketing Trends 2023