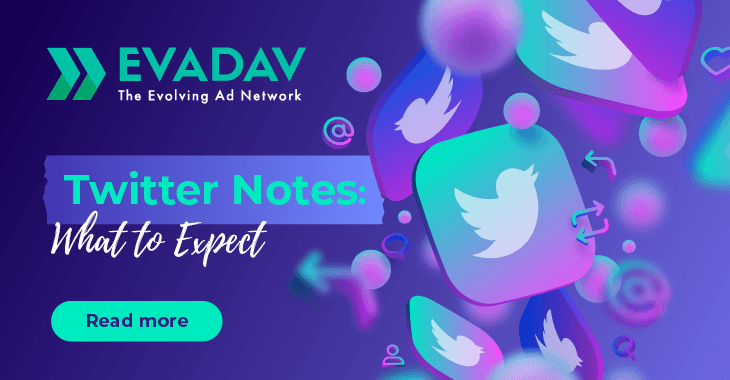 Twitter Notes: What to Expect
Have you heard the news? Twitter is launching a new way of creating and sharing content - Notes!
🗒️What are the Notes?
Notes represent a tool allowing the creation of long reads.
The new features for Twitter users, who are used to short messages containing 280 characters maximum, will allow users to:
create articles with rich formatting

upload media

share posts via Twitter and Facebook.
The major Twitter update allows creating a note with a 100-character title and text up to 2,500 words. Photo, video, GIF, and tweet embedding will be possible in users' Notes. Each Note has its link, and you can tweet, retweet, send in DMs, like, and bookmark it like a tweet.
How can Notes be useful for publishers and advertisers?
Publishers
Monetization of traffic from Twitter is now gaining popularity and momentum. More and more publishers have begun to take advantage of the opportunity to monetize such traffic. Now advertisers could reach 465.1 million users on Twitter, placing it 14th among the world's most 'active' social networks.

Twitter's latest investor report shows that the company had 229 million monetizable daily active users worldwide as of April 2022.
Among other things, Twitter allows monetizing video broadcasts as well.

Also, you can get traffic from Twitter with Push messages. How? Push subscriptions represent a popular form of monetization from Twitter. Users on Twitter visit your website, read your content, subscribe to push notifications, and return to your site regularly.
To run ads with Evadav, select the format, type, and pricing model for push notifications in your Evadav profile. Also, choose targeting, add creatives, and set budgets and limits. If you have any questions about customizing your ads, contact your manager 24/7.
Would you like to grow and monetize your Twitter traffic? Do it with Evadav
Advertisers
If you are an advertiser, you can buy traffic to promote your Twitter account and get more followers.

You can use Twitter as a pass-through page by publishing the link to your ad page in the Twitter post or Notes.

The secret sauce: not so many platforms allow to post adult content 18+. However, it's possible on Twitter! You can advertise subscriptions, and goods for adults, and you can even add creatives in Notes.
Buy your traffic via Twitter with Evadav

And while Twitter is going to launch its micro-blogging, check out our blog to read the articles you may've missed:
🔮5 Steps to a Successful Campaign with Popunder
🎯Advertising Strategies to Increase CTR