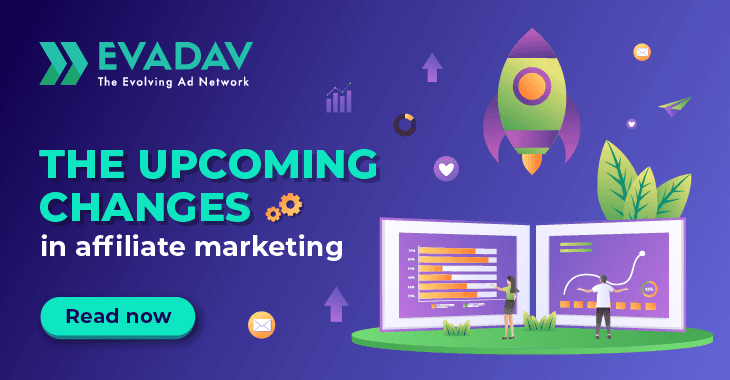 The upcoming changes in affiliate marketing
💭 Affiliate marketing claims to be one of the most lucrative domains of the internet-marketing. According to the statistics, almost every online shop has its own affiliate program, bringing at least 10% of its income. What changes to expect and which offers will be trendy?
🗣️Changes in the ways of communication
💿 Automatization
Substantial income can be derived from Push messages. For example, some platforms are able to generate 60% more traffic through Push. To increase the volume of traffic, use not only SEO optimization but also Push, Inpage, Popunder, and Native ad. Evadav profile, you can manage your campaigns easily and set automated rules to create audience lists automatically.
📺 Video ad
Video advertising is becoming more and more popular and practical every year. For example, YouTube attracts more niche businesses, and it is becoming more personality-driven. Content enables you to demonstrate your unique personality, style, and everything that sets you and your product apart from your competitors to attract a loyal audience. You can promote the video via Popunder and Push formats with Evadav. Thus you could get higher volumes and relevant CPC.

📧 Push
The following key trend is the increased personalization of push messages. It seems that every day is Cyber Monday with email marketing. Thus, there will be more promotional Pushes in the future. To get the audience's attention, however, you need to personalize your Pushes and send them on time, personalized, and responsive to their needs. Personalization can enhance loyalty.
🎁 What else you can promote except for 'traditional for Push, Popunder, and Native ad verticals'?
📚On-line studying
With the COVID-19 pandemic, almost the whole world switched to online studying. It concerns not only children. Adults who are willing to change their job or ameliorate some skills opt for online webinars and courses. Therefore, affiliate programs offering online courses will be one of the most promising options in terms of advertising promotion.

🎮 Entertainment platforms
In 2021, affiliate programs related to home entertainment will also be popular. What are they? They include streaming platforms, online cinemas, music services, and online games. Currently, the entertainment industry is more popular than ever: Internet users are increasingly active, so we can confidently state that this is a trend that will last.
🕹️iGaming
The iGaming industry has emerged as one of the fastest-growing businesses on the planet in the last 15 years. A major reason for this growth is the pace of technological advancement. It is inevitable that the games will only improve, the platforms will get even more advanced, and the future for iGaming fans is without a doubt bright!
👗 Electronic commerce
Online shopping is one of those niches that never seems to lose its relevance. However, when betting on affiliate programs of online stores, it is necessary to give preference to those that offer relevant products in these conditions. For example, clothing and accessories from brands are still a must for most users, but camping and tourism products are not the best options.
💰Crypto and NFT-tokens
There is a growing buzz about crypto and NFTs and they are becoming a hot topic. Even though the cryptocurrency market itself suffered a crash earlier in 2018, its value is now estimated at 350 billion dollars. Users can monetize their crypto-specific audiences with Bitcoin and crypto affiliate programs. To affiliate marketers, cryptocurrency affiliate programs can provide a recurring source of revenue. Affiliate networks that promote bitcoins use blogs, Twitter accounts, YouTube channels, other social media channels, and news websites.
Read also: Advertising trends of Autumn