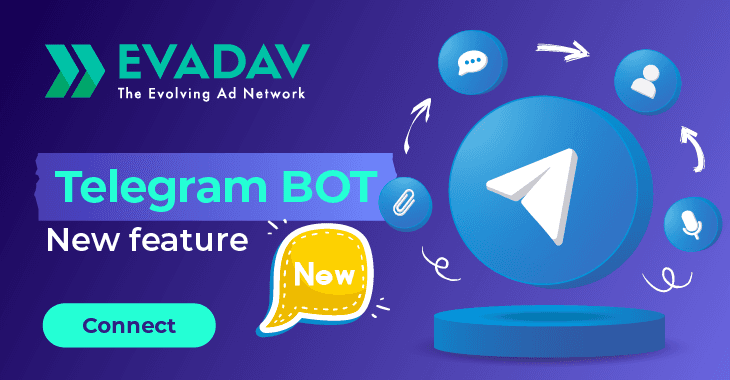 Telegram Bot - New Feature from Evadav
😎Hi, Evadavers!
Meet a new feature from Evadav - Telegram Bot🔔.
Where to find it and how to connect it?
To activate the bot, the user needs to log in to their account in the Evadav profile.
👆 Make sure you filled the field - Telegram. If your nickname is not listed here or you see an invalid one - contact our support team, who will help you to replace or add the actual nickname.
🚀 Next, click "Start receiving notifications" in the Telegram bot in the lower right corner.
↩️After you press it, you will be taken to the bot's page https://t.me/Evadav_Notify_Bot :
✔️ Click "Allow," and you will be redirected to the Telegram application, where you should press /start.
After that, click on /link and go to the Evadav profile by the link indicated in the message.
📧 In your profile, you will see a message telling you that the connection was successful:
⚠️ In the Telegram client, the bot will also inform you of the successful connection of your account:
🔒 To disconnect from sending important notifications through the bot, in your personal account, in the same section of your profile, you need to click on "Stop receiving notifications." All notifications from the bot will be stopped.
You can use both advertiser and publisher notifications for one Telegram account.
How does the bot work?
In triggering conditions, the subscribed user receives notifications from the bot about different events. The list of events will constantly be expanding according to your requests. Now among them, there are notifications such as:
✅ For advertisers:
- Achieving a zero account balance;
- The remaining balance will be enough for 1 day (calculated based on the spending of the advertising account for the last period);
- The ad campaign has been rejected by moderation;
✅ For publishers:
- There was a successful domain change;
- Widget was rejected by moderation;
- Widget was banned without passing an antifraud check;
Important: share your feedback on this tool and your suggestions on how we can make it more useful for you and what new features you are looking for that will help you achieve your goals.
Read also: Limit Alerts for Advertising Campaigns