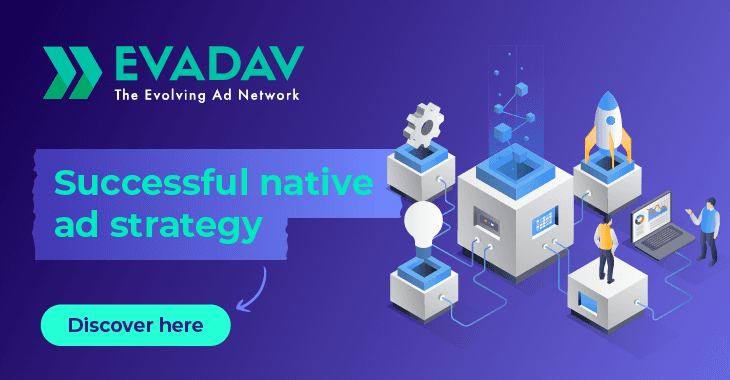 Successful Native Ad Strategy
😎A native ad is becoming more and more popular in many verticals. How to make it work for you? Sure thing, you need to follow the strategy. Evadav team has some tips for you on how to make your ad campaigns successful. Read on!
The Features of the Native Ad
This type of ad integrates into the website content. The native ads are designed to mimic the looks, feel, and functionality of the platform on which they appear.
Here are some reasons why we think native ads are so powerful:
They're less invasive than regular ads, which means they're more likely to be seen by your target audience.

They don't interrupt the user experience, which means you can build trust among your customers and make them feel comfortable enough to click through and learn more about your product or service.

They have higher conversion rates because they connect with users based on their interests rather than using generic keywords like other types of paid search do.
Now let's discover some useful tips we've prepared for you to make your native ad campaign successful!
🚀Focus on Whitelisting
With whitelists and blacklists, you can see which ad zones are delivering stellar results and which ones aren't. It is crucial to understand that ad performance can vary based on a number of factors, including page placement.
The lists enable you to identify the most effective areas and avoid zones that are either too expensive or underperforming. In the event that you launch a whitelist campaign and notice a drop in CTR of 30% or more, you may need to implement some changes in the ads you're running.
✔️Create Black and Whitelists manually or with the help of autorules in your Evadav profile -> https://bit.ly/3c45uZB
🚀Suitable Bidding
The bidding model you choose depends on your needs. Try a CPC campaign first to gauge traffic quality if you're not sure which is right for your setup. You can also create whitelists and blacklists at this point.
Choose CPC (cost per click) and pay $0.001 per click. E.g., you can start only from $1 for 1000 clicks.

In case you opt for CPM (cost per mile), make sure that your creatives will have a high CTR. Pay $1 for 1000 impressions and expect to get clicks depending on your CTR
✔️You can test out a CPM campaign in your Evadav profile.
🚀Perfect Creatives
Native campaigns are driven by creatives. Affiliates usually repurpose ads from their push campaigns for native campaigns that perform well. A good rule of thumb is to make your advertisements catchy, but not too salesy. Moreover, they should be written like blog posts or news articles' headlines.
✔️In Evadav profile, try up to 10 different creatives and choose the best one.
🚀Native Ad Capping (frequency)
You can determine how often your creatives are displayed by the capping of your ads. In order to reach more people, start with a low ad frequency setting. Set the frequency capping per day to specify how many times per day you want to show the ad to a unique user. Double the frequency of your ads if your campaign is underperforming due to low traffic, you have raised the bid already, and you have a high CTR. Try in Evadav profile.
🚀Traffic Testing
Check data frequently, especially at first, so you can experiment if anything isn't going according to plan. To find the best mix for each campaign, you can A/B test elements like headlines and graphics.
✔️Click on statistics in your Evadav profile to monitor your campaigns
🚀Valuable Content
The best way to maximize the effectiveness of native advertising is to make your ads more human. In other words, try focusing on which product/service is right for your audience, rather than focusing on the product itself (though that's important too). Consider what your target audience will want or need from the product you're offering or interested in - and then base your ad around that.
🤑Launch your advertising campaigns with us
Read also: ​​How to use Evadav Audiences for your campaign?