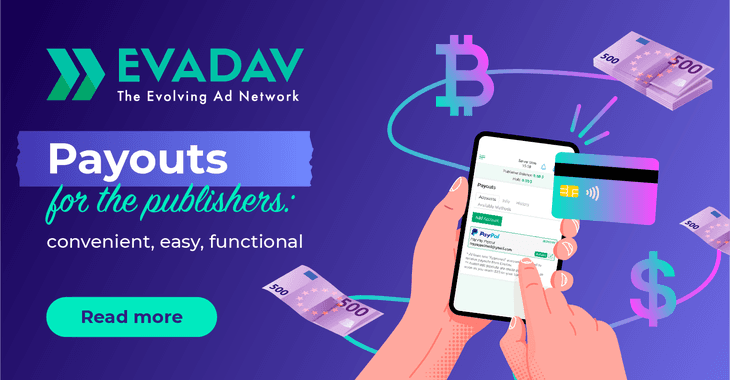 Important update for Evadav's publishers: improving payout functionality
😎 Hello, Evadavers!
Improving the payout functionality is the first significant update for publishers this year, which is worth special attention.
We believe it will facilitate your user experience because receiving payments has become much easier and more profitable.
Let's look at this update in detail.
New payout functionality: what is it like?
All Evadav publishers have the new payouts functionality in this integration.
Before:
Previously, payments to the publishers only occurred manually through a personal manager.
After:
Now publishers can easily order their payments with minimal effort, automating this process in the future.
It improves:
The withdrawal process has become effortless and convenient.
This feature is available to all Evadav publishers.
How does it work?
Publishers need to take several steps to withdraw funds independently:
Step 1
Add your payment method in Evadav's Payouts section by clicking the "Add Account" button.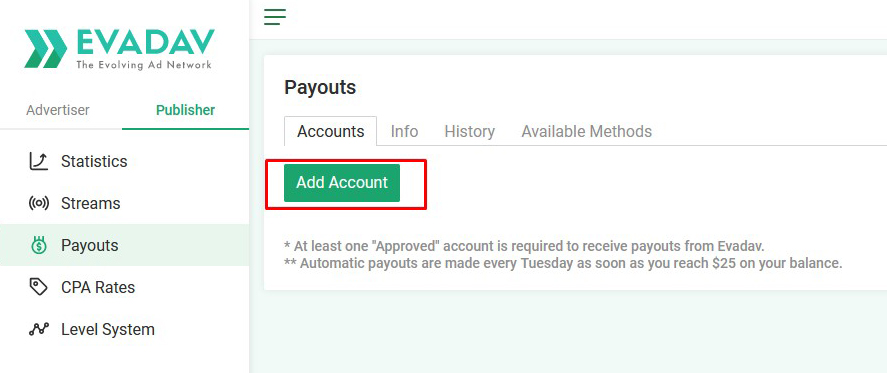 Step 2
In the following window, enter the data:
✅ choose a payment method that is convenient for you;
✅ add your wallet data;
✅ give it a name (in the future, it will make it easier for you to use your wallets if there is more than one).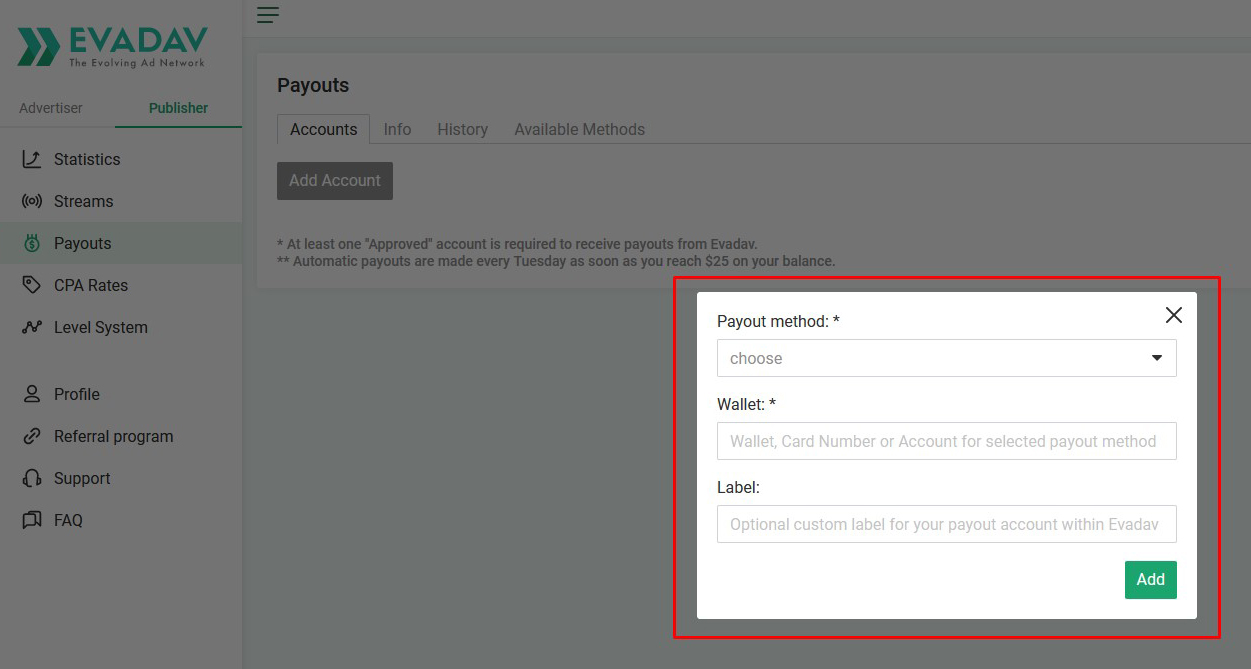 Step 3
Click "Add" after you have filled in all fields.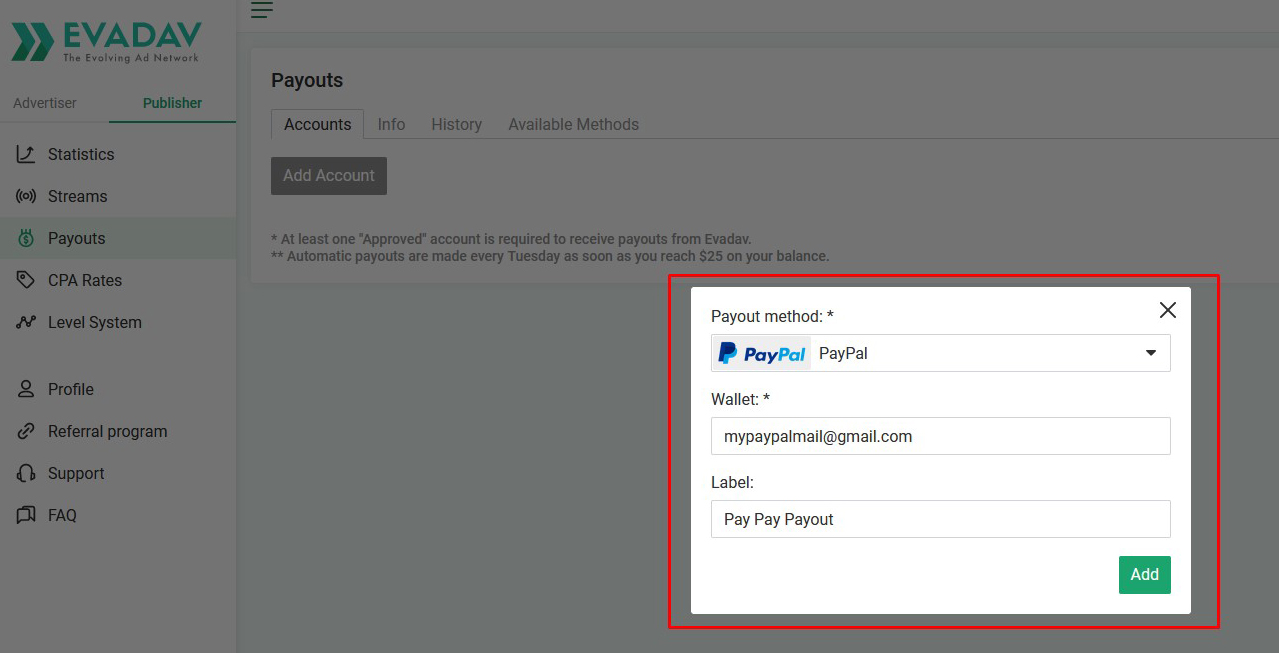 Step 4
After – the added payment method goes through moderation: the Evadav team checks the correctness of the information you entered.

☝️ Important:
Approval shall not exceed one hour from the time of request submission.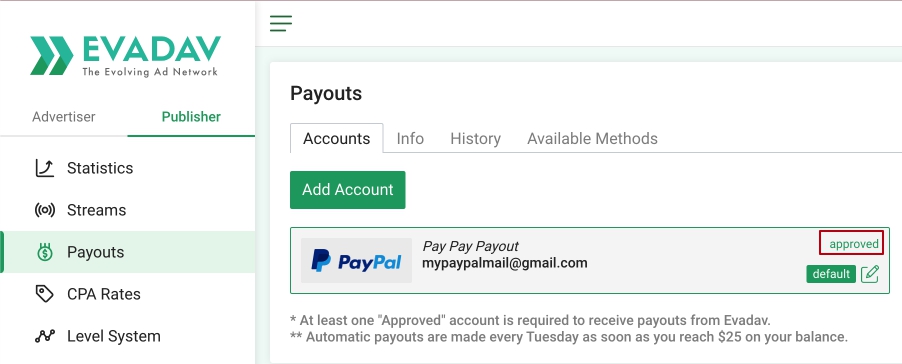 You can add many payment methods by repeating all four steps of the instructions above.
Available payment methods
You can view all available payment methods in your account — Payouts → Available Methods.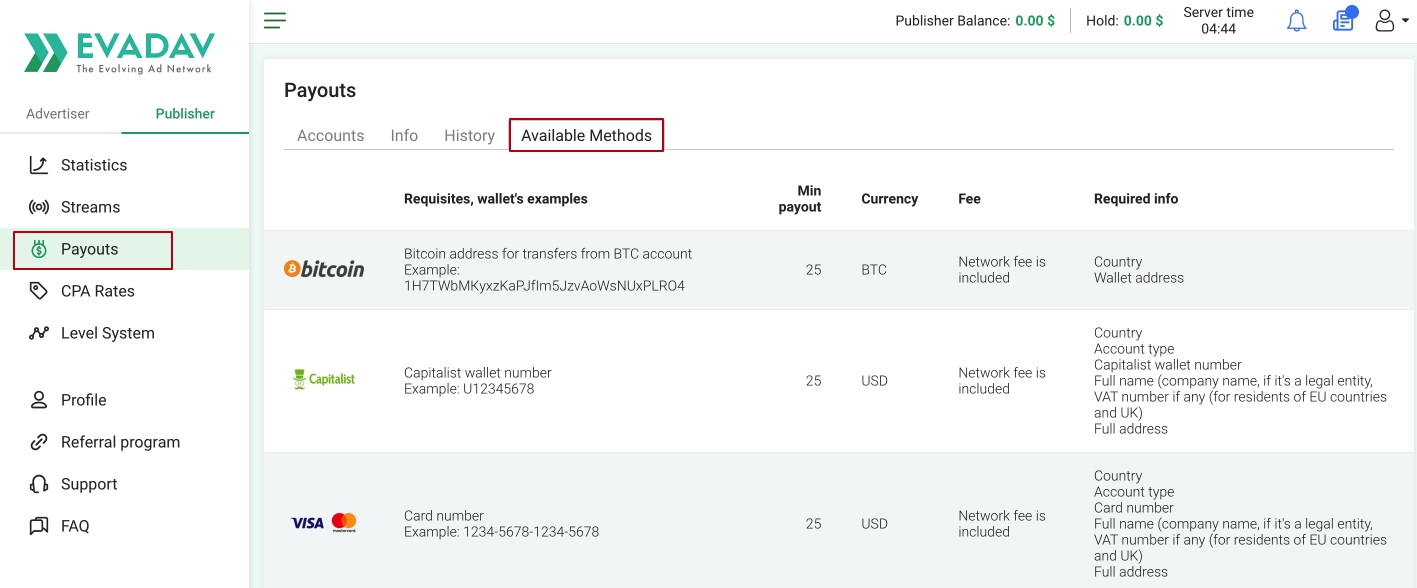 In this list, you will see all the top methods except Bank Wire.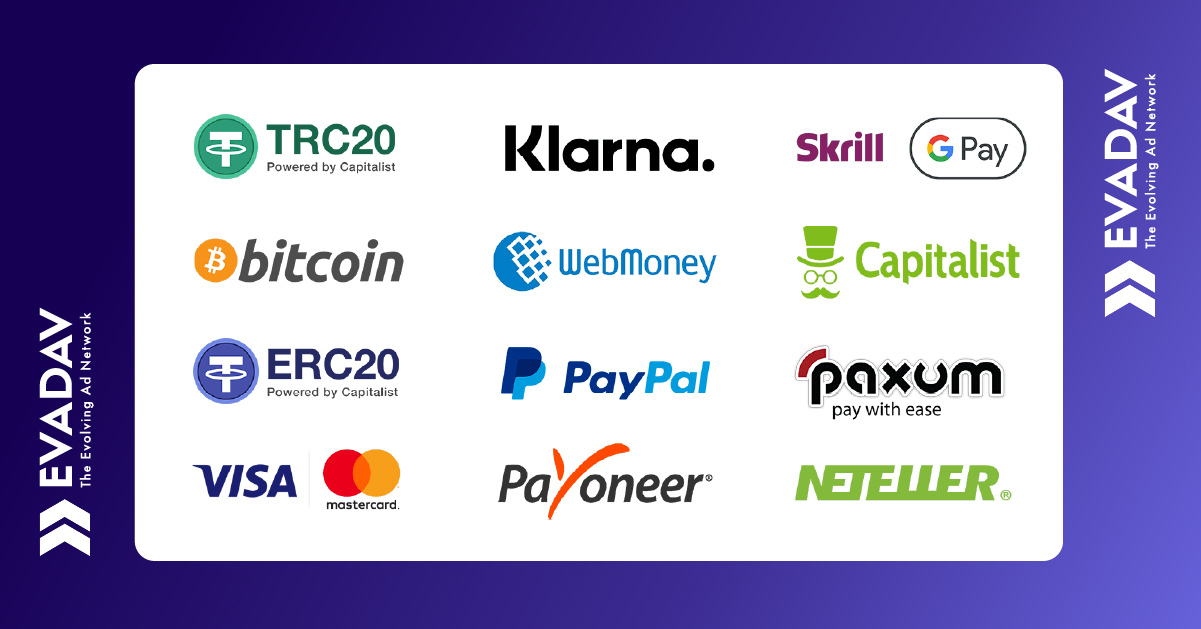 Important:
If you want to order a withdrawal via Bank Wire, write to the personal manager to conduct the payout manually.
Payout types
Payments are scheduled (weekly) and daily.
Scheduled payments are made for all publishers every Tuesday throughout the day.
Daily payouts are available for top-rated publishers who work with Evadav regularly. Adding a button for daily payments is discussed with the personal manager individually.
☝️ Remember:
The minimum withdrawal amount is $25. However, you can set any payment amount above the minimum to form a payout.
Fees and taxes
Evadav covers all possible person or entity fees when withdrawing funds.
☝️ Important for legal entities:
VAT payments are also covered.
You must submit VAT data to a personal manager to do this.
We hope you enjoyed this month's update and will work with Evadav with even greater pleasure.
Expect new updates soon - that's just the beginning.
Read also: US-style Arbitration: 2023 Advertising Strategy guide for the United States