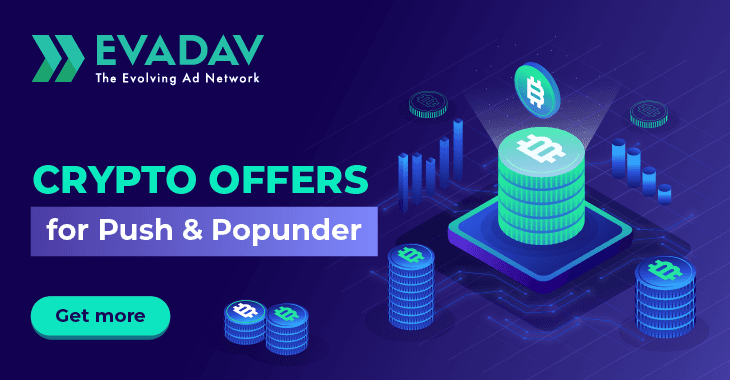 How to get more with crypto offers?
💰 Have you noticed how often the breaking news about cryptocurrencies is? Every second, the price of Bitcoin (BTC) and altcoins changes. Thus, we can observe multiple crypto promos from various crypto exchanges. They frequently appear as push or popunder.
🪄 What should you about each of these formats know before launching your crypto campaign? Evadav is here to give you some tips!
💫 Push
It is a kind of soft advertising format that actually guides the user from the very push creative to the end goal.
🖼️ Creatives
Creatives are half the battle. It's a good idea to run clickbait creatives with claims of 'getting rich quickly', the promise of 'investing your money wisely', success stories, or flat brand promotions.

❗In a clickbait approach, you can use phrases like:
"Grab your bonus here", "Free investment course here..."

"Struggle to pay your debts?", "Wanna get right?", "Wanna make money?", "Find the best way to get rich!", "Small investment – huge outcomes", "Be a king today".
"Invest in bitcoin today!", "Do not let inflation eat away at your savings - Invest now!"
You can also create a success story. Such stories have several approaches – "Bill invested just 10$... Read his story", "Betty getting richer – learn how", "Cars, houses, cash… She just bought Bitcoin".
❗It should be possible to identify the general trend from after-click actions. When using specific creative for your push, you should also place the same content on your landing page.
🤩 In your profile Evadav you can you could preview the creatives you chose to see how they will look like on the site. Just click on 'Preview push notification'.
🪁 Popunder
Given that it is an unintentional click, therefore, the "surprise" is the main driving factor in this case.
🖼️ Creatives are your landing pages
There is no reason to cease using promise earnings, or success stories because they are the simplest approach.
❗Be sure to observe the network's non-celebrity policy. Avoid identifying them by their names, faces, or brands. Add real-looking signatures and names to your landing page to boost credibility.
Include a value key for the platform/offer and include screenshots of trading and/or transaction operations as proof of the platform's benefits.

Make the registration buttons big and include in-text links to increase your conversion rate.
Having your LP ready allows you to easily test multiple offers and run A/B/C tests.
❗Remember that pre-landing is very important for popunder format due to a large number of low-quality sources.
🤩 With Evadav, ​​you can opt for CPM or smart CPM while choosing popunder in your profile.
Launch your campaign with us 👉 https://bit.ly/3ERFutd

Read also: Case study: automated rules, white/black lists and postback