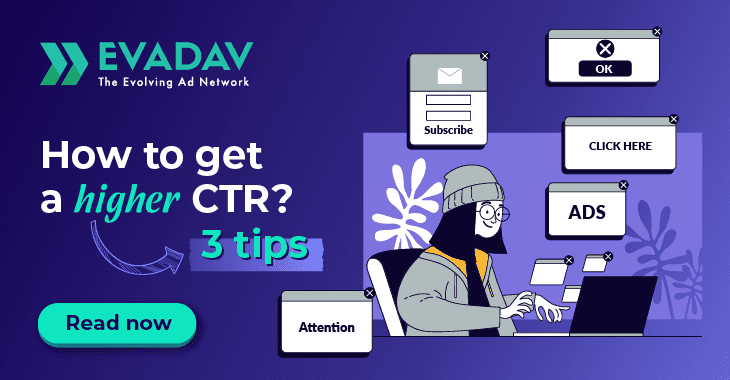 How to get a higher CTR? 3 tips
🧐 Wondering how to get a higher CTR? Evadav team has assembled for you a quick guide on how to do it. Read on to discover some useful tips!
📃 Test your campaign
Launch your campaign applying the cost-per-click model (CPC) in your Evadav cabinet. The whole point of CPC is to test what works and what doesn't.

Using A/B testing on your ads is a must if you want to discover ways to increase click-through rates.
Try using numbers instead of words, or alter the way you have phrased your call to action.

Put an image that evokes a stronger emotional response.

Once you have finalized your test results, ensure that your ads are altered accordingly.

Publish your ads again and measure the results.
You can boost your CTR if you put in a little sweat and persevere.
🔑 Keywords - a key factor
Copy isn't the only thing that has to be persuasive. It's important to use the right keywords. And you need to be specific. As an example, let's say you're a caterer targeting people looking for pizzas for their next event. The word 'pizza' itself is extremely broad and won't rate your site high in search engines. A more targeted audience can be reached by narrowing your keyword down to 'special pizza catering'.
By selecting a focused keyword, you will likely gain a higher click-through rate, but you may sacrifice some of the impressions and clicks. You will receive more qualified traffic since your ad is already attracting relevant traffic. Focus on one long-tail keyword or strong primary keyword to achieve better CTRs.
👨‍👩‍👧‍👦 Put your audience in the center
Understanding your audience can also help you improve your CTR. Try to put yourself in their shoes:
Consider what they would say about the service or product that you're offering.

Take the time to learn their lingo and the terms they use.

Discard things that might seem important to you, but aren't to them.
This is not as easy as it sounds! You must understand your business, run complex calculations, and analyze the results - but most importantly, you must know your customers. The more you know about your customers, the better you can serve them. Utilize this information to your advantage! Find out what your ideal customer profile is, and use it at every opportunity.
🤩 Launch your campaign with us https://bit.ly/3nYE21m
Read also: Launching campaigns to Crypto offers with Push notifications from Evadav