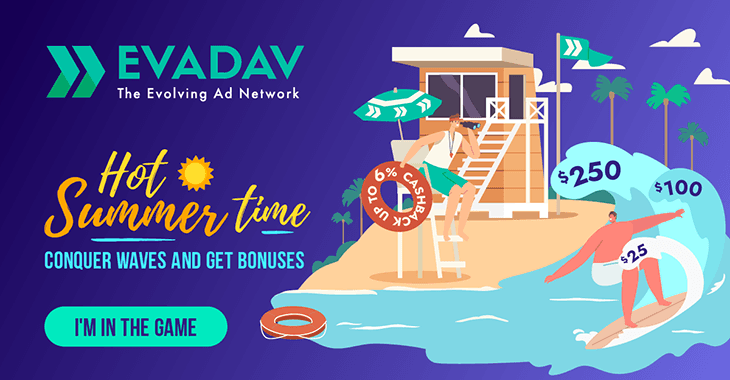 Hot Summer From Evadav - Get Bonuses
😎Hey, Evadavers!
The hot summer is about to end. Now is the time for holidays, relaxation, and incredible profits. The Evadav team always stands with you and already has a suitable activity.
Are you expecting some prizes or bonuses, aren't you?
We are launching a promotion for our advertisers - Hot Summer with EVADAV🐬. Now you've got the chance not only to increase your profits but to get bonuses!
All advertisers can participate in this activity, both new accounts and those whose advertising campaigns are active now or were launched earlier.
🚀 How to get bonuses?
The flow is easy as pie:
✔️ Create new ad campaigns and build up your spend.
✔️ Make sure your August spend exceeds your spend for July by $2000, $5000, or more.
✔️ Get your $25, $100 or $250 bonus.
🤑Take your bonus:
💵$100 if your spend exceeds your spend for July by over $2000
💵$250 if the spend exceeds your spend for July by $5000
New customers get $25 to test traffic with a promo code hotsummer25.
👆An extra point: Cashback up to 6% is ready. Ask your manager about it.
The promo will run up to August, 31.
Increase your spend and get bonuses from Evadav
Read also: Telegram Bot - New Feature from Evadav