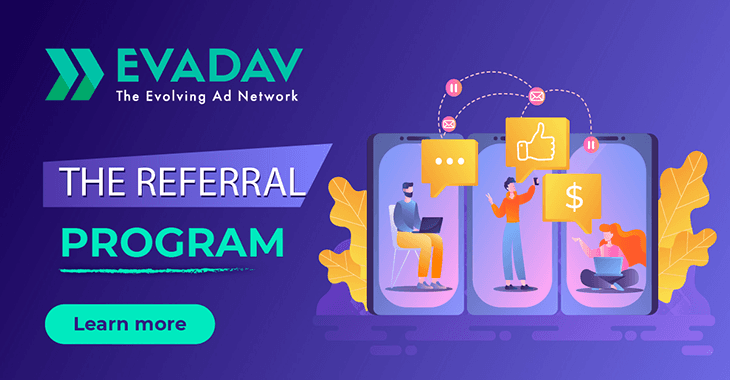 Evadav referral program: work less and earn more
😎Hello, Evadavers!
Henry Ford said: "Anything can always be done better than it is being done." And we share this idea. After all, making money is not limited to traffic monetization and advertising. There are still many additional profit sources when you can work less and earn so freaking good
🚀 The Evadav referral program for publishers and advertisers is a striking example. It enables all partners to earn extra money.
If you are already one of our publishers or advertisers or will join our network, you need to read this article, which will surely motivate you.
📲 Referral program: terms and conditions
Evadav partners can increase their income by bringing in new members, whether a publisher or an advertiser and get a reward for each.
If new publishers join Evadav via your referral link, you will receive a commission of 5% of their earnings.
If you bring a new advertiser to Evadav and he buys advertising worth $500 or more, you will receive $50 on your balance. By the way, all advertisers you bring will also receive $50 when they reach $500.
☝️ The algorithm is simple:
The more people follow your referral link, the more they get in return, and in the end, you make more money.
Our referral system works for a lifetime commission. After all, each referral partner has a chance to scale campaigns or platforms and increase revenue, so it is fair that partners who attract new ones are rewarded based on their success at all times.
Steps for getting referral bonuses
☝️ Important:
Each of you can become a member of the Evadav referral system: a currently working publisher or advertiser or someone who only planned to join us but has not done it yet.
If you have been with us for a long time and have already used this effective way to gain additional profit - you have the opportunity to pump this source even stronger so that it becomes truly a gold mine.
You need to go through several stages, and a clean profit is all yours.
Step 1
Sign up or log in to an existing account on our platform.
Step 2
Open the "Referral Program" section, find your referral link on this page, copy it, and share it with your candidates, thus inviting new partners.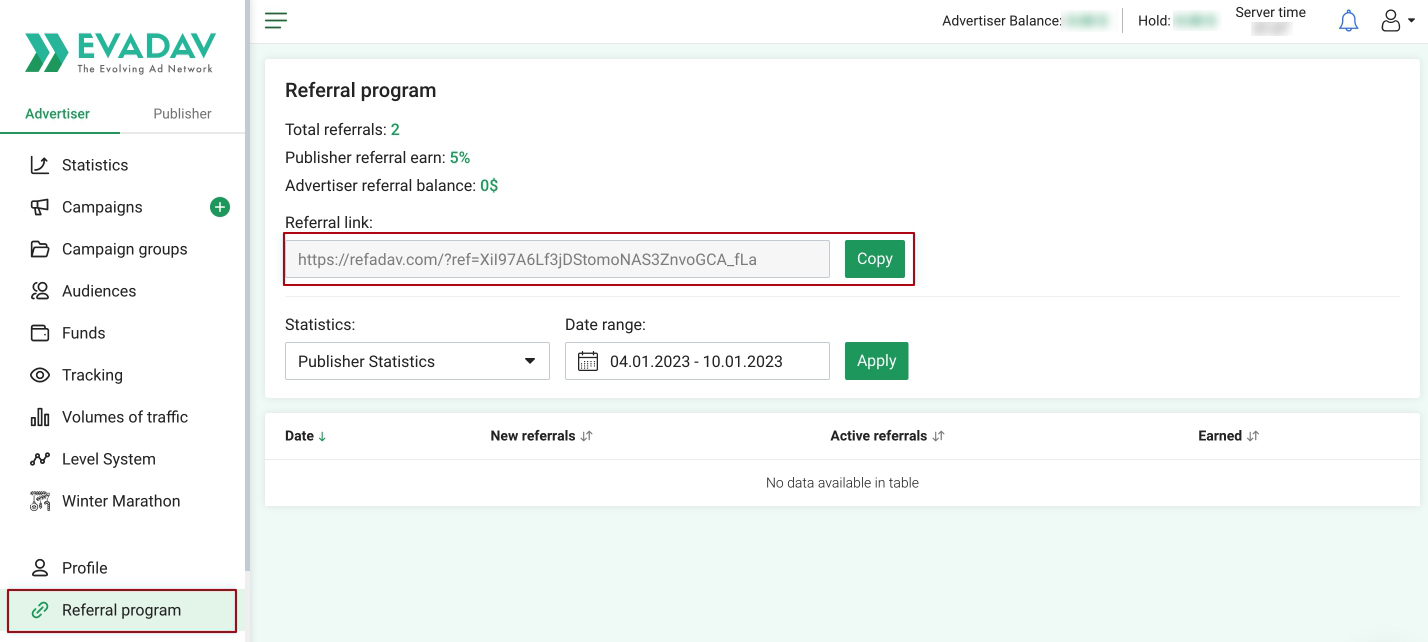 ☝️ Remember:
New partners must follow your referral link for the algorithm to work correctly. You must clearly explain to the new partners that they must sign up by the link you provide.
Step 3
You will see your referral partners in real-time statistics as soon as they sign up in Evadav.
In addition, the system is so transparent that you can easily see the statistics of your referrals for the selected period.
There are absolutely no restrictions on the number of your partners. The key to a great result is their activity and success.
Start making money with Evadav right away!
💡 Attracting referrals effectively: tips and life hacks
Getting a referral link is only the first step. You need to develop a strategy to attract and find the best way to convince other publishers and advertisers to sign up using your link.
☝️ Evadav tip:
Explore the needs of your potential partners - always put yourself in your audience's shoes and emphasize the benefits of working with Evadav, which are not only your personal favorite but also will be of interest to others. Be honest; the more you tell about your experience with Evadav, the more likely your referral will be proactive and satisfied with a choice.
Ensure that the partners you are trying to attract have not yet registered with Evadav. Otherwise, the algorithm will not work, and you will waste your time.
What do you need to do to make the referral program become a powerful tool for you to earn money?
Top 5 recommendations from the Evadav team:
1️⃣ Create a working strategy to promote Evadav among acquaintances and in a professional niche.
2️⃣ Become a true brand ambassador whom people will trust:
add your referral link to your traffic sources and banners;

work with social networks, tell about your successful experience with Evadav, and share your referral link;

go to forums and online groups. They are an excellent source of quality recommendations;

write a case study with actual data; profitable statistics attract better than words.
3️⃣ Choose not only beginners in the industry, but also experienced players. Remember, you need active partners. It will increase the chances of getting significant commissions.
4️⃣ Create tutorials, checklists, and instructions. The better potential partners understand getting started with the new network, the higher the chance to attract new publishers and advertisers and interest them in work and profit.
5️⃣ Create groups and chat rooms with your referral partners; help them, and they will help you. If you create a like-minded society, your income from the referral program can equal the revenue from the primary source of profit.
💵 Payouts: how, when, and how much
We pay a commission for each active partner. Our program works as follows:
Initially, referral commissions go to the "Hold" balance. They are paid once a month and are equal to 5% of the earnings of attracted publishers and $50 for each attracted advertiser who has reached $500 spending;

To withdraw your commission, transfer it to the publisher balance for the payout or advertiser one - to use it for offers promotion; it's up to you;

All referral fees are paid in USD.
We hope that our tips will help you to attract new active partners and increase your earnings with Evadav.
If you have any questions, contact a personal manager, who will be happy to assist you.
🤑 Follow the enormous referral profit >>

Read also: Evadav's festive winter marathon with generous cashback for advertisers