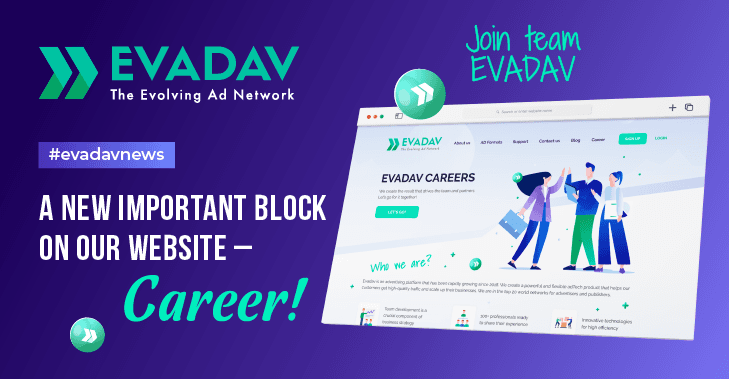 EVADAV Career: we create the result that drives the team and partners
😎 Hello, Evadavers!
🔍 Evadav career: leading ads network announces the search for new talents!
Our company grows and develops daily. Now, together with our partners, we are showing great results, rapidly breaking into the 🔝 leaders of adTech product companies.
We are already among the 20 best world networks for advertisers and publishers: We have coverage in 250+ countries, provide 2 billion daily impressions and 300 million unique reach.
We create a powerful and flexible adTech product that helps our partners get high-quality traffic and scale up their businesses.
Not surprisingly, with our partners, our team is growing and going to a new level. It means it is time to introduce to your attention a new important page on our website – career! 🥳
☝️ If you are one of those creating modern innovative products and technologies, working on the result that will drive the team and partners – we will be glad to see you on board.
What you need to know about us:
📌 we are creative and proactive;
📌 we are professionals, ready to share experience;
📌 we hear everyone's ideas and gather like-minded people;
📌 we need to develop and strive to become better every day.