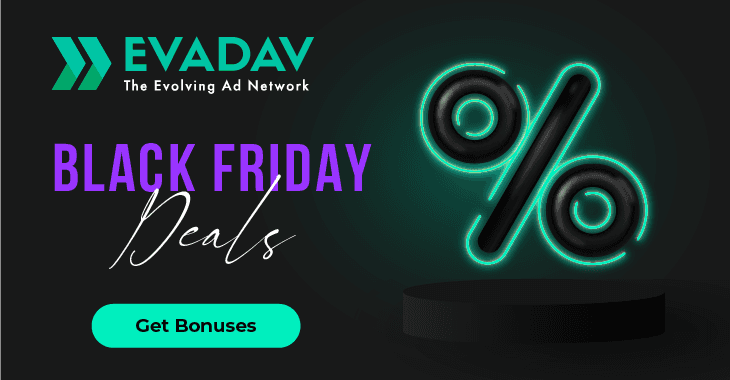 EVADAV BLACK FRIDAY DEALS
😎Hello, Evadavers!
What are Black Friday & Cyber Monday sales?
Black Friday is the weekday following Thanksgiving in the US. (the fourth Thursday of November).
Most affiliate product creators, eCommerce shops, and software system developers provide large offers throughout Black Friday week. Typically customers are able to expect fifty to eighty percent off on nearly every product they're thinking of shopping for online.
That is why such Black Friday offers are promoted by almost all types of bloggers, affiliates, website owners, and marketers. With massive offers and discounts, they sell affiliate products like hotcakes.
Definitely, we recommend that you test yourself and run advertising campaigns, first of all, on such verticals as:
- eCommerce
- Sweepstakes
- Streaming
- Beauty
- Gifts
- CyberSport
- Software
Promote offers from our partners with Push notifications, Inpage banners, Popunder, and Native ads. To make that alive, this year we at Evadav have prepared a profitable offer for all advertisers without exception.
🤑There we have a Black Friday deal:

Use promo code EvaBlackFriday22 and get 10% on top of your advertiser balance. Be aware and hurry up, promo codes are limited in time till the end of the day and be active only on 25th November.
You won't wish to miss them!
_____________________________

🤑To help you we also collected the best deals from our partners.

✅ Spy Tool Deal - Adplexity
Get a 50% discount for the spying service with up to 40% life discount and be whitelisted to the early access to the TikTok Ad spying tool for free. (the tool will be released in early 2023).
Promo code: evadav_bf22.
✅ CPA Network – Adsempire
Get increased rates for exclusive dating offers with AdsEmpire:
Flirt - CA - web - 3.3$ mob - 2.8$
Benaughty AU - web 6.3$/mob - 5.8$
OneNightFriend - US - web - 2.8$ mob - 2.5$
together2night - NZ - web - 4.8$ mob - 4.3$
meetwild ES/GB - web/wap - 2.8$
Swipe-next US/UK/AU/NZ/CA - €2.5

GET A BUMP! and instant approval.
Promo code: evadavBF.

✅ Tracker – Voluum
Get up to %30 discount and an additional BF deal.
Promo code: evadav.


✅ Network - Mobidea
Get a 10% bonus on your first payment. The maximum bonus is $1000.
1. Sign up with Mobidea
2. Send an email to [email protected] requesting your bonus from EvaDav

Start Black Friday Ad Campaigns & Monetize Your Traffic With Evadav