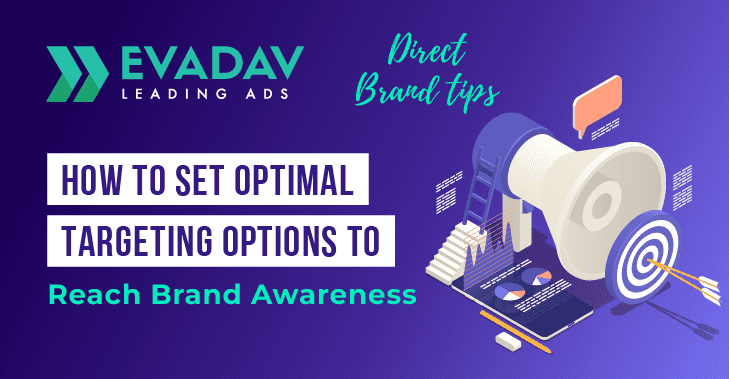 Direct Brand Tips: How to Set Optimal Targeting Options to Reach Brand Awareness
Whenever a company wants to become more recognizable to the target audiences, it must perform massive work. According to Ecoconsultancy, almost eighty percent of consumers prefer products and services from familiar brands today. That is why branding properly and standing out from the rest is so crucial. In marketing, such a level of familiarity is called brand awareness. Get acquainted with some efficient brand awareness strategy tips down below!
Before implementing any branding tips, one should learn to analyze brand awareness metrics. They reflect the effectiveness of a campaign and suggest areas for improvement. Some of the famous brand awareness metrics are:
Brand impressions, or how often audiences see the info about the brand daily
Social media engagement or interactions with posts mentioning the brand
Search volume, or number of searches about a product or service online
Website traffic, including the number of visitors and their behavior, etc.
🎯 Maximize Your Brand's Impact with EVADAV's Targeting Features
🚀 Understanding the Significance of Brand Awareness
Brand awareness is more than just a buzzword; it's the backbone of a brand's identity and its recognition in the market. Think of it as the initial handshake between a brand and its potential audience. A brand with high awareness is not only recognized but also preferred over its competitors. Let's check brand awareness tips.
💡 How Do We Measure Brand Awareness?
Just like any metric, brand awareness is quantifiable. Common measurement methods include:
Directly ask your target audience if they're familiar with your brand.
Monitor mentions and conversations around your brand on social platforms.
Check how often your brand's name or related keywords are searched for on search engines.
🔎 Primary Channels: How to Increase Brand Awareness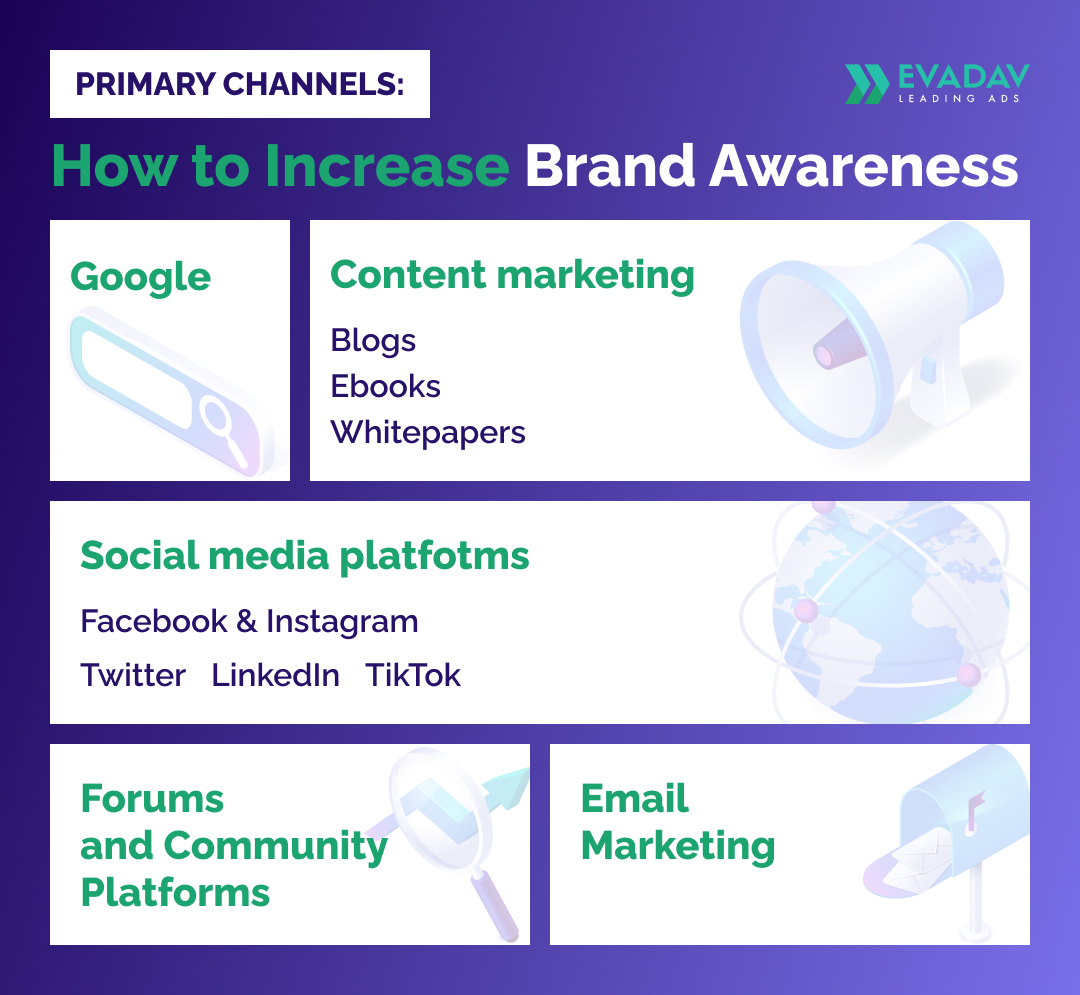 Achieving broad brand recognition requires a comprehensive strategy that taps into various channels. Mainstream channels include:
Google
Through SEO efforts and Pay-Per-Click (PPC) ads, brands can increase their visibility when users search for related keywords.
Content Marketing
Blogs: Regularly publishing informative, engaging, and original articles can boost brand visibility. Collaborate with bloggers in the niche to provide guest posts.

Ebooks/Whitepapers: Create detailed guides or research papers that users can download after sharing their details, helping in lead generation.
Forums and Community Platforms
Engage in forums like Quora or niche-specific forums. Answering queries or offering solutions can establish brand authority.

Participate in Reddit discussions, especially in relevant subreddits.
Social Media Platforms
Facebook & Instagram: Use both organic posts and sponsored ads. Engage with affiliates or influencers for promotional content.

Twitter: Ideal for quick updates, news, or sharing articles. Twitter chats can boost engagement.

LinkedIn: Especially effective for B2B affiliate marketing.

TikTok: By crafting catchy, on-trend videos, brands can tap into the platform's vast audience to increase visibility.
Email Marketing
Craft personalized emails, newsletters, or drip campaigns to nurture leads and update them about new products, promotions, or content.
The Power of Ad Networks
Beyond the mainstream channels, advertising networks like EVADAV play a pivotal role.
These networks provide a vast array of publishers, which means more avenues to display your brand and reach audiences that might not be accessible through traditional channels.
Rules of Targeting
When deploying your brand campaigns, especially on platforms like EVADAV, it's essential to:
Understand who you want to reach. This will guide your targeting parameters.
Choose the Right Ad Format
Depending on your audience and message, pick the format that resonates best.
Continuously assess campaign performance and adjust your targeting settings to optimize reach and engagement.
Amplify Your Brand Awareness with EVADAV
In the crowded digital space, every brand is vying for attention. By leveraging primary channels and the unique capabilities of platforms like EVADAV, brands can significantly enhance their awareness. Dive deep into targeting, explore the extensive publisher base of EVADAV, and let your brand voice echo louder in the digital realm.
📈 Transform Your Brand Visibility with EVADAV Today
Conclusion
Achieving brand recognition demands leveraging every available channel, and advertising networks like EVADAV offer expansive reach beyond conventional methods. Remember, effective brand visibility is not just about the number of eyes that see your brand—it's about making a lasting impression.
🚀 Maximize your brand's potential by utilizing EVADAV's targeted ad solutions.
Read Also: Oh, wonderful native world: how to work and make money with EVADAV Native format?