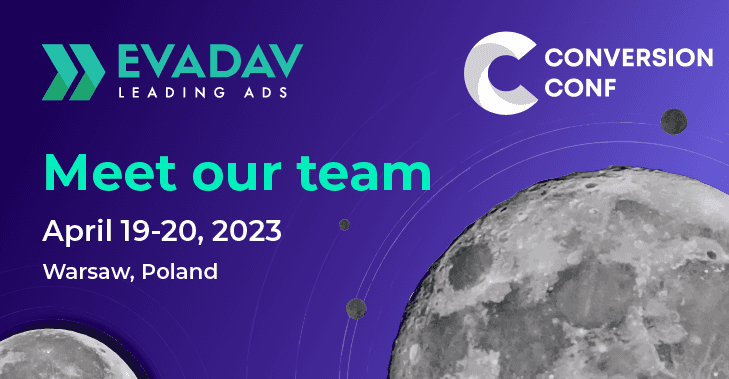 Conversion Conf: Meet our Team!
🚀 Great news! Evadav team is going on Conversion Conf!
April 19-20, 2023
EXPO XXI, Warsaw, Poland
Conversion Conf spans 5 verticals:
💰Finance
🌱Nutra
💘Dating
🎲iGaming
🛒E-commerce
Join 30 speakers who will share their expert opinion. Don't miss the opportunity to gain valuable knowledge from industry leaders and grow your business!
🎁Get a Free Ticket!
Leave 'like' and comment under the post 'Conversion Conf: Meet our team' on Linkedin and get a SILVER ticket to the conference for free🤩
Our manager will contact you in direct messages with the instructions.
The amount is limited - only for the first 20 participants!
🤩Book a meeting with Evadav team!
Want to ask any questions or just have a friendly conversation? You can book a meeting with us on the Conversion Conf
💰Meet us at the conference and launch your campaigns with Evadav
Read Also: Types of Ad Fraud: Tools for Their Detection