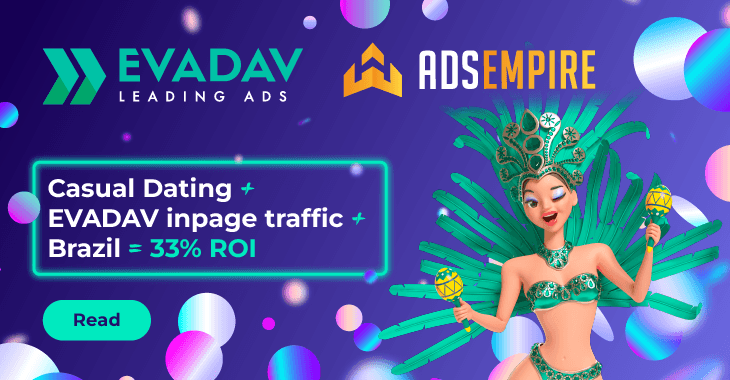 Brazilian passions or how to make money on dating in hot Geo from Tier 3: a case study for advertisers
😎Hello, Advertisers & Affiliates!
We're here for you with the latest case study with two hot dating offers and Brazilian inpage traffic from EVADAV. The bundle seems standard, but here you have something to look at and learn.
If you are looking for a promising bundle and want to work effectively with online dating offers, managing traffic from tier 3, this case study is the perfect solution.
Advertiser's bundle
Ad format: Inpage.
Offer type/offer: Dating: Prapaquerar, OneNightFriend.
Affiliate network: AdsEmpire.
Targeting: Android 6-13, iOS 15-16.
Geo: Brazil.
Campaign period: Pra Paquerar – 25.05-07.07, OneNightFriend – 16.06-07.07.
Total budget: $291.33
Total earned: $388.85
Net profit: $97.52
ROI: 33.47%
About offers
The first offer is an inclusive dating platform where LGBT representatives are met without prejudice. It is a comfortable space for the LGBT community with manual profile checking and privacy protection, filters for various parameters, and private chat option.
In Pra Paquerar, users can add short videos, making their profile unique. The site has operated for ten years and has an adaptive version for mobile devices. There is an APK for Windows, but no mobile application for iOS or Android today.
The platform itself looks like this: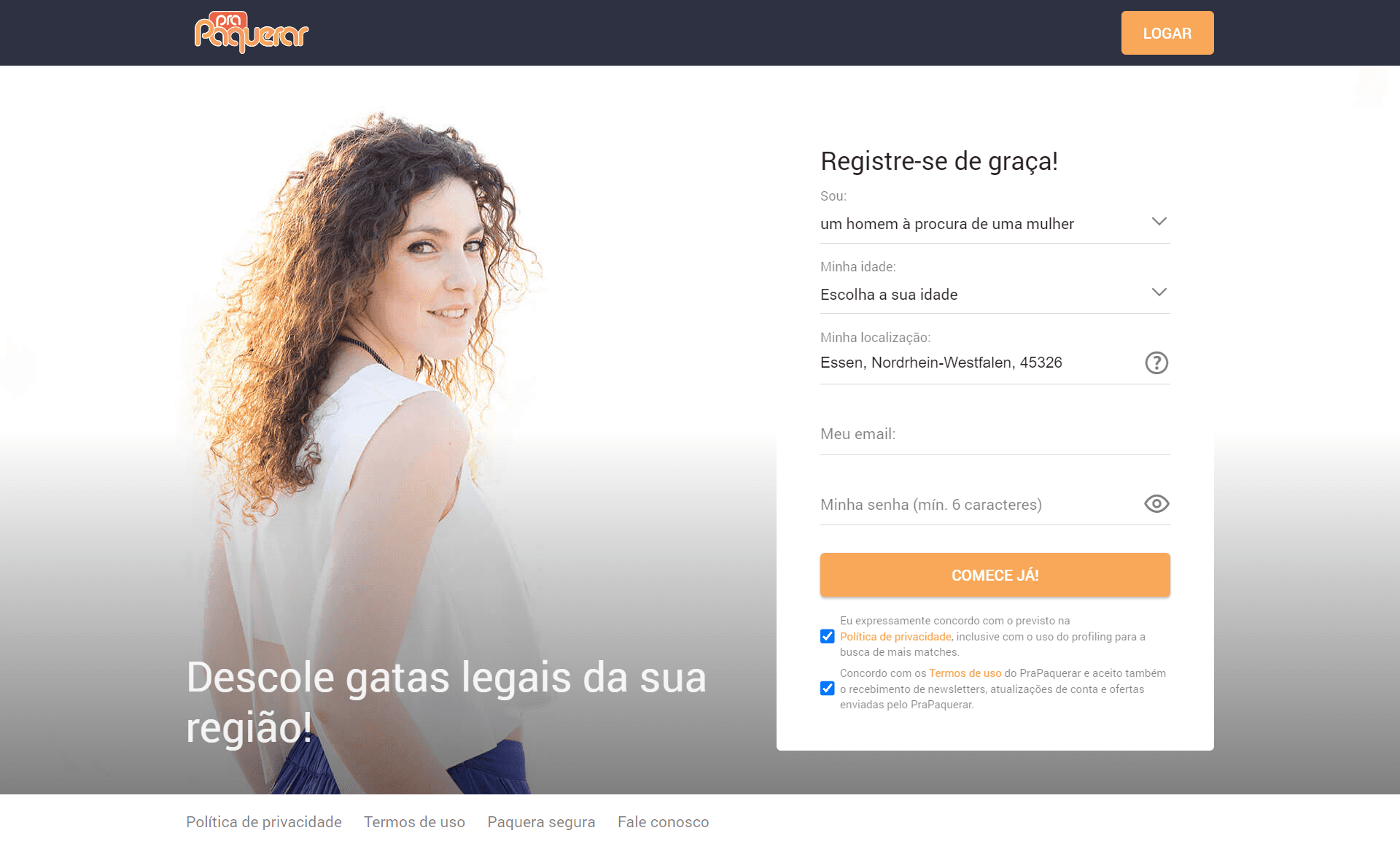 The user must fill out a form with five mandatory fields to sign up.
Pra Paquerar has a paid subscription, which extends automatically after the end of the period if it is not canceled. Premium subscriptions start from $59.97 per month, and there are also trial subscriptions for $0.99 and $5 per day and week, respectively.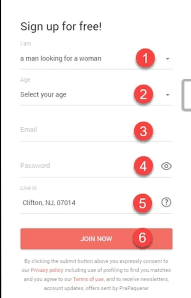 The advertiser also decided to test one more platform. OneNightFriend has existed for 17 years and is also focused on people of different orientations and free relationships. Heterosexuals and LGBT people can quickly find a partner for one night stand. This is one of the most popular offers in the industry with localization for all top GEOs.
EVADAV tip:
If you don't know which offer to choose, ask the OneNightFriend offer from AdsEmpire managers.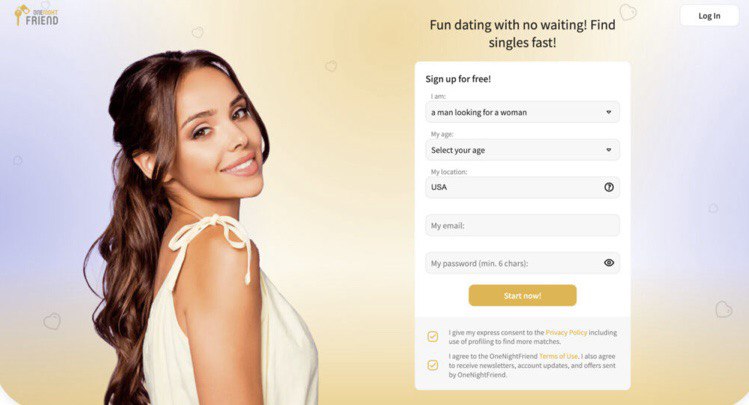 The options are generally the same as in Pra Paquerar; only the monthly subscription price is $41.98, a week - $2.73, a day - $0.99.
The site is optimized for desktop and mobile devices and has a mobile application, but it does not allow users to share files and messages for free. And this is the main difference from the first offer, where users can communicate for free after registration.
It seems you are eager to see the performance of SOI offers from AdsEmpire in the selected region. Shortly, we will move to the campaign's settings and the most "delicious" part — results.
Ad format choice
The author of the case chose the EVADAV's inpage format, as he had previously tested it in a bundle with dating.
The main advantage of such advertising is not a low cost relative to the push format but the coverage of fresh and solvent audiences.
Recall that the affiliates could not access MacOS and iOS users with the classic push.
With the inpage format, you can advertise online dating services to owners of iPhones and MacBooks. And also make it as personalized as possible, thanks to custom styles — at the moment, only we have this option.
Why Brazil?
Most likely, no one had any questions about the relevance of the selected geo for these offers.
Brazil is a country of football and sex lovers, where family values compete with free relationships, and one-night stands are ordinary.
We have repeatedly stated that you should not neglect traffic from Tier 3. In particular, Brazil has tons of cheap traffic and high conversion in many verticals, especially dating.
By the way, according to the results of the second quarter of 2023, Brazil ranked 5th in terms of inpage traffic amount: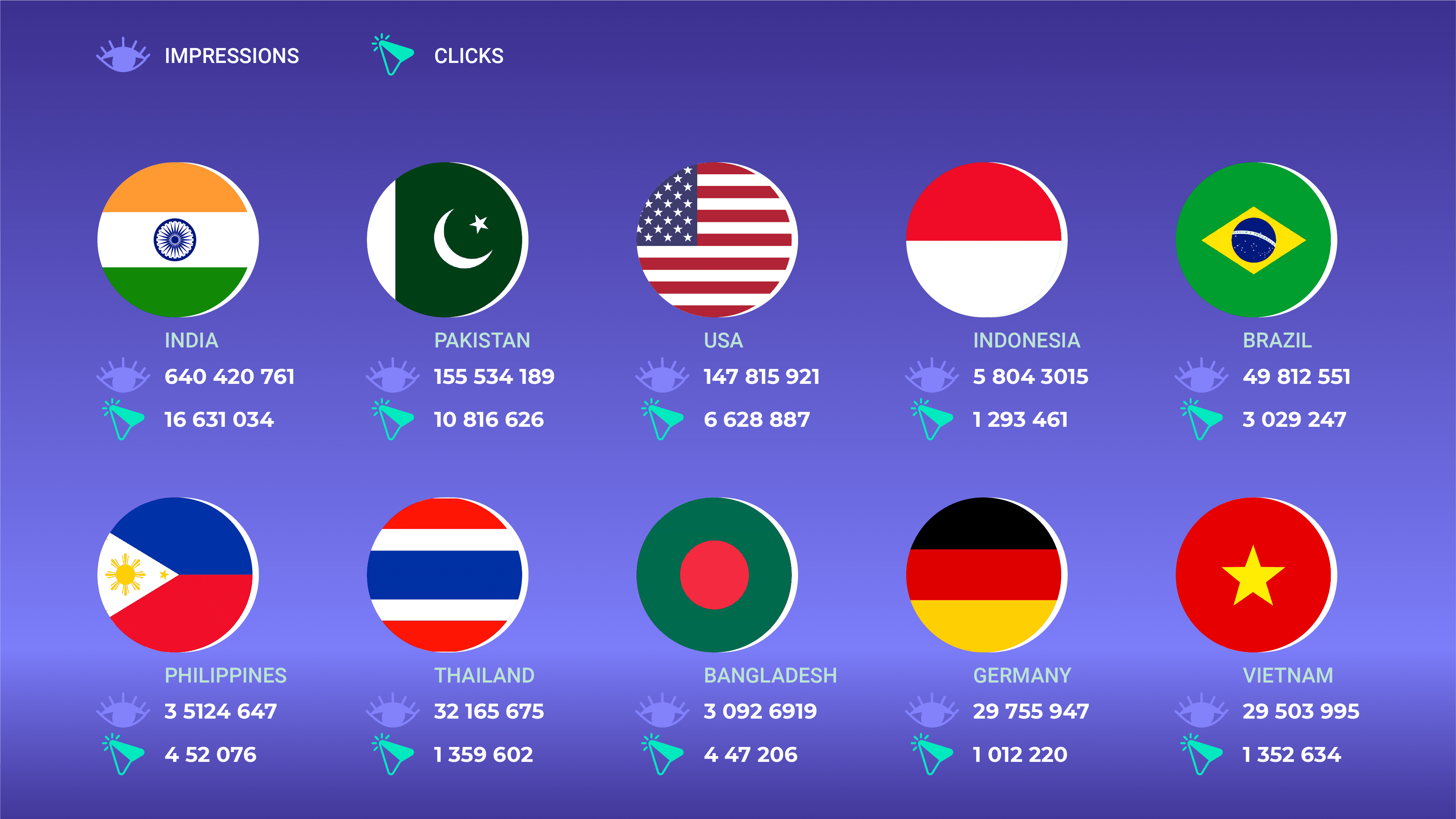 Inpage format features
Inpage advertising is pop-up banners that do not disappear until the user clicks on or closes them.
To the user, they look like push notifications, but they have a different mechanism. Unlike push ads, there is no subscription base, meaning consent to the display is unnecessary.
Small pop-up notifications appear when the user interacts with the device but do not prevent viewing the site's content. They do not have a big image like the classic push, which makes them even more unobtrusive and native.
Dating promotion became easier with inpage. That is why profitable cases with such bundles are increasing in our blog.
Advertisers enjoy working with the format, and CR is great. Why not share the experience?
Custom styles for inpage notifications
Custom styling of the inpage format made it top in many profitable verticals.
There are three widget templates available in the EVADAV Account:
Classic (Light, Dark, Standart) — such an inpage ad looks like a classic push with text and a button.
Light

Dark

Standard classic

The Standart template is suitable for such verticals:
🕹️ gambling
⚽ betting
🪙 crypto
🌱 nutra
🎟️ sweepstakes
Light and Dark templates are used for:
🛒 products
💵 micro loans
System (Mac, Win, Android, iOS) — visually reminiscent of system alerts on platforms of different devices.
macOS

Windows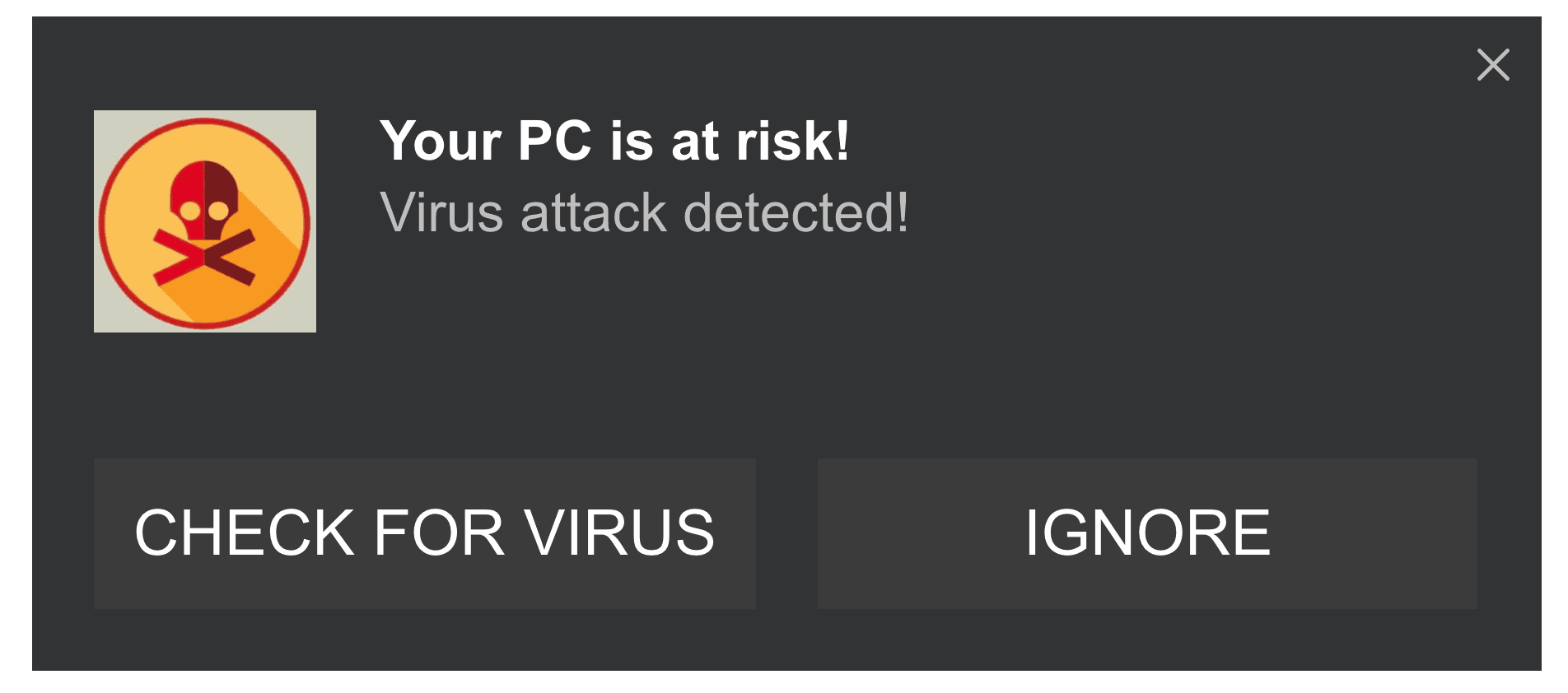 iOS

Android

Works excellent for the following:
💾 software
⚙️ utilities
📱 antivirus
⛓️ file downloaders for Android devices
🎟️ online sweepstakes
Social (LiveChat1, LiveChat2, Standard Social) — The pop-up notification looks like a new message from a popular social network.
LiveChat1

LiveChat2

Standard Social

Ideally converts traffic in conjunction with offers from the following verticals:
❤️ dating
🎦 webcams
Efficient creatives for Brazilians
Geo has a hot and passionate audience and has long survived an era of LGBT bias and stigma. Almost every Brazilian has a couple of dating apps on a smartphone.
EVADAV tip:
By the way, the peak downloads occur during matches, carnivals, and championships. It is necessary to use it in advertising campaigns.
Relevant wording examples: "Are you going to the carnival today? Let's meet", "Going to the match? Let's see you after the game".
Selfies and photos of the naked bodies of young girls and women from 35 to 45 y.o are a "gold mine." The audience reacts well to both European and African-American looks. The main thing is realism because retouched photos of glamorous beauties work much worse here.
The standard funnel includes a pre-lander with questionnaires, age confirmation, age restriction warnings, and chatbots.
Below are unsuccessful pre-landers that the advertiser used during the test period: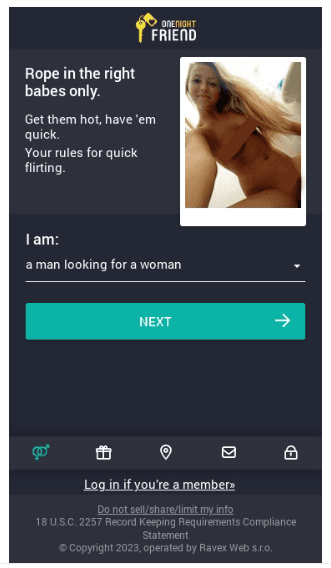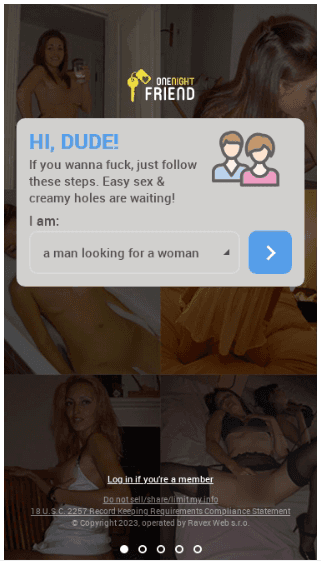 And these are the pre-landers that showed much better conversion: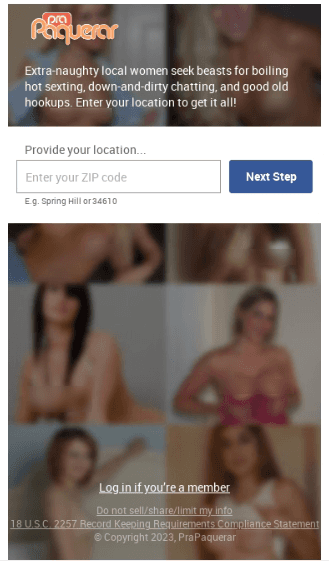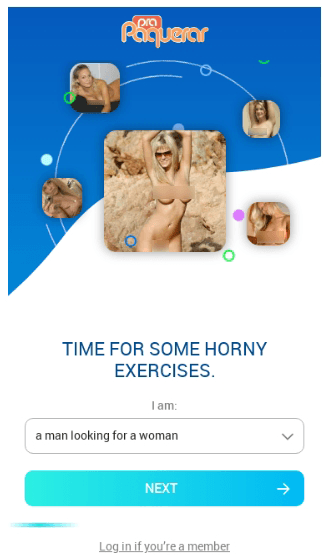 EVADAV tip:
the effectiveness of each pre-landers should be considered individually and different ones should be tested at the beginning, leaving only those that show high conversion.
Such creatives with girls will show good CR: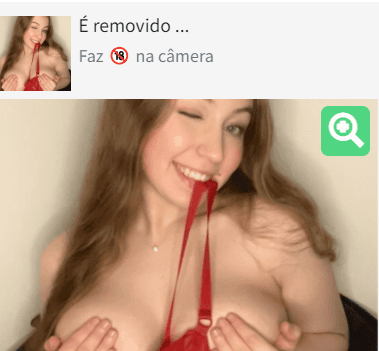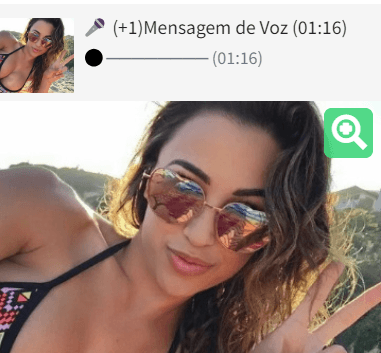 Candid photos, voice imitation, and flirty emojis make creatives realistic and clickable. Brazilians (and not only them) will want to meet with such girls.
The following creatives can bring less clicks.
The girl in the photo looks too attractive. Why is it wrong? Firstly, many men and women are not so confident to try to meet a girl of model appearance. Half of them won't see a chance to get an answer, and the rest of them won't believe the profile is real.
The same can be said about the second creative — too high-quality retouched photos are not credible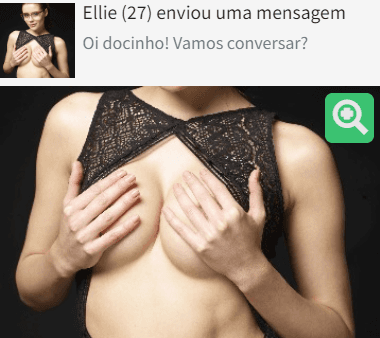 EVADAV tip:
use candid photos and selfies for creatives. Not retouched, cover-like, photos.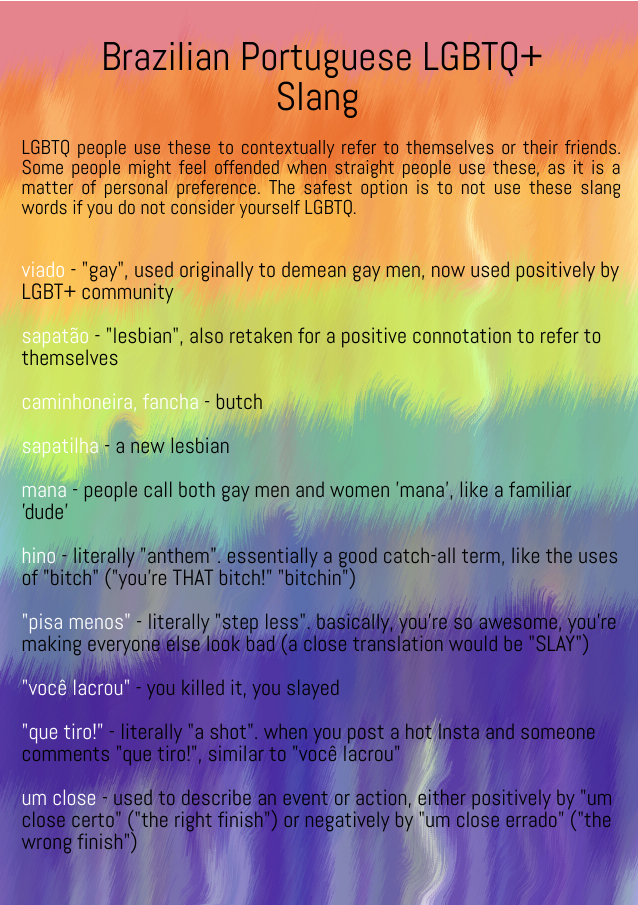 EVADAV tip:
by the way, we want to note that using unique inpage templates is not yet available on most advertising platforms. But this exclusive option is already available on the EVADAV platform!
Advertising campaign setup
Let's go back to the case and look at the campaign settings. Our advertiser is quite experienced and applied a wide whitelist initially, which was only converting sources for Brazil.
Bids
The advertiser initially set the minimum bid, then raised it to $0,052.
He further manually regulated ROI with automated rules and micro bids for each source. In some sources, bids were up to $0.075.
EVADAV tip:
Recall that the higher the bid, the higher the campaign activity in the auction, that is, more displays in a shorter period. Increasing the bid reduces the testing time and gets data for optimization faster.
Creatives
The following creatives were at the start: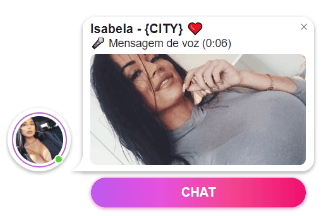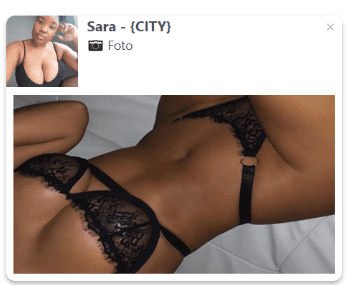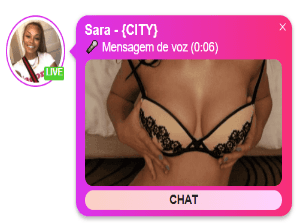 Look at the statistics:

Tracking
The advertiser used the Voluum tracker to transmit statistics. It is the top tracking tool integrated with EVADAV. It provides complete information about conversion to the platform so that automatic rules and micro bidding work correctly.

Targeting
The campaign was initially targeted on Android.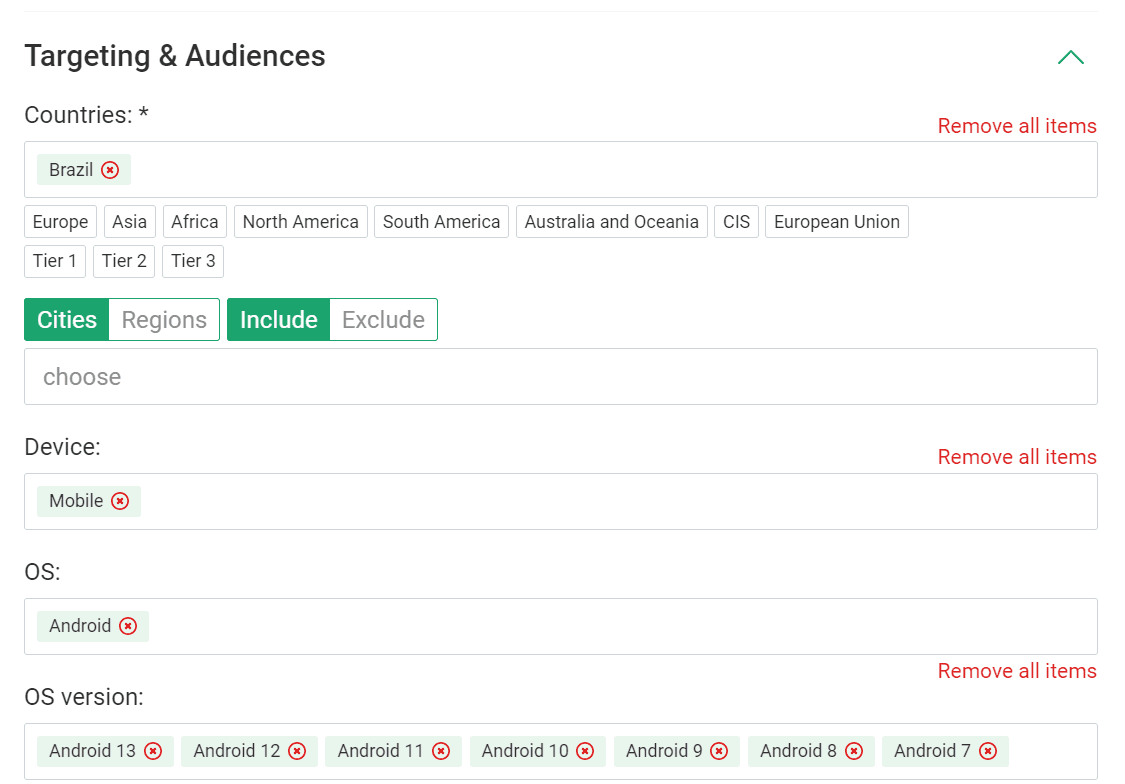 After 30.05 he added iOS and got the following results: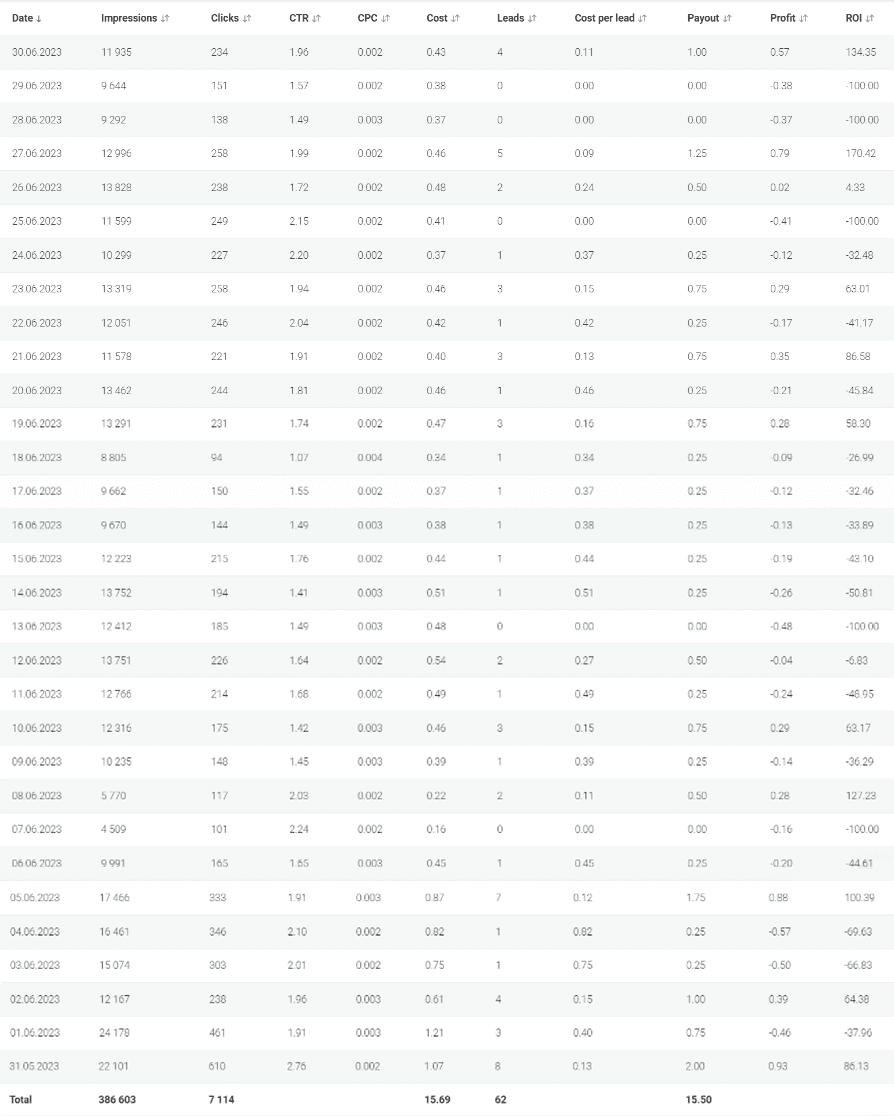 The iOS campaign yielded almost zero ROI and brought nothing but the experience.
EVADAV tip:
The EVADAV team recommends separating advertising campaigns by platform type, but in this case, the advertiser used both in one. But if he followed our advice, the statistics would be much better.
Automated rules
Our advertiser set up the automated rules that made the non-profitable sources go to the blacklist.
In this case, these were all the sites that:
in 4 days brought less than 1000 impressions and CTR below 0.5;

brought profit less than -$0.55 for the week;

cost from $0.4 and did not bring any lead in six days of campaign.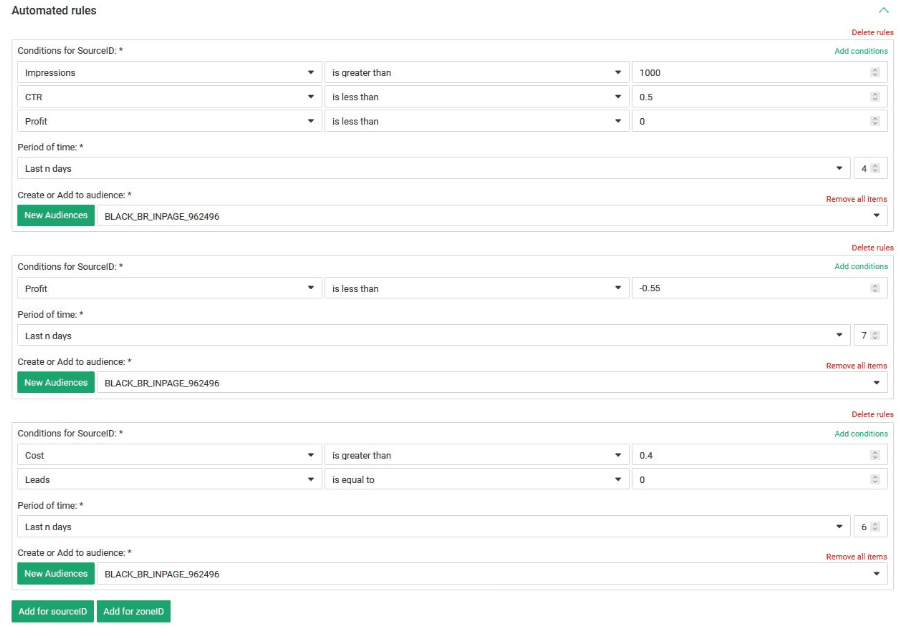 The rest was regulated by micro bidding separately for each source, based on its ROI.
EVADAV tip:
To activate the Micro Bidding option in your personal account, write a request to your personal manager.
Results before optimization
So, let's look at figures with micro bids from the Pra Paquerar offer: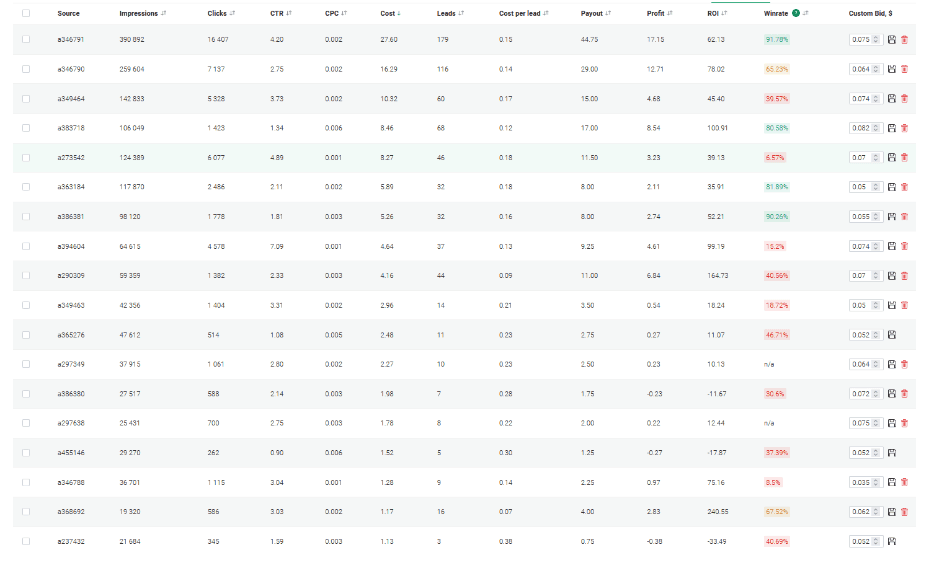 As a result, the average cost per lead was $0.19. In total, during this period, $107.46 was spent on the Prapaquerar advertising campaign, and $169.5 was earned. With this combination, the advertiser made a profit of $66.79 and an ROI of 36.60%.
Optimization
As part of the optimization, the advertiser worked on the landing pages (based on each CR). He decided to keep this process a secret. But it does not matter because the affiliate network initially provided landing pages, which is enough.
Recall that initially, the campaign was distributed to Android 8-13 owners. It was decided to expand the targeting to 6 and 7 versions. The advertiser chose the two most popular browsers for Android — Chrome and Samsung. For iOS, there was no point in targeting some browsers, as there were no conversions.
There's only one most clickable creative left for both offers: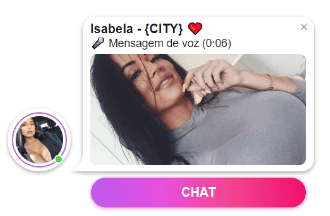 From 16.06.2023, our advertiser connected the second OneNightFriend offer (which initially did not work) again after receiving enough data for effective optimization and almost doubled the conversion.
Look at the stats before optimization: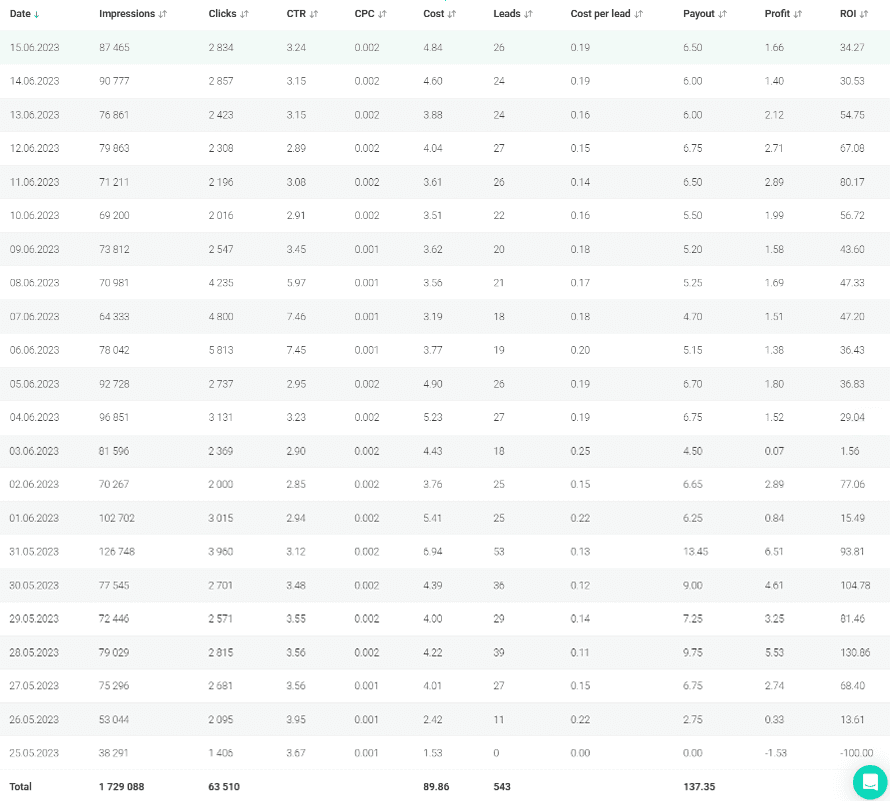 After optimization: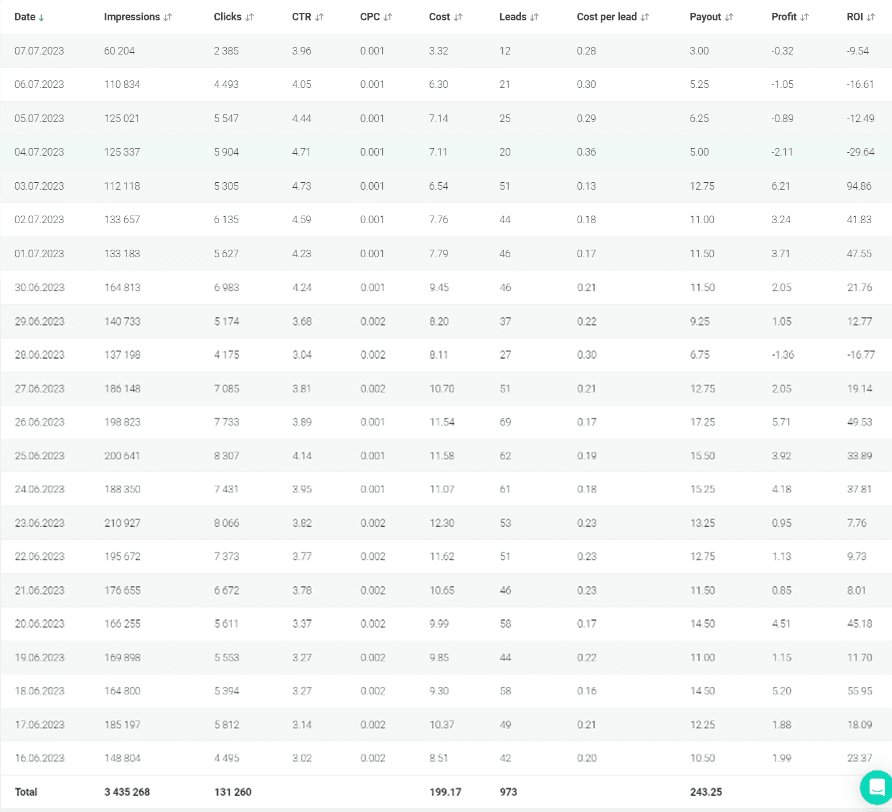 For comparison: from 25.05 to 15.06 – 543 conversions, and from 16.06 to 07.07 – 973.
Final thoughts
In total, the campaign earned $388.85. It took $291.33 to buy the inpage traffic from EVADAV. Overall, the bundle turned out to be $97.52 high, with a return of 33.47%.
In addition to the figures, the author of the case shared his feedback: "It was pretty easy to work with the offer, as it spiked immediately. Then it was only necessary to increase volumes and adjust indicators."
The advertiser also noted that there were problems with the postback in the first couple of days. It turned out that the reason was an incorrect adjustment on his part. But we figured it out quickly enough, and everything worked. Owners of the affiliate program were happy with the traffic. When the postback was set up, they didn't communicate much with our advertiser because everything was going well.
EVADAV Expert Tips for working with inpage traffic
If you have chosen inpage traffic for your dating offer campaign, follow a few references from our experts:
Use white and black lists to manage sources effectively.

Make inpage creatives native using EVADAV templates. Custom styling makes it possible to mimic pop-up advertising to the specifics of the vertical.

Add automated rules to spend the budget rationally. Contact you personal manager.

Launch campaigns with inpage that have shown promising results with classic push format. So you can give the "second life" to the campaign and get even more results.

Add new platforms — remember that with inpage you have access to the audience with "apple" devices.

Use local language only in creatives to advertise dating.

Update your campaigns as they burn out. The same bundle can show different results if you simply change the style of inpage-notification.

Consider the features of the traffic channels, as it affects sources.

Use all targeting settings to exclude non-target clicks.

Run separate campaigns on Android and IOS, reaching a wider audience, this will help you get more profit.

Use Push Retargeting: in general, it is more expensive, but the average check will be much higher.
And, finally, here is the advice from the author of the case for similar bundles: "Be sure to conduct split tests. After optimizing one of the offers, optimize the second one which did not work at the start. Most likely, it will not show the same cool result as the first offer, but generally will increase the number of conversions and income."
🤑 Launch inpage campaign with EVADAV: LEADING ADS >>
Read also: New custom styles of inpage format: cosmic CTR and ROI 💫