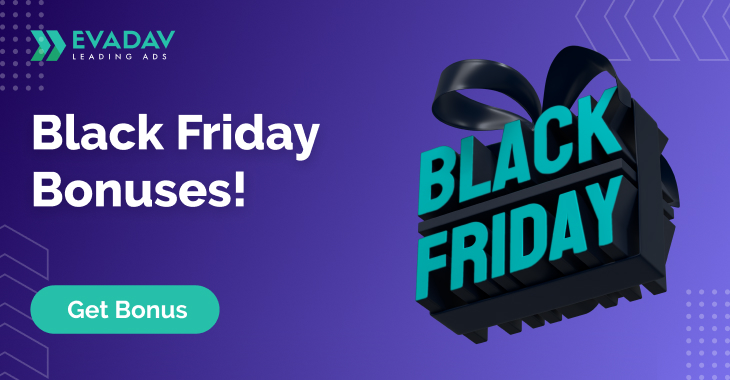 Black Friday Bonuses!
The moment you've all been waiting for is already here! Black Friday is already peeking around the corner!
Our platform miraculously attracts very pleasant, charged, motivated people with whom we are so pleased to work and grow together. You turn our work into a source of inspiration and inspire us to improve ourselves. A heartfelt thank you to everyone who stands with us!
We value each of you and try to delight you with pleasant bonuses and surprises. This time we've prepared delicious bonuses for our dear advertisers! We are holding a bonus draw for those who during the period from 21.11 to 30.11 increase their spend by 25% or more.
What bonuses await you?
🌟 1st place - $500
🌟 2nd place - $300
🌟 3rd place - $200
🌟 4th place - $100
🌟 5th place - $50
In order to take part in the drawing, fulfill the following conditions:
Increase the spend compared to the previous period by 25% (in the period from 21.11 - 30.11 compared to the period 11.11 - 20.11)
Spend more than $500 for the specified period (11.11 - 20.11)
For new users, and for those who didn't spend in the period from 11.11 to 20.11, but want to participate in the drawing, it is necessary to spend more than $500 from 21.11 to 30.11.
Write a letter with the subject "I want a bonus" to

[email protected]

The manager will assign you a unique nickname for the drawing and send it by mail. Be sure to keep it for yourself.
If you have not received a promotional code before 11.00 CET on 1.12, then write an email to [email protected].
We'll choose the winners using a randomizer on December 5th.
Don't miss your chance to receive pleasant benefits from us in addition to profits! 😉