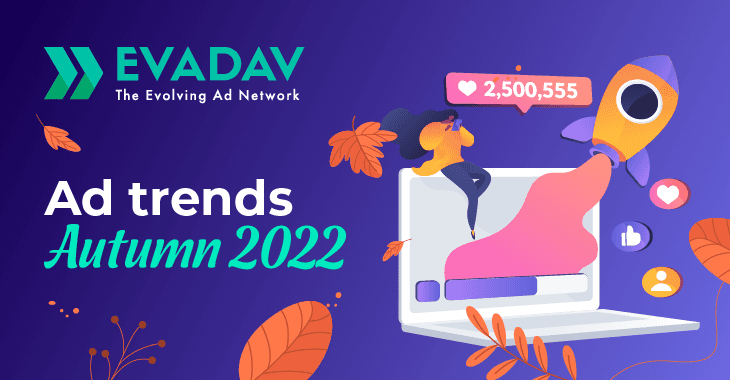 Autumn Ad Trends 2022
You probably know that you have only 3 seconds to convince your audience that your product is worth their time. This is what advertising typically does. Evadav team has collected ad trends for you that will definitely help you to capture customers' attention. Read on!
🔥Immersive creatives
The ad content should capture attention right away and be easily understood.
Advertising is much more engaging with GIFs and short videos. The creatives you use should totally reflect the title and text of the advertising and correspond to the CTA.
💡According to Evadav's testing results, ads when using GIFs can potentially increase CTR by up to 150%. Try it in your Evadav profile.
Read more about GIF creatives here.
🔥Podcasting
As a medium, podcast is extremely personal – you are inviting someone into your home or car. A sense of intimacy can help listeners feel like they know your brand and you better. Usually podcasts are released once a week, which makes users really engaged compared to the content they read all at once. In addition, you can turn on podcasts anywhere and at any time, so they make great "on-the-go" listening when you don't have time.
🔥Enhanced Cross-Platform Communication
All in all, presence in social media is:
Reaching a larger audience

An increase in traffic to a company's website

An increase in brand awareness

Permanent engagement
Your brand and your audience intersect through multi-channel digital marketing. In spite of this, you cannot just copy the same message across all your platforms since these audiences engage with multiple social media networks. While this can damage your credibility, it can also make your content less relevant to some platforms.
Creating a buyer persona will help you to adapt ad campaigns for each segment. Thus you'll raise customer awareness, and engagement and advance user experience.
Depending on the product or service you promote, you can find your target audience on social media channels like Facebook, Twitter, Linkedin, Pinterest, Youtube, etc. Make research on which social platforms your customers use more often and post the news about your product permanently to increase the interest of your audience. Also, remember about the evergreen content, which includes guides and tips.
🔥Involving Influencers
Influencers are popular people in a specific niche who can promote your products. You can achieve your marketing goals by establishing partnerships with them. This allows brands to increase exposure, build authority, and reach out to a broader audience. People are more likely to purchase a product or service after seeing an advertisement featuring an influencer or celebrity.
💡If you create a targeted landing page with a ready-made video or photographs of an influencer, you may start push, popunder, in-page, and native advertising formats in your Evadav profile and increase your reach and audience through them.
Read more about how to boost your campaigns with influencers here.
🔥Interactive content
The term interactive content refers to any material that conveys its message through interactive methods encouraging user participation. As a result, content consumption transforms from passive to active.
User interaction is enhanced by the variety of formats available for this type of content. Animated infographics, calculators, quizzes, ebooks, and videos can all contain interactive elements.
Using such type of content content allows you to track how your audience interacts with it, which helps you better understand and target your customers. In addition, it increases engagement rates and conversions compared to traditional static content forms.
Giveaways are the good example of an interactive content. Many brands have taken advantage of the popularity of giveaways, especially on Instagram. They allow you to promote your product via social media and increase the loyalty of your audience. Giveaways remain popular among crypto, betting, and gambling verticals.
🤑Launch your campaigns with Evadav
➡️To be always in tune with Evadav updates, join us on Twitter and Linkedin.
Read also: How to protect your Evadav account?