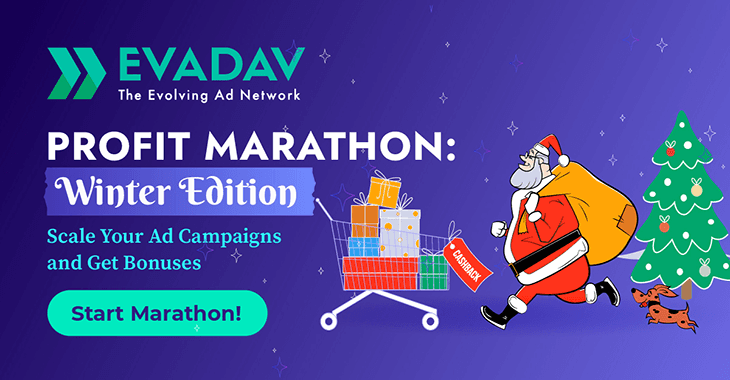 Winter Profit Marathon: promo for Evadav's advertisers
😎Hello, Evadavers!
❄️ Ho-ho-ho! Winter has come, which means we are officially entering the hottest commercial season of the year.
The sales frenzy is going online, and it's time to dust off your most daring campaign strategies and ideas.
So, Evadav Team opens the season of festive bonuses and fabulously profitable campaigns. Ready, steady… We start our winter pro marathon! 🤩
All Evadav advertisers can participate, both new and existing accounts, with active advertising campaigns.
🎁 How to participate?
(spoiler alert: it's easier than writing a letter to Santa 🎅)
✔️ Create a new ad campaign or scale an existing one.
✔️ Scale your ad campaigns by 10% in December (compared to November).
✔️ Get up to 6% cashback on your monthly spend.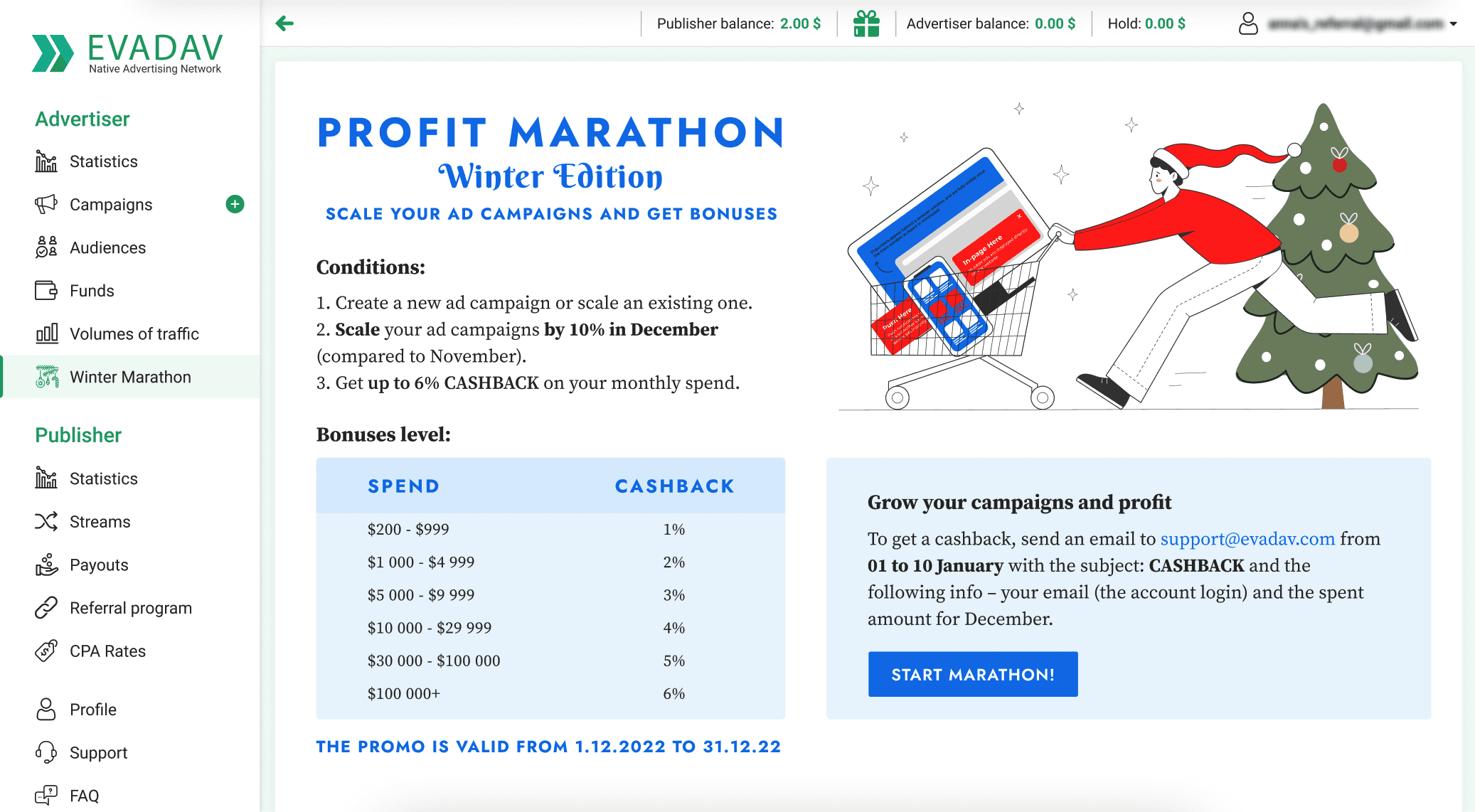 🤑 Bonuses level:
The bigger your advertising campaigns and spend, the more cashback you get.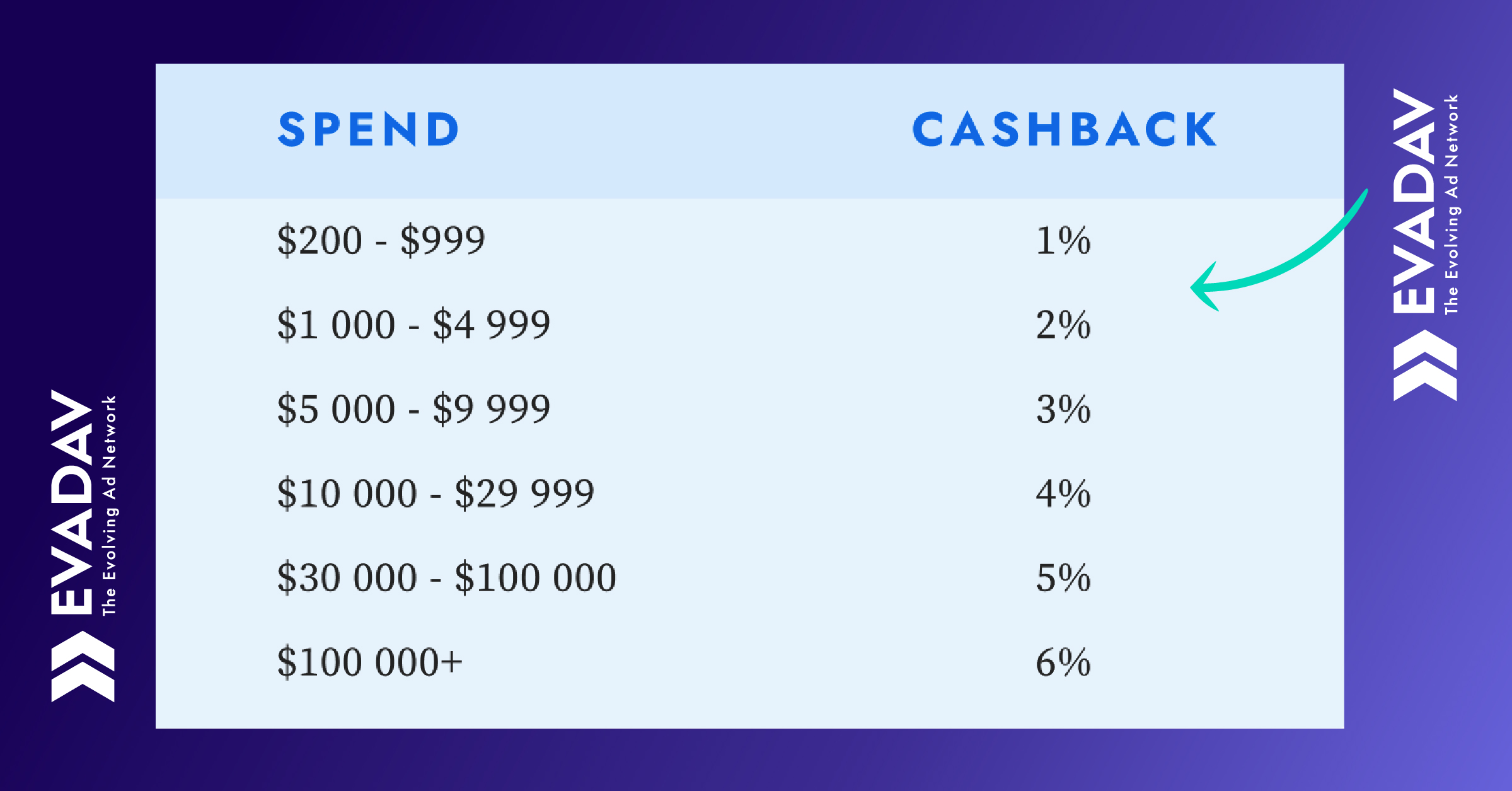 🏃‍♂️Promo will last until December 31. Do not miss your chance to get abundant wealth and great cashback on monthly spend.
Scale your campaigns and make a profit >>
👆Recommendations from the Evadav team
🎄 Winter means a festive season and, therefore, a lot of sales. We recommend launching campaigns:
1️⃣ with the best advertising formats from Evadav:
🔗 Updated inpage is especially good due to new custom styles: more conversion and ROI;
🔗 classic push does not lose its relevance;
🔗 pops are very promising this month.
2️⃣ in optimal verticals from Evadav:
❤️ dating
🎟️ sweepstakes
⚽ betting
🕹️ gambling
💸 crypto
⚙️ utilities
🖥 software
3️⃣ on Evadav's top geo:
🇺🇸 The United States of America
🇨🇦 Canada
🇲🇽 Mexico
🇧🇷 Brazil
🇩🇪 Germany
🇬🇧 United Kingdom of Great Britain and Northern Ireland
🇫🇷 France
🇮🇹 Italy
🇮🇳 India
🇹🇭 Thailand
To get a cashback, send an email to [email protected] from 01 to 10 January with the subject: CASHBACK and the following info – your email (the account login) and the spent amount for December.
We'll take it from here.