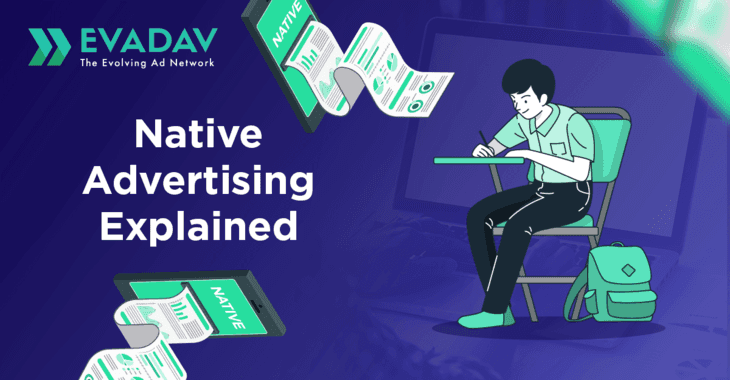 Native Advertising: Starter's Explainers Guide
Native Advertising — It's Here to Stay
All predictions paint a glorious future for native advertising. People are installing adblockers to get away from banner ads. Many are developing ad blindness. Giving advertisements the same appearance as the platform content prompts better engagements, views, and clicks.
Native Ads: Defined and Illustrated
Banner ads tend to stand out! Native ads bear hallmarks of the rest of the publisher's content, achieving similarity. Making ads inconspicuous to some degree rather than superimposing them is the end-goal. Clicking on a native ad directs viewers to a separate website altogether.
Which Characteristics Denote This Indigenous Advertising?
Any ad that appears blended-in and like the original content tends to be native in nature. In-feed article ads are prevalent examples. A travel blogging website may have an editorial/staff article feed. Published articles are by its website authors. The writing revolves around events or destination pieces.
Now, the in-feed ad from an Airline may surface in-between other essays. As people traverse the feed scanning for novel writing, they encounter the article. It covers "Top Ways to Save Money on An Airline Ticket." The ad has these peculiarities:
Compatibility with publisher's content;

Non-promotional in nature and devoid of sales terms like "discounts or price," etc.;

Formatted as a regular piece on the blog; will bear an image and title;

Educational and promoting further learning.
Does Native Advertising Deceive or Cheat Platform Users?
Many experts agree, including Google AdSense, that visitors recognize native ads. How come? Well, they use identifying tags. FTC guidelines need ads to bear visual cues, setting them apart. Posts are marked as "Sponsored" or have the advertiser's brand name, e.g., Expedia.
Publishers display disclosures as subheadings below or above the main heading. "What is this" info links direct readers to pages that explain the marketing. Readers must not feel like they are being deceived. So, the advertiser's landing page should bear real informative articles.
What's the Anatomy of a Native Ad Campaign?
Native ads platforms like EvaDav bring together publishers and advertisers. Businesses needing traffic connect with content creators hoping to monetize their platforms. EvaDav draws sites from all over the world, granting international exposure.
Generating income is a top goal for website owners. But they also don't want to sacrifice user experience. When executed right, indigenous advertisements enrich the website's content and relevance. The same can't be stated about display or pop-up advertisements that are rather disruptive.
Businesses seek a boost in traffic, increased brand awareness, more leads, and sales.
Programmatic Native Campaigns
Native programmatic advertising involves artificial intelligence algorithms to select ad networks and place real-time bids. Automating the purchase and placement of advertisements on various platforms streamlines the process.
Distributing advertisements across networks may reach target audiences more effectively. Human marketers normally take up the role. But automating hastens the process, and it scales easily. For instance, wanting to promote a jacket in Canada, programmatic platforms may aid in selecting networks partnered with publishers in Canada and schedule promotions at ideal times.
What Are Some Native Ads Channels
Several types exist, and availability differs with each native ads network:
1) In-post advertisements (Inside articles)
Placement is between paragraphs or lines of a blog post. They are great native mobile ads formats — because advertisements may cover the full width, promoting high visibility.
2) In-feed (Within post feeds)
Advertisements show up as part of a stream of posts on a publisher's feed section. Publishers just add a custom widget code from the network.
3) Matched content, related posts, or content match
Ads are displayed in the related posts area, placed adjacent to or below the article's content area. Rather than recommending one article through a single widget, various recommended articles may show up in a single panel.
Top news sites like CNN feature related post recommendations powered by Google.
4) Search engine suggestions
This represents another popular native advertising marketing channel. Why is it considered indigenous? Well, search engines display paid listings, which mimic non-paid results. Consumers searching for information or services click on them. They may be indistinguishable save for the "AD" labeling that identifies them as paid.
5) Social feed ads
Social media sites leverage the power of native advertisements. Members may encounter promoted posts or ads as they explore their content feeds. Formatted to appear as regular posts, they are indigenous. Facebook, for example, enforces clear labeling and spacing around advertisements to limit accidental clicks. Call-to-action buttons may even trigger app downloads, granting advertisers enhanced control.
6) e-Commerce platform shopping advertisements
Found on e-commerce platforms like Amazon, they display boosted product listings. Stores generate more shopping opportunities through increased visibility across the shopping site.
Try this format today on EvaDav.