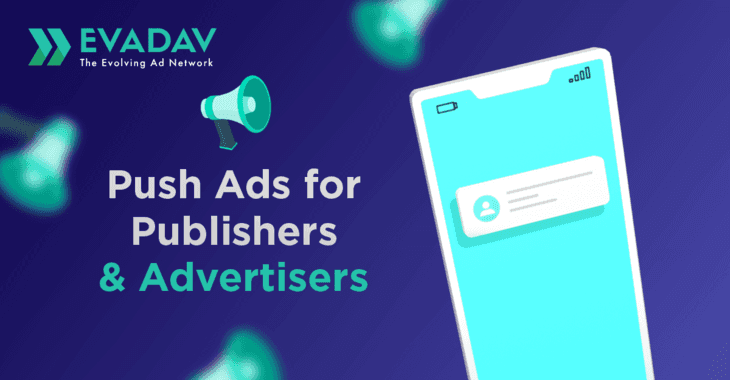 Push Notifications For Publishers & Advertisers
Working With Push Notifications as a Publisher or Advertiser
Designed as alerts, the messages materialize in the notification center. Apps running in the background or online servers send these notifications. The essence is to furnish well-timed updates and information.
What Purpose Do They Serve?
The primary purpose is triggering re-engagements. An e-commerce website may decide to run different Black Friday offers. Sending alerts to opted-in users may generate traffic resulting in increased sales. Publishing websites get to notify users about recent posts.
Loyal blog readers, for instance, may need constant updates on new articles. Push alerts are more immediate and noticeable than newsletters. They show up on the user's main screen. On Gmail, brand emails often get lost in inbox categories such as social or promotion.
Advertisers may utilize the publisher's push notification system to reach their subscribed users. App developers generate in-app and utility alerts.
Work of a Push Notification Platform
Setting up a push service requires some skill. Rather than hiring developers, publishers seek services from a dedicated push notification platform.
Devices & Popular Browsers With Web Push
Most offer cross-platform push notification services. It means alerts will reach users regardless of the browser and device used to opt-in. Still, the alerts may display differently on Windows, macOS, or Android. Notice that iOS was not mentioned. Apple doesn't allow installed web browsers on its iOS devices to display web alerts. They can be used with the following platforms.
Android

macOS

Windows 10

Windows 7
Browsers:
Chrome

Opera

Firefox

Edge

Safari – on macOS
Requesting Permission & Message Delivery Process
With web pushes, permission must be obtained. Upon visiting a site, for instance, the browser sends an alert stating "ABC.com wants to show or send alerts." You click allow or block. Highly-engaged people tend to opt-in for further communications.
Granting permission means the service can remit messages to the browser push service. The browser's push API interacts with the device's notification API to display messages. Complex tasks occur in the background, including waking up the correct service worker.
Web pushes show up in the device's notification feed. End users can interact with the message either by clicking or closing it. Positive interactions launch the browser and redirect users to the contained URL.
How Are Push Ads Formatted?
The main components of a push notification include:
Description: Contains the main message. It may communicate a pending app update or product offer. Making it descriptive prompts user action. Emojis may be used in the description.

Image: The icon or image adds visual appeal.

Title: When creating push ads, titles are also available.
Talking About Strategy
Websites must consider the number and value of alerts. Some sources recommend limiting the frequency to one alert per day or one push per week. Why? People disable alerts when websites send them in high frequency. It makes them too annoying. Like text messages, on reception, the mobile device buzzes and vibrates. The user will check their device. This interrupts and draws their attention from another activity. They may be busy at work, for example.
Limiting interruptions may mean more long-term interactions with recipients. You hold them off from disabling further communication from your website by not annoying them.
What Advertisers Need to Know Before Running Campaigns in This Format
Message delivery scores are high as messages are remitted without fail. Offline users can still receive alerts when they're online again. Unlike banner ads, they are much harder to ignore. People may even view new communications from their lock screens before unlocking their phones. On Windows10, messages pop-up for about 5 seconds. The OS then shelves them in the notification center.
Advertisers will appreciate the low bidding prices. On EvaDav, for instance, the starting bid for push is as low as $0.001 per click. Brands can also pay for impressions on the platform (so, CPM or CPC are available).
Getting started with a modest advertising budget is possible. Many verticals are suited to push. Marketers should also prioritize good targeting and set correct time zones for campaigns.
What Publishers Should Know Before Signing on to an Ad Push Platform
Publishers don't necessarily need websites pre-configured with push services allowing them to send out notifications or databases of subscribed visitors. However, the domain must be HTTPS enabled for web pushes to function. The network provides the required ad code.
When partnering with EvaDav, publishers can customize the frequency of push ads. They must carefully set the frequency. Showing more ads generates more income. But it may drive users to opt-out from receiving their messages. Sign up as an advertiser or publisher at no cost on EvaDav today.