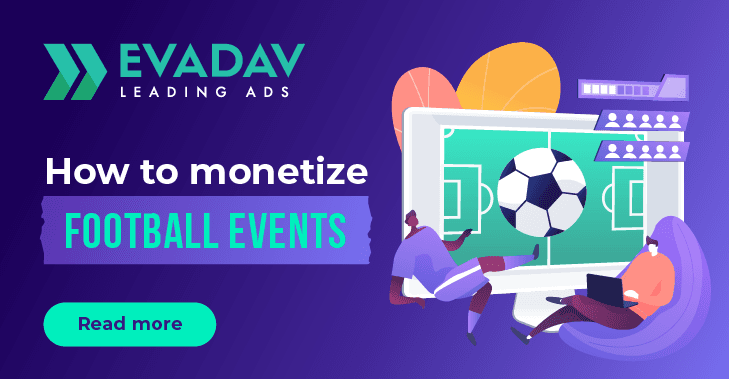 How to Monetize a Football Event
Football has almost 4 billion devoted fans and 270 million players worldwide. Whenever big games happen, this massive crowd goes online to discuss them and search for related information. FIFA World Cup, Olympic Games Football, and UEFA Champions League are examples of such awaited events.
For affiliate marketers, these days become a perfect opportunity to boost traffic and get more income than ever from practically all GEOs. Even websites that have nothing to do with sports can use this chance! So, learn how to monetize football events with the following ideas.
⚽Football Themed Posts
If a publisher aims to attract more website visitors, it's time to learn a thing or two about football. Then, if the content is engaging, fans can return to the website again and again. These can be either short guest posts or long reviews. The primary condition is to insert enough relevant keywords. Consider the following topics:
Game announcements

Results predictions

Game reviews and highlights

Player's biographies
Apart from subjects directly tied to football, there are other options. For instance, a website can help foreigners with information about the place. Tourists would appreciate posts about local landmarks, hotels, food recommendations, tickets, and other organizational themes.
⚽Football Merchandise
During the football season, fans spend significant sums on game tickets and football merchandise. Thus, affiliates can use the hype to their advantage. Websites usually advertise football uniforms, boots, gloves, coffee mugs, or keychains. The income can exceed all expectations during the game days if it's a Pay Per Sale format.
However, publishers must know their target audience well. Study their favorite teams, countries, or players before placing an ad. GEOs also matter because football team scarves will sell better in cold countries.
⚽Football Betting
Betting vertical is another way to monetize football events. In particular, cooperating with bookmakers before globally famous tournaments is a winning strategy. Millions of people can try to earn something by placing bets on their favorite teams.
A helpful tip for publishers is to focus on Tier 1 countries if they have enough experience. Contrarily, those new to this vertical should choose Tier 3 regions. Still, targeting young men and women can bring the most results in both cases. How exactly to capitalize on football betting? Here are the options:
Cost Per Action - it means a webmaster gets payments when players register or place bets

Cost Per Installation - there is a publisher's reward when players install the betting app

RevShare - publishers get a percentage of players' losses
⚽Football Match Streaming
Many football fans don't have access to TV channels that show football events live-streams. Then, these people go online looking for a reliable website that offers such services. The only requirement is to not break any laws by giving the link to a live stream.
Finally, there are benefits even if the website only attracts one-day users. Publishers can place more ads than usual to monetize the events. The viewers can tolerate them if they get access to a high-quality live video.
Final Tips
There are general recommendations regardless of the monetization methods. First, the campaign should start several days before the tournament and continue after its end. Plus, during the big game day, the most crucial time is around three hours before the beginning. Also, consider differences in time zones.
Another tip is not to break copyright laws by using official logos or players' faces in advertisements. The best solution is to include copyright-free pictures, silhouettes of football players, and country colors instead.
Overall, football events are the holy grail for affiliate marketers. If everything is perfect, the profits can skyrocket!
🚀Launch your campaign with Evadav
Read Also: The Power of Creating Videos with Ai Tools