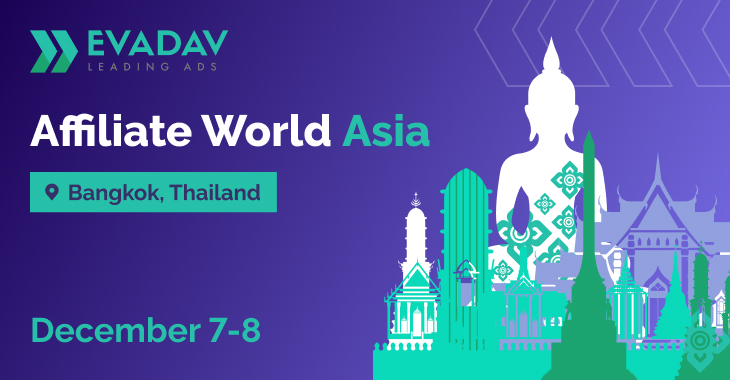 EVADAV at Affiliate World Asia in Bangkok
The days are getting shorter, the weather is getting colder, and this means that Affiliate World Asia is getting closer!
Affiliate World Asia is a two-day conference event taking place in Bangkok on 7-8 December 2023. This is our last and the most expected conference this year. We are preparing with anticipation and we will be very glad to meet you there! Come to our booth B58 or book a meeting with us using the link: https://evadav.world/3G3y60l
Affiliate World Asia is definitely worth visiting in person, as this is a great opportunity to network with the industry's brightest minds, absorb mastermind-level content on stage, and be exposed to a marketplace overflowing with opportunities to push your career forward.
So that you too can enjoy this atmosphere and get the maximum benefit, we decided to giveaway two tickets to Affiliate World Asia! You can find the terms and conditions of our giveaway below.
About Affiliate World Asia 2023
There will be more than 35 experts who will present new insights, data-driven strategies, and innovative ideas on affiliate and ecommerce marketing.
The main topics of the conference will not leave any affiliate indifferent!
This topic includes lectures about Advanced Testing & Scaling Structures, Advanced Ad Creative Strategies, Ad Account Audit, Navigating Ads, Policy Compliance, Scaling Vertically: Tier 2 & 3 Geos, Emerging Ad Formats, Campaign Bidding Best and also Practices Spy Tools IOS 17 Tracking & Attribution Principles.
Expect a deep dive into Performance Max Best Practices, Youtube Video Ad Creatives, Shopping Ad Campaigns For Q4, Quality Score Performance Strategies, Advanced Bidding & Scaling Blueprints, Dynamic Search Ads Formula and Audience Targeting & Remarketing.
You'll have the opportunity to catch many insights about Readapting Social Creatives for Native, Dynamic Retargeting Tactics, 2024 Industry Trend Predictions / Campaign Optimization Best Practices, High Converting VSL Campaigns, Text Sales Letters & Examples (Nutra), Verified Case Studies, Advanced DSP Strategies, Navigating Regulatory Challenges, Evolving Platform & Algorithm Changes.
In these lectures you will learn more about TikTok Shop Strategies, Cult Communities, Viral Content Trends & Techniques, Mastering Spark Ads, Algorithm-Driven Scaling, TikTok Policy & Compliance, UGC Creatives That Convert, Live Streaming Strategies, Trending TikTok Ad Formats and of course Future of TikTok Ads.
Here you will find the latest trends concerning Native Search Campaigns, TikTok Search Campaigns, Geo-Specific Arbitrage Strategies, Cross-Platform Creative Hacks, Localized Campaign Tactics, Long-tail Keyword Methods, Secret SERP Page Hacks, Advanced A/B Testing Methods and Search Feed Provider Guide.
Affiliate Marketing Hottest Topics
This is an additional topic on the hottest affiliate marketing trends regarding the Future of Affiliate Marketing, Business Operations, Content Marketing, Lead Generation, SEO, Al Chat Funnels, SMS, Mobile Apps, Consumer Psychology and Defining Community in Web3.
In addition to a huge amount of knowledge and insights, for each conference participant there will also be some extra perks at the end of each day: happy hours, rooftop sunsets, and an irresistible industry nightlife.
How to win a ticket?
If you want to take part in the ticket draw, you must follow these steps:
Top up your account with $1000 or more in one payment from 14.11 to 19.11*.
Write an email to [email protected] with the subject line "BANGKOK!" and with the text "I WANT TO BANGKOK!"
The manager will assign you a unique nickname for the drawing and send it by mail. Be sure to keep it for yourself**.
On 11/20 (Monday) at 12:00 CET, we will use a randomizer to select two lucky winners who will receive a ticket to the exhibition. The results will be announced on November 20.
*Account replenishment is counted until 23.59 CET time on 19/11.
**If you have not received a promotional code before 11.00 CET, then write to your manager or email [email protected].
See you at Affiliate World Asia! And may luck always be with you! 😉
______
Update:

The day for announcing the results of the draw has finally arrived!
Today is the day of the draw for tickets to Affiliate World Asia. We watched the randomizer numbers with bated breath and are ready to announce our lucky winners!
On behalf of the entire EVADAV team, we congratulate the owners of the nicknames "Angel" and "Majesty"! We hope your visit to Affiliate World Asia will bring you a lot of benefits, insights, interesting contacts and exceed your expectations!
Thanks to everyone who took part!
👉 Watch the video of the draw: https://youtu.be/-AyVKPBHNx8
See you at Affiliate World Asia! We're waiting for you at our booth B58! 😎