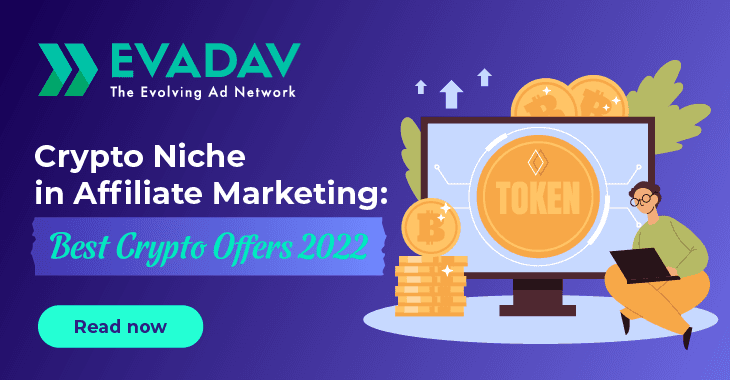 Crypto Niche in Affiliate Marketing: Best Crypto Offers 2022
In affiliate marketing, the crypto vertical solidified its place as the most lucrative one in 2020. The сrypto market started flourishing when all of us were forced to stay at home due to COVID-19. Many people turned to cryptocurrency, and today affiliate marketers view this industry as a gold mine. What is a crypto niche in affiliate marketing? What are the best crypto offers of 2022? Read on to get to know!
💸What is a Crypto Niche in Affiliate Marketing? Top Niches
Multiple crypto exchanges create affiliate programs in order to attract users, grow sales, and increase trading volumes. Usually, a referral program or cryptocurrency affiliate program provides a means to make money by directing visitors to a website or platform by sharing an affiliate link. Crypto niche in affiliate marketing refers to the offers related to the crypto vertical: lending, trading, wallets, NFTs, payments (investments), and Defi.
💸Which Offer Category to Choose?
The payouts in trading, lending, and investing are pretty similar, so consider your audience's financial savvy when choosing a payout model. Make sure you know who your target audience is before choosing the model. Promote investments if their financial literacy is high; otherwise, trades are the better option.
🤑Join Evadav to monetize your offers -> https://bit.ly/3ysW0iA
💸Best 5 Crypto Offers 2022
The Evadav team has collected for you a Top-5 crypto offers. Here you go:
💰Crypto.com
Crypto.com is an exchange for derivatives, standard and margin trading, and NFT products offering payment rewards on referral transactions. The Crypto.com affiliate program suggests working on such conditions:
Type of payment: Crypto/cash
Commission rate: 10%
Affiliate network: CJ Affiliate and In-house
💰HaasOnline
HaasOnline has proven itself one of the best automated trading platforms since 2014. As an automated trading bot, it makes profitable trades on your behalf. HaasOnline supports over 20 exchanges.
HaasOnline affiliate program offers lucrative conditions, according to which you can earn up to 25% of each completed order from every referred friend:
Type of payment: Crypto/cash
Commission rate: 10-25%
Affiliate network: In-house
💰StormGain
StormGain represents a trading platform for buying, selling, staking, mining, and exchanging cryptocurrency. In addition to offering a variety of order types and trading tools, StormGain also provides customized buy/sell signals and has the lowest fees among competitors.
The affiliate program from StormGain works on such conditions:
Type of payment: Cash
Commission rate: 50% of gross revenue or up to $1,200 for qualified traders
Affiliate network: Cellxpert
💰Paxful
Paxful is a peer-to-peer marketplace with more than 350 ways to buy and sell crypto. This is an exchange where each user can be a vendor - create offers, set profit margin, etc.
The affiliate program from Paxful has great conditions:
Type of payment: Crypto
Commission rate: 50%
Affiliate network: Inhouse
💰Binance
Binance is a cryptocurrency exchange platform for buying, trading crypto, margin, and derivatives trading, selling and buying NFTS, as well as for staking and farming.
The Binance affiliate program offers a lucrative commission structure. Commissions on the referred user's trade commissions could range between 20-40%, making it very attractive for affiliate marketers:
Type of payment: Crypto
Commission rate: 20-50%, NFT - 20%
Affiliate network: Inhouse
🤑Launch your crypto campaigns with Evadav -> https://bit.ly/3ysW0iA