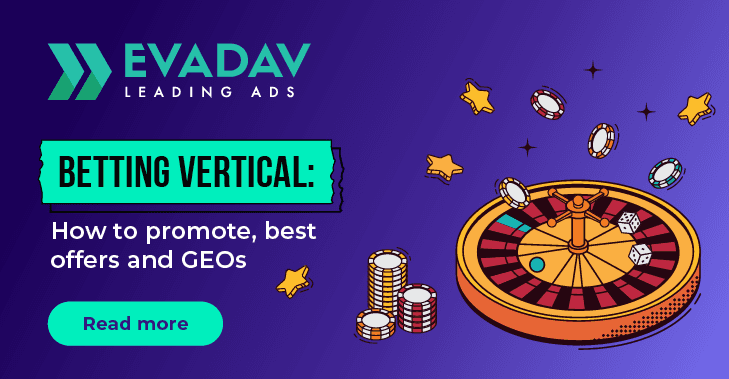 Betting Vertical: How to Promote, Best Offers, and GEOs
Since the dawn of time, people liked both sports events and gambling. Later, bookmaker companies combined these two passions and created a betting vertical. Nowadays, betting is a form of entertainment and a source of income for millions of enthusiasts in different countries.
Many desire to profit off this lucrative global market, which equaled almost $84bln in 2022, one-third of the gambling market. But, the sphere is very competitive and has a high entry threshold, so being knowledgeable is essential.
How to promote the betting vertical? Experienced publishers know that push notifications work perfectly for betting ads. Also, the advertisements should reach the audience through mobile and desktop versions of websites and mobile applications. These ads have links that redirect viewers to the landing pages of betting companies. Recently betting ads migrated to the following platforms:
YouTube

Telegram channels

Twitch

Facebook
Local influencers use inspiring slogans and share personal success stories to engage more potential players.
To hook the target audiences, businesses use betting offers. In a nutshell, they are promotional features that inspire action, like signing up. The popular types of betting offers are:
🎰CPA
One of the safest options is Cost Per Action or CPA. In this case, the publisher receives costs when a player registers, replenishes, repeats the deposit, or makes the first bet. Although there are different requirements like minimum sum, this method is the best for newbies in affiliate marketing. A publisher gets a fixed reward instantly, regardless of a player's betting results.
🎰RevShare
This method is quite the opposite of the CPA regarding pros and cons. Here, a publisher gets a certain percentage of the bookmaker's income. In other words, the reward is a percentage of the player's loss. Because people usually spend money on betting for years and even for lives, publishers get a long-term passive income. However, offers like this fit only experienced publishers with big budgets. They can play a long waiting game and repay the bookmakers in case of people win. Ultimately, all players lose more money than they win, so the wait is worth it.
🎰Hybrid
Another appreciated betting offer type is hybrid. It appeared when publishers decided to have advantages of CPA and RevShare. Consequently, this mix gives rewards for deposits replenishment and a player's losses. Despite the rates being lower than in the previous cases, many consider this method safe and convenient.
GEOs
The final question is, where to promote bookmaker services? Luckily, this pastime is legal in most GEOs, which makes everything easier. Generally, betting is popular in Tier-1 countries like the USA, Canada, and some European countries. It makes sense since these places have the highest GDP per capita, and citizens have more disposable income to spend on things like betting.
When analyzing GEOs, it is necessary to find prosperous countries. They are the least affected by pandemics, economic crises, or other negative factors. In 2022, Scandinavian countries greatly added to the global betting market. And the absolute leader among the European countries was Finland. Germany also stepped up after legalizing online betting in 2021. Surprisingly, the Asian region became perspective too. Citizens of Thailand, Indonesia, and India have shown an increasing interest in betting too.
Advertising bookmaker companies go hand in hand with the preferences of target audiences in every region. Although the demographics are relatively the same, being 25-35-year-old men, there are specifics to every country. For instance, UK players fancy making football bets, while people in the US prefer baseball. Meanwhile, cyber sports betting is widespread in South Korea, China, and Singapore. Here, players are interested in FIFA, League of Legends, and Dota 2.
Overall, the betting vertical is a rapidly expanding field with endless opportunities for those willing to try!
💰Launch your campaigns with us
Read Also: Where to Find Ideas for Ads?