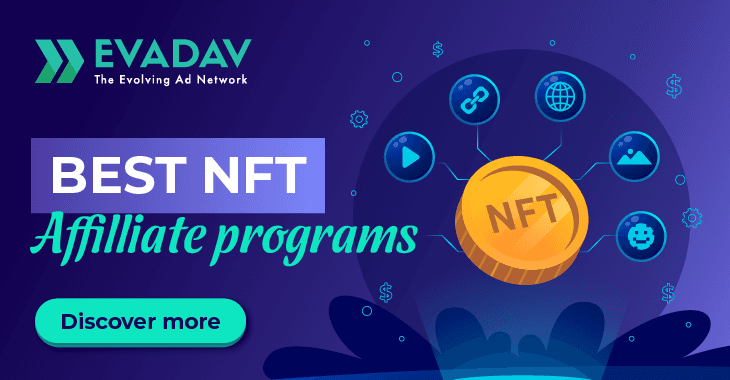 🔥Best NFT Affiliate programs🔥
✨Art doesn't lag behind the technologies. Now any recording, photo, painting or video is possible to digitize. Once you reproduce your piece of art digitally and upload it on the blockchain, it becomes an NFT - a non-fungible token.
How can affiliates monetize such an offering? What are the best NFT programs to monetize? Read on to discover!
💡How do Affiliate Programs for NFT work?
Regarding the growth of the NFT market, many referral plans appear. Affiliate programs are one of the best ways to grow business, sales, and boost trading. To earn with such programs on NFTs, you need to join the referral programs of some crypto exchanges, like crypto.com.
However, there are affiliate programs excluding NFT sales. In this case, you may try gaining money on clicks.
Example:
Let's say Ben visits Binance NFT and passes the registration to join crypto trading. Then you (as a publisher) get the commissions on the users' trades.
💡What are the NFT platforms offering the best affiliate programs?
We've made up a list of the best affiliate programs for you. Here they are:
💭OpenSea
CPA: Cost per transaction
Commission: 2,5%
Type of the commission: charged once
This is the hugest marketplace for NFTs and crypto collectibles (music, pics, photos, etc.). On the OpenSea you can find many valuable digital items to buy.
Also, you can sell your own creations. You just need to upload your digital work, give it a name, describe it in detail, and opt for a fixed or declining price auction listing.
Affiliate program:
For every transaction, the OpenSea charges 2,5%.
To see how an affiliate program based on NFT sales works, try OpenSea.
💭Binance
CPA: Cost per transaction
Commission: Up to 50%
Type of commission: Recurring
Binanace is the biggest crypto platform, which offers multiple products: spot market, derivatives, futures, options, savings and staking services, Binance cloud, trust wallet, NFTs, and so on.
NFT marketplace includes categories for e-sport, art, gaming, collectibles, and NFT mystery box. The box offers you a random NFT with different prices and rarity.
Affiliate program
Binance Affiliate Program lets you create referral links that invite your community to sign up and trade on Binance. The link will automatically credit you as the referred if anyone clicks it and registers. Every time they execute a trade, whether it's on Binance Spot, Futures, Margin Trading, NFT or even Binance Pool, you will receive a commission.
💭Crypto.com
CPA: Cost per transaction and lead
Commission: 10%
Type of the commission: recurring and nonrecurring
Crypto.com is an open-source blockchain that allows you to trade on spot, on margin, and with derivatives. It also offers an NFT marketplace with multiple categories (music, sport, gaming, etc.).
Top NFT creators like Aston Martin, Ugonzo, and Snoop Dogg work with the platform.
Affiliate program
To join a Crypto.com affiliate program, you need to fill out the form, present the platform to your community, and choose your preferred mix: long-term commission or one-time payments.
💭FTX
CPA: Cost per transaction
Commission: 2,5%
Type of the commission: recurring
FTX ranges among one of the top-5 crypto derivatives exchanges and is popular among millions of users. FTX offers futures and leveraged tokens. Also, the exchange owns a few NFT sites, with Solana, Ethereum, and FTX NFTs available. You can go through the NFT gallery to choose the token you want to buy.
What's more, on FTX, you can:
bid on NFTs

purchase them

hold them on your FTX NFT gallery, so they'll be available for withdrawal to your personal wallet soon

redeem them for a good or service.
Affiliate program:
Each FTX user has a unique affiliate link. You will receive 25%-40% of the fees of new users who sign up with your referral code, and the new user will get 5% of the fees returned.
The crypto industry and crypto art are becoming more and more popular. Join and earn now!
💰Join Evadav to monetize your offers -> https://bit.ly/3sSw78q
Read also: The guideline for publishers for maximum profitable traffic monetization